Transducers for traction power ­substations
November 2018
Sensors & Transducers

printer friendly version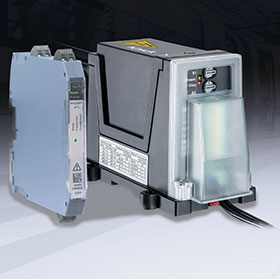 Smooth-running services as well as passenger and employee safety in railway operations depend on functions such as emergency shutdown in the event of short circuits, the detection of delayed potentials and safe signal transmission. Therefore, transducers for railway applications must meet the highest standards of reliability and precision. For Knick Elektronische Messgerüte, this has been the cornerstone in the development and manufacturing of highly available transducers and signal conditioners over several decades.
At the 2018 InnoTrans exhibition, Knick showcased its transducers for traction power substations as well as new products for use on rolling stock: the SIL-2-compliant P16000 pulse frequency conditioner converts pulse signals from speed encoders into galvanically isolated analog 0/4-20 mA or 0-10 V standard signals required by control systems and subsystems to detect the travel speed. The transducer's signal input is designed according to the SIL 2 safety integrity level to ensure that there can be no inadvertent impact on the signal source. The ability to separate the encoder signal and make it available for other applications eliminates the need to install additional encoders on vehicle axles.
Another highlight is the new ProLine P 50000 transducer series for high-precision energy measurement according to EN 50463. This series enables current and voltage measurement in traction inverters and auxiliary converters, and short-circuit detection in protective devices. These are the only devices in their class featuring calibrated range selection, which enables high flexibility in selecting input voltages in the 4200 V range, or currents in the kA range. After range selection, the transducers meet the high specified accuracy without renewed calibration. As the latest addition to the P 50000 series, Knick presented the P 52000 VPD voltage detector for reliable detection of voltages up to 4200 V. The detector compares the input signal with a selected threshold value that can be set at the unit. If, irrespective of positive or negative polarity, the threshold is breached, the detector displays an optical alert and generates an output signal that can activate or control hardware relays, protective devices or controllers. The signal level is matched to type 1 PLC signal inputs according to EN 6131-2. All products are fully compliant with applicable railway standards and comply with demanding requirements regarding fire protection, electrical safety, mechanical robustness, resilience to extreme climatic conditions and low EMI susceptibility.
Credit(s)
Further reading:
Large German fertiliser manufacturer reduces costs thanks to SICK Automation
February 2019, SICK Automation Southern Africa , Sensors & Transducers
Available agricultural land in Europe is limited. As a result, large quantities of fertiliser are used in order to increase yields. Producing fertiliser, however, is an energy-intensive process which 
...
Read more...
---
Traceability for tobacco manufacturer
February 2019, SICK Automation Southern Africa , Sensors & Transducers
SICK Automation South Africa recently installed 120 image-based 2D barcode readers across multiple scanning stations in a South African tobacco manufacturing plant. The cigarette manufacturer was looking 
...
Read more...
---
Hygienic limit switches for processes
February 2019, Morton Controls , Sensors & Transducers
Process and storage vessels incorporate limit switches to prevent overfilling of a tank or vessel (full indicator) or dry running of a pump (empty indicator). Anderson-Negele's NCS series are ideally 
...
Read more...
---
A new standard for digital ­inclination measurement
February 2019 , Sensors & Transducers
A new standard for digital inclination measurement has been set with the latest digital protractors from Stabila. Both the Tech 500 DP and Tech 1000 DP are manufactured exclusively in Germany, the main 
...
Read more...
---
Bromide sensor for water disinfection
February 2019, ASSTech Process Electronics + Instrumentation , Sensors & Transducers
With the expansion of its product range of membrane-covered amperometric digital sensors for liquid analysis, ASSTech now has available the Jumo tec-Line Br bromide sensor for general water disinfection 
...
Read more...
---
Wenglor expands optical sensor range
February 2019, ASSTech Process Electronics + Instrumentation , Sensors & Transducers
Wenglor's PNG/smart generation of photoelectronic sensors is distinguished by a combination of performance and communication. An aligned optical axis and a balanced switching point, as well as large switching 
...
Read more...
---
Four questions to ask when ­choosing a vision solution
February 2019, Turck Banner , Sensors & Transducers
Many users find vision systems challenging and it can be difficult to know where to start, but there are some simple steps that can help to match the right vision solution to an application. This article 
...
Read more...
---
Intelligent valve sensor
February 2019, ifm Electronic RSA , Sensors & Transducers
The intelligent valve sensor for pneumatic quarter-turn actuators from ifm electronic features 360° position monitoring to allow precise and continuous scrutiny of the valve condition. Problems such as 
...
Read more...
---
Fast optical data transmission
February 2019, Countapulse Controls , Sensors & Transducers
The Leuze DDLS 500 optical data transceiver has a high optical transmission rate of 100 Mbit/s. This photoelectric sensor allows data transmission without cabling and without interference. Gerry Bryant, 
...
Read more...
---
Speed sensor with IO-Link
February 2019, ifm Electronic RSA , Sensors & Transducers
The new range of speed sensors from ifm electronic has the evaluation electronics integrated into the sensor housing. This allows for low cost and easy monitoring or rotating, as well as linear movements 
...
Read more...
---