printer friendly version
Environmental challenges in the mining industry
November 2018
Flow Measurement & Control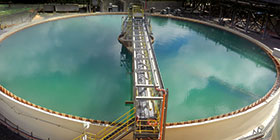 South Africa' economy is greatly dependent on the mining sector for its growth. The country is the largest producer of chrome, manganese, platinum and vanadium, as well as the largest exporter of coal globally.
Mining opportunities are mainly located inland and not necessarily close to rivers or other water sources. However, the mining process is water intensive and it is no secret that South Africa is a water scarce country – rated as the 29th driest country out of 193.This is difficult to manage due to variable rainfall, and the uneven distribution of water throughout the country with water is often not available where it is required.
To alleviate these shortages in catchment areas, large inter-catchment transfer schemes were implemented, but these have negatively impacted the water quality in some basins: for example: the rise of salinity in the Vaal and Orange systems.
The management of ground water has also been lacking, which has resulted in over abstraction as well as widespread pollution. One source of this pollution has been identified as mining activities. Water-pollution problems caused by mining include acid mine drainage, metal contamination and increased sediment levels in streams. Sources can include active or abandoned surface and underground mines, processing plants, waste disposal areas, haulage roads or tailings ponds.
A matter of concern is the serious water quality problem in the Olifants River catchment area. These localised problems need to be addressed by compliance monitoring and enforcement, as well as reducing pollution at source. This can only reliably be achieved by monitoring the water management plans of the mines, along with continuous measurement of water quality parameters in surrounding surface and ground water reserves. Mines can prevent untreated or insufficiently treated water being released by continuous monitoring of their effluent quality.
The Endress+Hauser solution
With Endress+Hauser's wide range of water quality measurement instruments combined with communication gateways for remote access, complete compact monitoring solutions can be supplied to the industry. Two innovative embedded technologies improve the reliability of these solutions: Memosens and Heartbeat Technology.
Memosens
Memosens technology provides digital communication between sensor and transmitter and transfers data to and from the sensor via contactless induction technology. This eliminates problems previously experienced with corrosion or moisture ingress in connectors. Process safety is therefore improved and downtime reduced. All information is stored in the sensor and communicated to the transmitter when connected. The data available from the sensor also allows for more accurate predictive maintenance. For mines, serious about reliable water quality measurements, a streamlined and predictive maintenance regime using Memosens will ensure accurate and reliable measurements are always protecting the environment.
Heartbeat Technology
Heartbeat Technology in measurement devices organises clear, standardised diagnostic messages to maintain the plant based on necessities. It enables predictive maintenance and delivers evidence for operational reliability and process safety.
As the devices run their own diagnostics, proof tests are only necessary in maximum extended cycles. Users can verify and document each measuring point without interruption of the process. This process and device data identifies trends and the parameters available facilitate analysis for predictive maintenance. Using Heartbeat and monitoring it remotely increases uptime as indication of deterioration or failure of an instrument will be immediately highlighted to the maintenance team. This ensures more accurate data to prove compliance of the mine to its water use licence and other environmental laws. Heartbeat Technology is also available on new Proline flowmeters and Micropilot radar instruments.
By always ensuring the quality of the treated effluent complies to regulations and parameters set out in the water use licence, the strain on this scarce resource can be minimised and water sources preserved for future generations.
For more information contact Hennie Pretorius, Endress+Hauser, +27 11 262 8000, hennie.pretorius@za.endress.com, www.za.endress.com
Credit(s)
Further reading:
Compact design electromagnetic flow measurement
December 2019, Endress+Hauser , Flow Measurement & Control
Whether in the life sciences or in biotechnology, whether in the food or chemical industries – global competition is steadily increasing. Ever more companies are implementing their process facilities 
...
Read more...
---
A good combination for the primaries and metals industry
November 2019, Endress+Hauser , System Integration & Control Systems Design
Endress+Hauser?s measurement devices for flow, level, pressure, temperature and liquid analysis.
Read more...
---
Self-cleaning flow indicator for liquids
November 2019, Instrotech , Flow Measurement & Control
To check the flow processes in pipeline systems and for insight into the interior of process pipes, many flow indicators are used in which the flowing medium sets a rotor turning and thus to a large extent 
...
Read more...
---
The complexity of water management in mines
October 2019, Endress+Hauser , System Integration & Control Systems Design
Industries across the globe are encouraged to reuse water as much as possible, and therefore a 'zero liquid discharge' policy has already been implemented by various companies in different sectors.
Read more...
---
Innovating Africa's Industries - tomorrow's technology 4 today's expert
October 2019, Endress+Hauser , News
On 29 August at Emperors Palace Convention Centre, Johannesburg, Endress+Hauser South Africa launched Innovating Africa's Industries (IAI), an exciting new conference established in cooperation with other 
...
Read more...
---
Top data management on the DIN rail
October 2019, Endress+Hauser , Data Acquisition & Telemetry
The data manager family of Endress+Hauser is growing. To meet the strong demand from the market for a smart, compact DIN rail data manager for mounting in the control cabinet, development of the RSG45 
...
Read more...
---
Clamp-on ultrasonic flow measurement
October 2019, Instrotech , Flow Measurement & Control
Kobold's portable DUC-MP and the stationary DUC-MF are designed for continuous flow measurement. They are highly accurate and drift-free operating flowmeters for liquids in filled pipes. The devices are 
...
Read more...
---
Endress+Hauser strengthens ­expertise for advanced analysis
September 2019, Endress+Hauser , News
Endress+Hauser has expanded its centre of competence for advanced analysis in Lyon, France. The Group invested €2 million in a new production facility and office space to meet growing demand in the area 
...
Read more...
---
Kobold's electromagnetic flowmeter
September 2019, Instrotech , Flow Measurement & Control
Instrotech now offers Kobold's new electromagnetic flowmeter model EPS with a standard accuracy of 0,3% of reading. The newly developed, microprocessor-controlled converter guarantees the high accuracy 
...
Read more...
---
A real-time alternative to radiometric density measurement
September 2019, Endress+Hauser , Mass Measurement
Currently, in mining applications, radiometric measurement has been the only way to measure the density of slurry. Until recently, and due to the harsh and abrasive environment of slurry, no other measuring 
...
Read more...
---