printer friendly version
Robust design allows consistency measurement in digester applications
October 2018
Maintenance, Test & Measurement, Calibration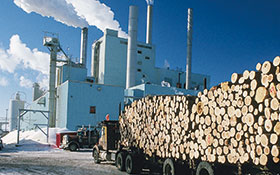 Harsh process conditions have historically prevented the use of mechanical consistency transmitters in Kamyr continuous digester blow lines. The mechanical design of existing transmitters has not been robust enough to survive the unusually high flow rates enforced with uncooked chips and knots, high chemical concentrations with pH exceeding 13, temperatures above flash point as well as rocks and debris.
Traditionally the operators have made some estimation of the consistency by monitoring the current of the scraper motor, or by measuring the differential pressure at the outlet device at the bottom of the digester. While neither measurement has been adequate for the control of cold blow flow, they were used as an indication.
The KC/3 for severe process conditions
ABB Oy, KPM has developed a new consistency transmitter which finally meets the challenge. This blade type transmitter, called KC/3, is made of a solid titanium body without any seals, O-rings or gaskets. This leak-proof design can safely be installed in very severe process conditions, including blow lines and blow tank outlets.
Stora Enso in Oulu, Finland installed a KC/3 in its pulp mill blow line. The installation was straightforward as all required hardware was included in delivery. The special protective deflectors designed for blow line applications with detailed installation and welding instructions are part of the delivery.
The benefits
Occasionally the production rate can drop due to disturbances in flow internal to the digester e.g. chip column movement can stop because of channelling in the washing zone. This will immediately cause serious quality problems. Chips are over cooked, strength properties suffer, and, of course, production rate drops as a result of lower blow consistency.
Having a reliable consistency measurement in the blow line, the operator is warned immediately about a disturbance and can react swiftly. He could, for example, temporarily reduce the flow in washing circulation or change the locations of the wash liquid feed.
During normal run, the differential pressure at the bottom, scraper current and consistency track each other fairly well. The pressure difference does not see the consistency drop but on the contrary indicates higher numbers. Shortly thereafter, the scraper current of the diffusion washer proves that consistency really has dropped. In addition to prompt and reliable information of process disturbances, the production rate calculation becomes more accurate.
This helps to track and control the grade changes to the screening and washing stages. Reliable and exceptionally strong the KC/3 when installed in a blow line provides an important measurement to assist the operators with digester control.
For more information contact Guy Watkins, UIC Instrumentation, +27 31 468 2561, guyw@uic.co.za, www.uic.co.za
Credit(s)
Further reading:
Small dry wells for big field applications
January 2020, Comtest , Maintenance, Test & Measurement, Calibration
Fluke's 914X Series Field Metrology Wells (Fluke 9142, Fluke 9143, Fluke 9144) extend high performance to the industrial process environment by maximising portability, speed, and functionality with little 
...
Read more...
---
Oils and greases for mining applications
January 2020, Bearing Man Group t/a BMG , Maintenance, Test & Measurement, Calibration
BMG's Spanjaard lubricants, oils and greases have been developed with the latest formulations and technologies, to meet the demands of all sectors, including mining, automotive, marine, general industry 
...
Read more...
---
Shutdown planning and execution
January 2020, Instroworx , Maintenance, Test & Measurement, Calibration
It is inevitable in that in some shape or form, all plant workers will at some stage be involved in the shutdown of a facility. Planning is essential to ensure that this shutdown is executed within both 
...
Read more...
---
Accurate results with rugged Fluke thermal camera
January 2020, Comtest , Maintenance, Test & Measurement, Calibration
Leading an industrial maintenance team requires a unique combination of communication skills, industry knowledge and technical expertise. Implementing standard work and a preventive maintenance programme 
...
Read more...
---
Inline sensor status indicator
January 2020, Turck Banner , Maintenance, Test & Measurement, Calibration
Machine downtime can be costly for any company and identifying the problem can be time-consuming. The S15L series inline sensor status indicator can be mounted on a sensor for 360 degree-visibility of 
...
Read more...
---
Martec launches new asset health solutions
January 2020, Martec (a Pragma company) , Maintenance, Test & Measurement, Calibration
Condition monitoring specialist Martec has announced the inclusion of two new services to complement its range of condition monitoring (CM) solutions. The Asset Health Portal and Reliability Nerve Centre 
...
Read more...
---
Emerson monitoring accelerates asset digitalisation
December 2019, Emerson Automation Solutions , Maintenance, Test & Measurement, Calibration
Emerson has introduced the AMS Asset Monitor edge analytics device, which digitalises essential asset data and analytics for better operations performance and improved decision making. AMS Asset Monitor 
...
Read more...
---
SKF condition monitoring system to boost reliability at biomass electricity plant
November 2019, SKF South Africa , Maintenance, Test & Measurement, Calibration
As a global bearing and rotating technology specialist, SKF South Africa is committed to assisting companies to achieve their productivity goals whilst remaining environmentally friendly. The Multilog 
...
Read more...
---
Eliminate power outages caused by steam leaks
November 2019, Instrotech , Maintenance, Test & Measurement, Calibration
The current system Inspecta FFT, first released some 20 years ago, is reaching its end-of-life, and Instrotech's design engineers felt the time was right to upgrade to newer technology, by combining their 
...
Read more...
---
Do more with less and generate ROI with an Integrated Calibration Solution
October 2019, QTEK Instrumentation & Calibration Solutions , Maintenance, Test & Measurement, Calibration
Instrument calibration is just one of the many maintenance-related activities in a process plant, but the last thing anyone needs is to have precious resources wasting time performing unnecessary calibrations 
...
Read more...
---