printer friendly version
Control of abrasive slurries
October 2018
Valves, Actuators & Pump Control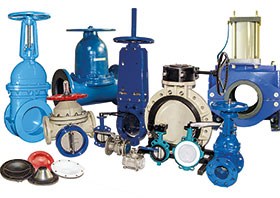 BMG's range of industrial slurry valves, which are designed to cope efficiently in harsh mining conditions, includes robust butterfly and knife gate valves, as well as diaphragm and pinch valves.
"These industrial slurry valves meet stringent quality and safety specifications and are highly efficient on the mines for the control and isolation of abrasive slurries," says Willie Lamprecht, national product manager, BMG. "Failure of a valve and subsequent leaking of corrosive media can have devastating effects on the safety of personnel and equipment, leading to premature system failure and costly downtime. Therefore it is critical that the correct valve is selected for every application, for maximum safety, ongoing operation of the plant and minimum unscheduled maintenance.
"BMG's skilled team has a thorough understanding of the processes and supports every component with a dependable solutions service to ensure optimum safety, efficiency and the extended life of each system."
In mining operations, selection of the correct industrial slurry valve is based on factors that include the size and shape of particles, pressures, temperatures and chemical content.
Polyurethane lined knife gate valves are available from BMG in standard sizes between DN 50 and DN 600, with manual, pneumatic and electric actuation. These valves have a wafer pattern and are manufactured from cast and ductile iron, with stainless steel discs. They can withstand operating temperatures of between - 20 and 80°C as standard, with higher temperatures on request.
Polyurethane liner abrasion-resistant butterfly valves in a wafer pattern or with a lugged design are used for on/off and control of abrasive slurries. Butterfly valves are available from BMG in standard sizes between DN 50 and DN 400.
Locally manufactured FPV diaphragm valves, between DN 50 and DN 350 with manual or pneumatic actuation, are designed for abrasive slurry applications. These flanged diaphragm valves have a body pressure of PN 10 and can withstand temperatures between -10 and 80°C.
Long lasting rubber and jumbo rubber linings are suited for full-bore diaphragm valves with a high flow capacity and an efficient sealing capability, which shuts off any flow and prevents leakage. Full bore diaphragm valves also have a low pressure drop because there is almost nothing obstructing the flow when the valve is fully opened. This creates little resistance to flow, which makes these valves suitable for fluids with abrasive particles. The range also includes unlined diaphragm valves suitable for water treatment and general industrial applications.
FPV pinch valves, featuring a design where the sleeve is pinched to close mechanically or automatically by means of hand-wheel or actuator, are ideal for the control and isolation of abrasive slurries. Open frame pinch valves are available with a short and long frame design, in sizes between DN 50 and DN 600. The body is made from mild steel, but stainless steel is also available for specific applications. These valves, with soft rubber sleeves, have manual, hydraulic and pneumatic actuation and can withstand temperatures between -20 and 80°C.
BMG's extensive range of components for fluid technology systems and general industrial applications encompasses valves, hydraulic hoses and fittings, accumulators, cylinders, heat exchangers, pneumatics, hydraulic motors and hydraulic plumbing, as well as pumps and reservoir accessories. The company also offers a total process and lubrication management solution, to meet exact market requirements.
For more information contact Lauren Holloway, BMG, +27 11 620 7597, laurenhy@bmgworld.net, www.bmgworld.net
Credit(s)
Further reading:
Sealing for oil and gas applications
September 2019, Bearing Man Group t/a BMG , News
BMG supplies and supports the full range of Garlock seals and sealing systems, including specialist fluid sealing products for the oil and gas industry. "Garlock seals and sealing systems, which meet 
...
Read more...
---
Valve technology for tyre presses
September 2019, Macsteel Fluid Control , Valves, Actuators & Pump Control
Production plants for tyres place extremely high demands on valves. Tyre curing presses work at high pressures of steam, water, and nitrogen, as well as at high temperatures. In addition, the very short 
...
Read more...
---
Stafsjö valves protect installations
September 2019, Valve & Automation , Valves, Actuators & Pump Control
When it comes to industrial fire protection systems, reliability is essential. The system, which is often on constant standby for long periods, should be able to respond immediately and extinguish possible 
...
Read more...
---
Innovation embedded in Metso's DNA
August 2019, Metso South Africa , Valves, Actuators & Pump Control
Apart from the role in technology development, digitalisation is one of Metso's key enablers to serve its customers better.
Read more...
---
Valves for molten sulphur or sulphur tail gas applications
August 2019, Valve & Automation , Valves, Actuators & Pump Control
Design engineers at Zwick have solved the ongoing problems experienced with valves on sulphur units. Typical valve problems on large bore line sizes range from seizing of the packing to severe seat damage 
...
Read more...
---
ARCA anti-surge control valves in operation
August 2019, Valve & Automation , Valves, Actuators & Pump Control
Arca supplies its extensive range of valves to nearly all types of industries, but an important part of the product range are valves for turbines and turbo compressors, especially anti-surge control valves. 
...
Read more...
---
Biffi Italia electric actuator launched
August 2019, Emerson Automation Solutions , Valves, Actuators & Pump Control
Biffi Italia, a leading manufacturer of high-performance and reliable valve actuation systems, has introduced the new Icon3000 electric actuator: a smart, powerful multi-turn actuator that offers improved 
...
Read more...
---
Boltight hydraulic bolt tightening from BMG
August 2019, Bearing Man Group t/a BMG , Pneumatics & Hydraulics
BMG's Nord-Lock bolting solutions now include Boltight hydraulic bolt tensioning tools, which are used to tighten bolts simultaneously, ensuring even preload in industrial applications and extreme environments, 
...
Read more...
---
Robin Briggs appointed managing director of BMG
July 2019, Bearing Man Group t/a BMG , News
Robin Briggs has a passion for strategy and a commitment to driving successful business growth in South Africa's industrial sector. He brings to BMG a wealth of product knowledge, a thorough understanding 
...
Read more...
---
BMG drives sewage and effluent management
July 2019, Bearing Man Group t/a BMG , Motion Control & Drives
BMG supplies a range of drives designed specially for optimum efficiency in sewage treatment applications. "Nord drives, which consist of Unicase helical shaft mount geared motors, have special features 
...
Read more...
---