printer friendly version
Mini PLC offers versatile options
September 2018
PLCs, DCSs & Controllers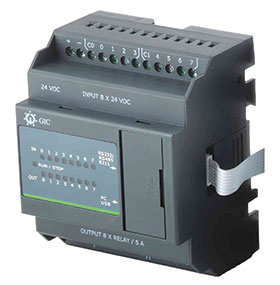 GIC's PL-100 mini programmable logic controller is a real-time system designed for multiple input and output arrangements. The PL-100 can control a wide variety of devices to support the user's evolving automation needs. The PL-100 monitors inputs and changes outputs as controlled by the user program, which can include Boolean logic, counting, timing, complex mathematical operations and communication with other intelligent devices. With its free software, compact design, flexible configuration and powerful instruction set, the PL-100 is a perfect solution for controlling a wide variety of applications in the industrial and commercial sectors.
Prominent features include:
• Programming using ladder diagram.
• Supports up to 112 I/Os including isolated digital inputs (sourcing and sinking), digital transistorised outputs with short circuit protection, high-speed inputs and outputs (PTO/PWM/S-profile) and analog voltage or current inputs and outputs.
• Programming is done through a USB port.
• Standard RS-232/RS-485 port with RJ11 for HMI and scada interface.
• Modbus RTU support.
• Stacking using FRC cable up to a maximum of six expansion modules.
• Rugged and designed to withstand electromagnetic inter-ference, vibrations, temperature and humidity variations.
• Some of the software features include 128 time switches, multiple timers, counters including retentive counters, hour meters and many other function blocks.
• An independent scale converter block with various SFBs to convert the corresponding parameters. It supports up to 16 points conversion for various data types.
• The modified preset parameters of the SFBs configured in ladder, can be retained by selecting the 'Retain SFB Set Value'.
• Complete with LED indication for inputs, outputs, run, stop and error.
• User-friendly software for online and offline simulation that supports regular firmware updates.
Users can now seamlessly and affordably implement automation in almost any electromechanical process.
For more information contact Farrel Sher, AC/DC Dynamics, +27 10 202 3300, farrels@acdc.co.za, www.acdc.co.za
Credit(s)
Further reading:
Powerful controller for high safety requirements
Phoenix Contact PLCs, DCSs & Controllers
Thanks to its 8-core processor, high-level language and open-source software such as Docker or even Matlab Simulink can run simultaneously with the control program.
Read more...
---
New user-friendly modular controller
Allpronix PLCs, DCSs & Controllers
Novus has released its N20K48 controller family. This new concept is based on a compact, powerful core controller plus a growing family of micromodules that enable it to meet a wide range of application requirements.
Read more...
---
ABB white paper explores the future of DCS technology
ABB South Africa News PLCs, DCSs & Controllers
The company foresees a modular automation architecture that will evolve to address customer needs, becoming more open, interoperable and flexible.
Read more...
---
Introducing Commander S and Marshal
PLCs, DCSs & Controllers
Control Techniques is launching a new member to the Commander family of drives and a revolutionary app named Marshal. Commander S provides a solution for applications that require plug-and-play control convenience straight from the box, while Marshal revolutionises how the user interfaces with the drive.
Read more...
---
Left-alignable extension modules for PLCnext Control devices
Phoenix Contact PLCs, DCSs & Controllers
As the left-alignable modules communicate with the controller via PCIe, the standardised interface can also be used by third-party devices.
Read more...
---
Manufacturer-independent device management and update service
Phoenix Contact PLCs, DCSs & Controllers
In the industrial environment, solutions for Device and Update Management (DaUM) often use a specific process called a vendor to distribute files to proprietary devices and install them based on the manufacturer. 
...
Read more...
---
Redundant PLC for maximum availability
Phoenix Contact PLCs, DCSs & Controllers
Integrating IO-Link-capable sensors and actuators is especially popular with suppliers of machines or skids for the food and beverage industry.
Read more...
---
Hotel sets new energy efficiency standard
Beckhoff Automation PLCs, DCSs & Controllers
Steigenberger Alsik Hotel & Spa in Sønderborg is not only the largest hotel in southern Denmark, but also one of the most sustainable and climate-friendly hotels in northern Europe. High-tech solutions 
...
Read more...
---
Easy recording of weather data
Phoenix Contact PLCs, DCSs & Controllers
Phoenix Contact's pre-installed solution with PLCnext Control records the values of wind speed and direction, temperature, irradiation, humidity and the amount of precipitation.
Read more...
---
Controller for robotic systems
Omron Electronics PLCs, DCSs & Controllers
Omron has announced the launch of its first 'Robotic Integrated Controller', based on its leading NJ series of machine controllers for industrial automation.
Read more...
---