printer friendly version
Futureproof edge computing ­applications
August 2018
IT in Manufacturing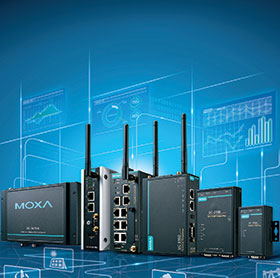 It can be a challenge to find an IIoT gateway that easily connects geographically dispersed devices to the cloud, especially in outdoor or rugged environments. Moxa's UC series industrial computers are highly integrated Arm-based Linux platforms that include Moxa Industrial Linux. To address the need for an extended lifecycle for products in applications such as renewable energy monitoring, intelligent transportation systems, production line monitoring, and oil and gas artificial lift monitoring, the UC series are ruggedised and come with 10-year Linux support. Recognised for their reliable performance in large-scale deployments worldwide, these IIoT gateways are a trusted choice for all IIoT applications.
Key features include:
• Moxa Industrial Linux with 10-year, long-term support.
• -40 to 85°C wide operating temperature (-40 to 70°C with 4 G LTE).
• Wi-Fi/LTE redundancy.
• Crash-free robust file system.
• Supports TPM 2.0 security chip on Linux.
• Provides utility to enable IEC 62443-4-2 security level.
About Moxa Industrial Linux
Moxa Industrial Linux (MIL) is a high-performance, industrial-grade Linux distribution, developed by Moxa to help accelerate industrial projects. MIL is based on Debian and the standard Linux kernal, which make it easy to deploy applications on multiple systems. To address the long-term system needs of smart cities and industries such as energy, water, oil and gas, transportation, and factory automation, MIL provides 10-year long-term Linux support that includes security patches and bug fixes, making industrial projects secure and sustainable. In addition, Moxa is working with industry leaders to create a reliable and secure Linux-based embedded software platform that can be sustained for more than 10 years. Moxa is a member of The Linux Foundation and is part of its Civil Infrastructure Platform (CIP) project that aims to create an open-source platform for managing and monitoring smart cities, civil infrastructure and factories, to make them secure, reliable, scalable, and sustainable.
Credit(s)
Further reading:
Data, light and the smart factory
May 2019 , IT in Manufacturing
The role of lasers in the Fourth Industrial Revolution.
Read more...
---
Planning for digital transformation
May 2019 , IT in Manufacturing
As we've learned, digital transformation can be a challenging, if necessary, journey. At each year's Forum, we learn more about how pioneering companies are overcoming these challenges and the associated 
...
Read more...
---
Cathay Industrial Biotech benefits from Siemens technology
May 2019, Siemens Digital Industries , IT in Manufacturing
Cathay Industrial Biotech (Cathay) is China's leader in the field of bio-manufacturing. Its areas of expertise include producing polyamide from biomass, which takes place in a totally digital plant using 
...
Read more...
---
Monitoring the health of your asset
May 2019, Automation & Control Solutions , IT in Manufacturing
In an ever-changing world where digital transformation coupled with optimised computerisation and interconnectivity is prevalent, the need to remain knowledgeable about asset health in manufacturing is 
...
Read more...
---
Simulated flexible production environment
May 2019, Omron Electronics , IT in Manufacturing
Omron South Africa is showcasing its fully simulated flexible production environments at Africa Automation Fair. Visit Stands C03 and D07 to see the integrated automation solutions designed to help turn 
...
Read more...
---
Broadband power line modem
May 2019, SSE , IT in Manufacturing
The e-terrapowercom is a broadband power line modem with integrated switch designed for communications on medium and low voltage grids. Installation is easy and fast using existing power cables. It extends 
...
Read more...
---
Reduce the risks associated with automation solutions
May 2019, Adroitly Africa , IT in Manufacturing
Adroitly Africa's Version Control and Backup software offering can assist in proactively reducing the risks associated with PLC, scada and HMI automation solutions that control a process.    Pay a visit 
...
Read more...
---
Complete range of industrial cables
May 2019, Helukabel , IT in Manufacturing
Helukabel is showcasing its range of data, network and bus (DNB) products. On display at Stand B01 is a complete range of industrial cables as well as the related connecting equipment consisting of connectors, 
...
Read more...
---
Digital automation technologies
May 2019, Yokogawa South Africa , IT in Manufacturing
Yokogawa is showcasing the Synaptic Business Automation solution, which can transform business processes by optimisation of supply chains and operations and maximisation of asset performance. This is 
...
Read more...
---
Edge-to-cloud cybersecurity
May 2019, RJ Connect , IT in Manufacturing
RJ Connect provides industrial networking and automation solutions for enabling IIoT.    However, industrial automation and control systems need to ensure facilities and services are safe and secure, 
...
Read more...
---