Futureproof edge computing ­applications
August 2018
IT in Manufacturing

printer friendly version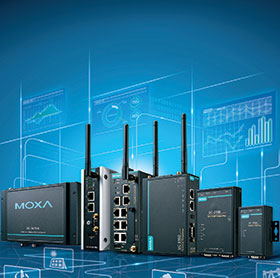 It can be a challenge to find an IIoT gateway that easily connects geographically dispersed devices to the cloud, especially in outdoor or rugged environments. Moxa's UC series industrial computers are highly integrated Arm-based Linux platforms that include Moxa Industrial Linux. To address the need for an extended lifecycle for products in applications such as renewable energy monitoring, intelligent transportation systems, production line monitoring, and oil and gas artificial lift monitoring, the UC series are ruggedised and come with 10-year Linux support. Recognised for their reliable performance in large-scale deployments worldwide, these IIoT gateways are a trusted choice for all IIoT applications.
Key features include:
• Moxa Industrial Linux with 10-year, long-term support.
• -40 to 85°C wide operating temperature (-40 to 70°C with 4 G LTE).
• Wi-Fi/LTE redundancy.
• Crash-free robust file system.
• Supports TPM 2.0 security chip on Linux.
• Provides utility to enable IEC 62443-4-2 security level.
About Moxa Industrial Linux
Moxa Industrial Linux (MIL) is a high-performance, industrial-grade Linux distribution, developed by Moxa to help accelerate industrial projects. MIL is based on Debian and the standard Linux kernal, which make it easy to deploy applications on multiple systems. To address the long-term system needs of smart cities and industries such as energy, water, oil and gas, transportation, and factory automation, MIL provides 10-year long-term Linux support that includes security patches and bug fixes, making industrial projects secure and sustainable. In addition, Moxa is working with industry leaders to create a reliable and secure Linux-based embedded software platform that can be sustained for more than 10 years. Moxa is a member of The Linux Foundation and is part of its Civil Infrastructure Platform (CIP) project that aims to create an open-source platform for managing and monitoring smart cities, civil infrastructure and factories, to make them secure, reliable, scalable, and sustainable.
Credit(s)
Further reading:
Digital Enterprise offering with ­future technologies for Industry 4.0
February 2019, Siemens Digital Factory & Process Indust. & Drives , IT in Manufacturing
By expanding its Digital Enterprise portfolio and integrating future technologies, Siemens is driving forward the digital transformation of the discrete and process industries.
Read more...
---
Improved supply chain efficiency and energy saving at Namibia Breweries
February 2019, IS³ - Industry Software, Solutions & Support , IT in Manufacturing
Established in 1920, Namibia Breweries is one of the leading beverage manufacturing companies in Namibia and southern Africa. Today, with the stated vision to be the 'most progressive and inspiring company', 
...
Read more...
---
Operators step into the future
February 2019, SKF South Africa , IT in Manufacturing
Recognising the increasingly vital role that technology plays in business, SKF continues to move with the Industry 4.0 tide. In line with its 'World Class Manufacturing' initiative, SKF has implemented 
...
Read more...
---
Spresense platform brings sound and vision to IoT devices
February 2019, RS Components SA , IT in Manufacturing
RS Components has boosted opportunities to create smarter IoT devices by introducing Sony Spresense, featuring Arm Cortex-M4F performance and extensive sensing, audio, and imaging capabilities. The low-power 
...
Read more...
---
Towards the Smart Factory
February 2019, Omron Electronics , IT in Manufacturing
With much of the reported paradigm of Industry 4.0 resting on self-configuration of machinery and production lines, Omron's Victor Marquess looks at what can already be achieved to get on the path to 
...
Read more...
---
Unobtrusive approach to digitalisation
February 2019, Parker Hannifin Sales Company South , IT in Manufacturing
As Industry 4.0 continues to unfold, increasing numbers of manufacturers, big and small, are seeking the best opportunities to increase the automation of their industrial processes and improve productivity. 
...
Read more...
---
Enhanced intelligence at the edge
February 2019, RJ Connect , IT in Manufacturing
A new computing model that helps create autonomous edge nodes is changing the IIoT landscape. Edge nodes are data-aggregation points in an IIoT system, where the physical world of sensors and actuators 
...
Read more...
---
Simple connection of converters supports cloud-based applications
February 2019, Siemens Digital Factory & Process Indust. & Drives , IT in Manufacturing
The new Sinamics Connect 300 from Siemens provides a simple plug-and-play solution for integrating converters of the Sinamics family into the IT world. The new solution is suitable for low-voltage converters 
...
Read more...
---
Yokogawa adds OpreX redundancy
February 2019, Yokogawa South Africa , IT in Manufacturing
Yokogawa has announced a platform that enables software packages to run on general-purpose computers in a redundant configuration, which has been added to its OpreX Control and Safety System family. This 
...
Read more...
---
New performance management ­solutions for intelligent valves and pumps
January 2019 , IT in Manufacturing
While digital transformation has been getting its fair share of hype in recent years, end-users in the heavy process industries actually began digitising their plants decades ago with the introduction 
...
Read more...
---