printer friendly version
Save money and downtime with ParkerStore maintenance services
Technews Industry Guide: Maintenance, Reliability & Asset Optimisation 2018
Maintenance, Test & Measurement, Calibration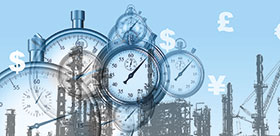 While 'an ounce of prevention is worth a pound of cure', we might say today, 'a dollar of prevention is worth many thousands of dollars of downtime, shortened asset life, repair and maintenance costs and decreased productivity.' When it comes to hydraulic systems, there are many factors that can compromise both the operation of machines and the cleanliness, or purity, of the fluids.
Contamination
One of those factors is contamination. Contaminant particles can be solids or liquids ranging from visible to too small to see with the naked eye. Contaminates can cause degradation of fluids and sluggish system function as well as decrease the range of motion of equipment parts. Overall, they reduce system or equipment efficiency, leading to higher operating costs, lower productivity, more frequent servicing and – worst of all – system failure.
That is why ParkerStore offers two distinct services that can save money and avoid problems in the long run, and even in the short term. These use the latest technologies to monitor and test systems to ensure they operate with maximum reliability and efficiency.
The two services are Fluid Analysis and Condition Monitoring. Depending on their application, users may need one or both. Together, they offer a predictive maintenance programme that saves money and downtime.
So just what is predictive maintenance?
The terms preventive and predictive maintenance are sometimes interchanged, but they are in fact different concepts.
Preventive maintenance helps prevent equipment failure by systematically replacing deteriorating components and/or identifying and correcting maintenance issues before they lead to system failure.
Predictive maintenance is proactive and the techniques are designed to help determine the condition of in-service equipment in order to predict when maintenance should be performed. In a sense, predictive maintenance encompasses preventive maintenance, but does it in a way that minimises costs by performing maintenance only when necessary.
Fluid analysis
Implementing fluid analysis can help identify problems that cannot be detected by human senses and, in the end, can help prevent major hydraulic or lubricating oil system failures. The most obvious benefit is identifying any water or dirt in the fluid.
Whether talking about petroleum-based or water-based systems, it is important to realise ParkerStore fluid analysis equipment can help recognise potential problems that simply cannot be detected by the human eye. Using fluid particle detection, particles can be measured down to four microns in diameter.
ParkerStores will test for water in oil, which can cause corrosion, cavitation or even machinery failure. Making sure the Total Base Number is high enough in engine oils helps to avoid corrosion of components. Pinpointing the Total Acid Number: the weak organic and strong inorganic acids present within an oil helps to maintain and protect equipment. The service also tests for insoluble particles like soot, and monitors combustion-related debris and oxidation products in engine oils, while testing for viscosity can determine a change in the oil chemistry.
Condition monitoring
Condition monitoring can accurately pinpoint issues in equipment, taking guesswork out of the picture. Employing a condition monitoring system, which measures and tracks variables such as system pressure, temperature and humidity, is an effective predictive maintenance strategy, because it covers three critical bases:
• Provides real-time and historical data trends of assets and processes.
• Allows operators to detect and diagnose problems before they snowball into failures.
• Delivers analytics and alerts to operators.
Condition monitoring for predictive maintenance gives operators the power to predict and improve processes, so that they can optimise systems and assets based on what is happening in real-time, rather than simply reacting to unexpected events – or fixing problems that may not even exist.
In addition, there is no longer a need to stock a full inventory of spare parts because, with condition monitoring in place, maintenance personnel have plenty of time to plan and order the specific parts required.
For more information contact Lisa de Beer, Parker Hannifin SA, +27 (0)11 961 0700, lisa.debeer@parker.com, www.parker.com/za
Credit(s)
Further reading:
Optimising hydraulic controls
Parker Hannifin - Sales Company South Africa Pneumatics & Hydraulics
Parker Hannifin has launched two components − the Parker Automation Controller PAC120 and the electro-hydraulic controller module PACHC − that together offer an innovative solution for the automation 
...
Read more...
---
All-in-one documenting process calibrators
Comtest Maintenance, Test & Measurement, Calibration
The multifunction calibrators perform sourcing, simulation and measurement of pressure, temperature and electrical signals.
Read more...
---
Five reasons for force measurement
WIKA Instruments Editor's Choice Maintenance, Test & Measurement, Calibration
Wika takes a closer look at the measured variable of force and gives five reasons to show why force measurement is of particular importance.
Read more...
---
Impact of innovative technologies on the mining industry
Parker Hannifin - Sales Company South Africa Editor's Choice IT in Manufacturing
Mining operations must identify creative ways to handle the increased demand for minerals and resources as global economies become even more reliant on mineral sales. As a result, mine operators must 
...
Read more...
---
High-quality contact lubricants
Vepac Electronics Maintenance, Test & Measurement, Calibration
CG53A is part of the CG series of contact lubricants, designed as an extension of the extremely popular 2X range. The main advantages of these products are reduced contact resistance, even on extremely 
...
Read more...
---
Field services – beyond break-fix to invaluable organisational insight
Schneider Electric South Africa Maintenance, Test & Measurement, Calibration
An outsourced field services team can assist organisations not only during emergencies but also by providing spares, technical support and 24/7 callout availability.
Read more...
---
Pyranometer for monitoring small-scale PV installation efficiency
GHM Messtechnik SA Electrical Power & Protection Maintenance, Test & Measurement, Calibration
The device's classification level under the ISO 9060:2018 standard guarantees accuracy, reliability, precision and compliance with reference standards.
Read more...
---
Condition monitoring on offshore oil platforms
Beckhoff Automation Maintenance, Test & Measurement, Calibration
The steel structures of an offshore platform are exposed to extreme environmental conditions throughout their entire service lives. Difficult sea conditions ranging up to freak waves and aggressive 
...
Read more...
---
The 'P' in predictive maintenance represents progress, not pain
SMC Corporation South Africa Maintenance, Test & Measurement, Calibration
There are three main types of maintenance: reactive, preventative and predictive. But how do you make sense of these terms? Human health can provide an analogy to machine health. Take diabetes, for 
...
Read more...
---
Precision current loop calibrators
Comtest Maintenance, Test & Measurement, Calibration
The Fluke 709 and 709H mA loop calibrators are built around a user-friendly interface with a quick-set rotary encoder knob.
Read more...
---