printer friendly version
Fortress delivers intelligent ­interlocks for Industrie 4.0
November 2017
IS & Ex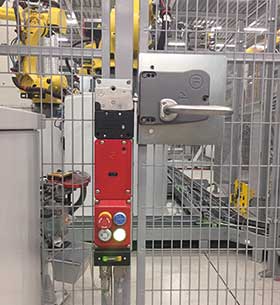 Deebar has exclusively represented Fortress Interlocks for over 35 years in Africa and offer interlocking support for an extremely wide range of industrial applications, including power generation and distribution, iron and steel, automotive manufacturing, food and beverage, recycling, building and construction, robotics and palletisers. The extensive product range, available together with experience, means that Fortress can provide solutions for all safeguarding applications.
As the world races towards billions of devices connected to the Internet by 2020, Industrie 4.0 presents a huge challenge to manufacturers. Collaborative robots and the automation of tasks previously carried out by people, is reducing the need for traditional machine guarding while increasing the need for smart interlocks.
Fortress prides itself on maintaining mechanical strength and reliability in its products, which have a reputation as being among the strongest on the market. More recently it has built-in additional functionality to help customers better manage their processes. As the importance of data increases, it is becoming a requirement for products to provide feedback through extensive, potentially global, data networks.
Network-enabled gate switches for harsh environments
The company recently completed various installations utilising its network-enabled gate switches, designed to operate on safety networks. These products are easy to configure and install and provide additional operational feedback, as well as carrying out their safety functions.
Manufacturing plants are notorious for their dusty, arduous environments and high vibration levels from machinery. This can play havoc with traditional safety interlocks, often causing tripping faults.
To overcome these problems, Fortress Interlocks has developed its Profi-enabled amGardpro interlock gate switch with built-in machine control technology, built to withstand the most strenuous conditions. With a locking force of 10 000 N, the Profi-enabled switch eliminates virtually all nuisance tripping faults, making amGardpro one of the most robust networked safety interlocks on the market.
Profinet is an advanced industrial Ethernet system for transporting data in real-time between control devices (such as PLCs) and field devices (such as safety gate switches).
Using Profi-enabled amGardpro gate switches, a customer of Fortress, specialising in the manufacture of roof tiles, was able to reduce the wiring for each interlock unit, significantly reducing design, engineering, commissioning and maintenance costs, and virtually eliminating tripping faults.
The amGardpro is designed to protect personnel from inadvertent machine restart. Every gate switch at the tile manufacturer is fitted with a safety key which must be taken by any worker who enters the guarded machinery. The machinery cannot be restarted until the safety key has been returned to its original position outside the hazardous area. If access for multiple personnel is required, the interlock is fitted with a lock-out clip, enabling operators to attach a padlock to the gate switch for lock-out tag-out purposes.
Connecting Fortress safety gate switches to a Profinet network, provided an unprecedented level of diagnostic coverage for the tile manufacturer. Engineers could use standard Internet browsers to access diagnostic displays which provided accurate topology views of the network for rapid fault location.
This form of fault detection drastically decreased the level of production downtime, while allowing authorised personnel to access network displays remotely, meant engineers could diagnose system faults without being on site. The amGardpro Profinet switches have helped the roof tile manufacturer to make significant improvements in the way the plant is controlled, monitored and managed.
As industry evolves, Fortress' view remains unchanged – protect people and productivity in this digital age.
For more information contact Deebar, +27 (0)11 873 4332, ask@deebar.co.za, www.deebar.co.za
Credit(s)
Further reading:
Safety laser scanner for outdoor ­applications
July 2019, SICK Automation Southern Africa , IS & Ex
SICK Automation has launched another global innovation: the first safety laser scanner certified to IEC 62998 for use in outdoor applications. The outdoorScan3 allows automated guided vehicle systems 
...
Read more...
---
Control and report in hazardous areas
July 2019, Pepperl+Fuchs , IS & Ex
Installers expect quick and on-demand delivery from their electrical equipment suppliers, even for apparatus for hazardous areas. The carefully considered ability to configure many housing and control 
...
Read more...
---
Mobile application for barcode scanning
Africa Automation Fair 2019 Preview, Extech Safety Systems , IS & Ex
Extech is exhibiting the mobXscan app for use in hazardous areas, which adds the capability of barcode scanning to any Windows 10 tablet or Android device. It can be seen at Stand E03. It uses the built-in 
...
Read more...
---
Safety on the pistes
May 2019, Siemens Digital Industries , IS & Ex
Inauen Schätti, a construction company whose areas of specialism include ropeways, is working to improve piste safety for skiers. As part of a pilot test project on the Parpaner Rothorn mountain, the 
...
Read more...
---
Safety technology to improve ­flexibility
May 2019, AC/DC Dynamics , IS & Ex
The new Datalogic concept for robot evolution expects to overtake the competition. Following demanding safety regulations, outdated isolated robotic cells are now replaced with robot-like parts of industrial 
...
Read more...
---
Drone-based gas leak detection
May 2019, ABB South Africa , IS & Ex
Leaks in gas distribution and transmission pipelines present serious safety risks and result in lost revenue and profits to producers. The ABB Ability mobile gas leak detection system is a digital solution, 
...
Read more...
---
Conveyor system fire prevention
May 2019, R&C Instrumentation , IS & Ex
The transport of materials is a key activity for most industries. For many of these tasks, conveyor belt systems offer a cost effective and efficient solution. However, with such a system comes a high 
...
Read more...
---
LSIS achieves Ex rating for HMI range
Africa Automation Fair 2019 Preview, Ana-Digi Systems , IS & Ex
LSIS is rolling out Ex certification for its entire range of HMIs. These products now carry a rating which allows for a maximum pollution degree 2 level. Mounting the HMIs into an IP54 enclosure ensures 
...
Read more...
---
Equipment for hazardous areas
Africa Automation Fair 2019 Preview, Extech Safety Systems , IS & Ex
Extech Safety Systems is showcasing Sensear digital communication and active listening headsets and earplugs at Stand E03. These are for use in high noise and hazardous environments. Sensear's patented 
...
Read more...
---
Solutions for the Ex automation industry
Africa Automation Fair 2019 Preview, Stahl Esaco , IS & Ex
Stahl Esaco is presenting leading R. Stahl solutions and products for the Ex automation industry. These include remote I/O systems, HMIs and cameras, which can be viewed at Stand F12. The I/O systems 
...
Read more...
---