printer friendly version
Increased safety in mine charging stations
November 2017
Electrical Power & Protection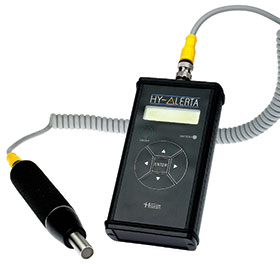 Increasingly, mines are using battery-powered electric vehicles underground as they help eliminate the problem of air pollution from diesel exhaust emissions. However, there is also an inherent risk in having large multi-battery charging bays underground. The charging process generates hydrogen, which escapes from the banks of batteries on charge to form a potentially explosive mix. This could result in a potentially catastrophic hydrogen gas explosion – constituting a very real health and safety risk in the process.
In addition, in a 'fiery' mine such as a colliery for example, hydrogen combustion may potentially trigger a more serious secondary coal dust explosion.
RTS Africa Engineering, based in Tshwane, specialises in innovative technologies that provide solutions to industrial challenges. Among other things, the company has been involved in supplying hydrogen production and analysis equipment for many years.
"Importantly, we also offer hydrogen detection instruments, the Hy-Alerta 500 and the Hy-Alerta 600B/610B from our international California-based principal, H2Scan, for use in many industrial applications, including the mining sector," explains managing director Ian Fraser. "For example, these products serve as a valuable safety aid in hydrogen gas detection within battery charging stations in underground mines."
Hydrogen detection and monitoring
The Hy-Alerta 500 instrument is a versatile handheld detection device, able to detect a wide range of hydrogen gas concentrations without the need for any peripheral equipment. The hydrogen sensor probe has a unique visual LED array that will effectively help navigate to the source of a hydrogen leak where hydrogen gas is produced, used, transported or stored.
"With two sensing elements on the same semiconductor die, the Hy-Alerta 500 can detect hydrogen leaks as low as 15 ppm and will not saturate or be destroyed when detecting high concentrations of hydrogen up to 100%," says Fraser.
The Hy-Alerta 600B/610B fixed area hydrogen monitors are better suited for area monitoring; and will provide hydrogen-specific leak detection and measurement for hydrogen concentrations as low as 4000 ppm. They can, furthermore, be scaled to any concentration up to 5% hydrogen by volume, a range representing 10% to 125% of hydrogen's low flammability limit.
"This instrument can be connected to a flashing light or an alarm siren and, if need be, can communicate with a mine's existing control system," elaborates Fraser.
Both models have been designed for either ceiling or wall mount; and have RS-422 capability that extends the interface from the sensor to the controller to over a hundred metres.
"In addition, H2Scan's hydrogen-specific sensor technology has no cross-sensitivity to other combustible gases, thus eliminating false alarms and increasing system reliability," adds Fraser.
He points out that the company's hydrogen analysers and leak detectors are based on patented, solid-state core hydrogen sensor technology exclusively licensed from the US Department of Energy, and are supported by 15 years of research and development, and field verification work. In terms of occupational health and safety certification, H2Scan's instruments conform to the highest international standards.
For the past ten years, RTS Africa has been the agent – locally and pan-Africa – for H2Scan. Many Hy-Alerta instruments are currently being used to detect hydrogen leaks around power station generators.
"Ultimately, with the improved measurement capability provided by these solutions, industries such as mining and the petrochemical industry will be able to operate with the added peace of mind that the risk of hydrogen combustion has been eliminated," concludes Fraser.
For more information contact RTS Africa Engineering, +27 (0)12 433 6335, www.rtsafrica.co.za
Further reading:
Guaranteed power protection
July 2019, Schneider Electric South Africa , Electrical Power & Protection
During energy month, it may be time to assess what equipment in your office or data centre is critical to keep online. Adopting smart uninterruptible power supply (UPS) technology has become the preferred 
...
Read more...
---
Quick transformer turnaround for KZN mine
July 2019 , Electrical Power & Protection
When a mining company in KwaZulu-Natal experienced a transformer failure recently, it was hoping for a quick solution. The mine got one from dry-type transformer specialist Trafo Power Solutions. It took 
...
Read more...
---
UPS for industrial networks
July 2019, Phoenix Contact , Electrical Power & Protection
The new Quint DC UPS uninterruptible power supply can be integrated into established networks, and continues to supply systems without interruption even in the event of a mains failure. It can be integrated 
...
Read more...
---
Smart Grid solutions enhance utility revenue collection
July 2019, Schneider Electric South Africa , Electrical Power & Protection
At African Utility Week in Cape Town, Johan Pretorius, business development manager, Schneider Electric South Africa, presented a paper on 'The Impact of Revenue Collection on Non-Technical Losses'. "The 
...
Read more...
---
Leonardo fitted with backup power by Zest WEG Group
July 2019, Zest WEG Group , Electrical Power & Protection
As Sandton anticipates the completion this year of the Leonardo, the top end mixed-use skyscraper being constructed by Aveng-Grinaker LTA, Level 1 BBBEE-rated Zest WEG Group has supplied generator sets 
...
Read more...
---
UPS with integrated power supply and USB interface
June 2019, Phoenix Contact , Electrical Power & Protection
Supplying critical DC loads safely, increased system availability, confined spaces, and tough ambient conditions present system designers and operators with a variety of challenges.
Read more...
---
Power analysis and energy saving evolved
June 2019, HellermannTyton , Electrical Power & Protection
Advanced power and energy consumption analysis is now available using a smartphone or tablet. The TPQA820 is a true RMS, self-powered 3-phase power quality analyser used to analyse and record the most 
...
Read more...
---
Zest helps farmers find good 'ground'
June 2019, Zest WEG Group , Electrical Power & Protection
According to Zest WEG Group, there are misconceptions around what constitutes 'earth' and 'neutral' connections, and not understanding the differences can create serious problems when connections are 
...
Read more...
---
BMG enhances efficiency of solar tracking system
June 2019, Bearing Man Group t/a BMG , Electrical Power & Protection
BMG has extended the supply of Varvel gearboxes for small and medium power applications to include customised worm gearboxes for installation in photovoltaic solar tracking systems. "As part of BMG's 
...
Read more...
---
RS Components introduces new Power over Ethernet injectors
June 2019, RS Components SA , Electrical Power & Protection
RS Components has announced availability of a new selection of Power over Ethernet (PoE) single-port mid-span power injectors manufactured by Phihong, a leader in advanced power solutions and a specialist 
...
Read more...
---