Trapped key interlocking
October 2017
IS & Ex

printer friendly version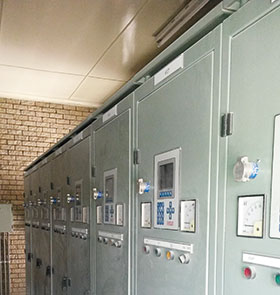 The manufacturing environment relies heavily on automated processes and machinery. Ensuring safety whilst delivering productivity is vital to every manufacturing facility and therefore safeguarding operators from hazards, as well as guaranteeing that processes run at optimum efficiency, is a constant challenge for manufacturing companies.
Fortress Interlocks are specifically designed for such applications and span manufacturing sectors from mining, power generation, steel, automotive, recycling, food and beverage, and packaging.
Deebar have exclusively represented Fortress Interlocks for over 35 years. Using its experience and Fortress' 40 years in the safety interlocking business, it assists customers to create safe workplaces, where employees in industrial environments are safeguarded from injury, and equipment is protected from damage. A world leader in access control systems, Fortress Interlocks guarantee that actions and events are undertaken in a predetermined sequence ensuring a safe working environment.
Safety in power generation applications
Safety in the power generation industry is a top priority in South Africa and the potential risks working in these environments can be extremely high. Therefore, the safety and well-being of workers is paramount and companies strive to achieve nothing less than zero incidents.
In this industry, whether it is electrostatic precipitators, substations or breakers, Deebar has established itself as a leader in safeguarding the workforce that interact with the equipment on a daily basis. It has recently been awarded a contract to equip trapped key interlocks on an electrostatic precipitator at a power station in the Emalahleni area. This is the third station to upgrade its safety standards to incorporate trapped key interlocks.
Electrostatic precipitators depend on regular maintenance in order for them to perform at their optimum levels. This necessitates staff accessing the hopper doors frequently which places them at risk as the electrodes carry a charge of more than 10 000 volts.
Trapped key interlocks
Strict safety procedures need to be in place to prevent access before isolation of the HV transformer takes place. The trapped key interlocks ensure that a predetermined sequence is followed by releasing trapped keys, in order to activate the next stage of the process. This forced sequence will ensure that the equipment is isolated and earthed before any work commences.
With the interlocks eliminating the potential for human error and ensuring operations are performed in a safe manner, many companies are turning to Deebar to supply them with interlocking solutions. Fortress Interlocks can be retrofitted to many types of breakers including ABB, Siemens and Actom, which allows for easy isolation and quick access to hazardous areas.
Deebar currently imports the interlocks in component form and assembles the locks and systems locally. This allows not only competitive pricing, but better service too in terms of delivery time and repairs. The dedicated Fortress team are competent in the design of systems and interlocking procedures, as well as installation and maintenance.
All interlocks in the mGard range are robust and modular in construction, offering maximum flexibility for designers and are suitable for use in safety applications up to SIL 3 (EN/IEC 62061), Category 4 and PLe (EN/ISO 13849-1), as approved by independent test house TUV.
For more information contact Deebar, +27 (0)11 873 4332, ask@deebar.co.za, www.deebar.co.za
Credit(s)
Further reading:
Safety meets security
March 2019, Phoenix Contact , IS & Ex
A common strategy required for the future.
Read more...
---
Is your building safe from fire?
March 2019, Alien Systems & Technologies , IS & Ex
Correct selection of detectors is vital.
Read more...
---
Safety exhaust valve for emergency stop
March 2019, Parker Hannifin Sales Company South , IS & Ex
Parker Hannifin has introduced a new safety exhaust valve that rapidly exhausts compressed air in the event of a fault condition or when a machine has an emergency stop. The P33 is designed for two-channel 
...
Read more...
---
Ex-rated instruments for explosive atmospheres
March 2019, R&C Instrumentation , IS & Ex
In many industries, there are certain areas that are classified as hazardous or Ex areas. This is an area that contains, or may contain, combustible substances such as gas, vapour or dust. Typical hazardous 
...
Read more...
---
New generation safety controllers
March 2019, Beckhoff Automation , IS & Ex
TwinSAFE: consistently modular, scalable and distributed safety applications.
Read more...
---
LSIS obtains Ex rating for HMI range
March 2019, Ana-Digi Systems , IS & Ex
Starting with the iXP2 premium series of HMIs, in the latter half of 2018 LSIS began rolling out the Ex certification for the entire range of these exceptional products. The products carry the rating 
...
Read more...
---
Contact in to contact out over fibre optic cable
February 2019, Omniflex Remote Monitoring Specialists , IS & Ex
The Omniterm FCT and FCR modules provide the ability to send a digital contact signal up to 4 km over a single optical fibre. When the contact on the FCT transmitter module is closed, the relay output 
...
Read more...
---
Zoned approach reduces the complexity of machine safety
January 2019, ASCO , IS & Ex
This article examines a unique approach known as zoned safety, which reduces complexity in the design of redundant pneumatic safety circuits. It explains the advantages of the concept over the traditional 
...
Read more...
---
Kia Slovakia reduces safety ­downtime
January 2019, Rockwell Automation , IS & Ex
Allen-Bradley GuardLogix maximises efficiency in body shop.
Read more...
---
Setting new gas monitoring ­standards in coal mining
January 2019 , IS & Ex
The presence of methane gas in coal mining processes is highly probable, and monitoring methane levels in operational mining sections has become obligatory. Legislation calls for the installation of methane 
...
Read more...
---