printer friendly version
Trapped key interlocking
October 2017
IS & Ex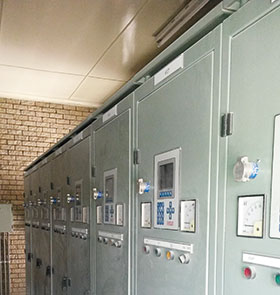 The manufacturing environment relies heavily on automated processes and machinery. Ensuring safety whilst delivering productivity is vital to every manufacturing facility and therefore safeguarding operators from hazards, as well as guaranteeing that processes run at optimum efficiency, is a constant challenge for manufacturing companies.
Fortress Interlocks are specifically designed for such applications and span manufacturing sectors from mining, power generation, steel, automotive, recycling, food and beverage, and packaging.
Deebar have exclusively represented Fortress Interlocks for over 35 years. Using its experience and Fortress' 40 years in the safety interlocking business, it assists customers to create safe workplaces, where employees in industrial environments are safeguarded from injury, and equipment is protected from damage. A world leader in access control systems, Fortress Interlocks guarantee that actions and events are undertaken in a predetermined sequence ensuring a safe working environment.
Safety in power generation applications
Safety in the power generation industry is a top priority in South Africa and the potential risks working in these environments can be extremely high. Therefore, the safety and well-being of workers is paramount and companies strive to achieve nothing less than zero incidents.
In this industry, whether it is electrostatic precipitators, substations or breakers, Deebar has established itself as a leader in safeguarding the workforce that interact with the equipment on a daily basis. It has recently been awarded a contract to equip trapped key interlocks on an electrostatic precipitator at a power station in the Emalahleni area. This is the third station to upgrade its safety standards to incorporate trapped key interlocks.
Electrostatic precipitators depend on regular maintenance in order for them to perform at their optimum levels. This necessitates staff accessing the hopper doors frequently which places them at risk as the electrodes carry a charge of more than 10 000 volts.
Trapped key interlocks
Strict safety procedures need to be in place to prevent access before isolation of the HV transformer takes place. The trapped key interlocks ensure that a predetermined sequence is followed by releasing trapped keys, in order to activate the next stage of the process. This forced sequence will ensure that the equipment is isolated and earthed before any work commences.
With the interlocks eliminating the potential for human error and ensuring operations are performed in a safe manner, many companies are turning to Deebar to supply them with interlocking solutions. Fortress Interlocks can be retrofitted to many types of breakers including ABB, Siemens and Actom, which allows for easy isolation and quick access to hazardous areas.
Deebar currently imports the interlocks in component form and assembles the locks and systems locally. This allows not only competitive pricing, but better service too in terms of delivery time and repairs. The dedicated Fortress team are competent in the design of systems and interlocking procedures, as well as installation and maintenance.
All interlocks in the mGard range are robust and modular in construction, offering maximum flexibility for designers and are suitable for use in safety applications up to SIL 3 (EN/IEC 62061), Category 4 and PLe (EN/ISO 13849-1), as approved by independent test house TUV.
For more information contact Deebar, +27 (0)11 873 4332, ask@deebar.co.za, www.deebar.co.za
Credit(s)
Further reading:
Safety laser scanner for outdoor ­applications
July 2019, SICK Automation Southern Africa , IS & Ex
SICK Automation has launched another global innovation: the first safety laser scanner certified to IEC 62998 for use in outdoor applications. The outdoorScan3 allows automated guided vehicle systems 
...
Read more...
---
Control and report in hazardous areas
July 2019, Pepperl+Fuchs , IS & Ex
Installers expect quick and on-demand delivery from their electrical equipment suppliers, even for apparatus for hazardous areas. The carefully considered ability to configure many housing and control 
...
Read more...
---
Mobile application for barcode scanning
Africa Automation Fair 2019 Preview, Extech Safety Systems , IS & Ex
Extech is exhibiting the mobXscan app for use in hazardous areas, which adds the capability of barcode scanning to any Windows 10 tablet or Android device. It can be seen at Stand E03. It uses the built-in 
...
Read more...
---
Safety on the pistes
May 2019, Siemens Digital Industries , IS & Ex
Inauen Schätti, a construction company whose areas of specialism include ropeways, is working to improve piste safety for skiers. As part of a pilot test project on the Parpaner Rothorn mountain, the 
...
Read more...
---
Safety technology to improve ­flexibility
May 2019, AC/DC Dynamics , IS & Ex
The new Datalogic concept for robot evolution expects to overtake the competition. Following demanding safety regulations, outdated isolated robotic cells are now replaced with robot-like parts of industrial 
...
Read more...
---
Drone-based gas leak detection
May 2019, ABB South Africa , IS & Ex
Leaks in gas distribution and transmission pipelines present serious safety risks and result in lost revenue and profits to producers. The ABB Ability mobile gas leak detection system is a digital solution, 
...
Read more...
---
Conveyor system fire prevention
May 2019, R&C Instrumentation , IS & Ex
The transport of materials is a key activity for most industries. For many of these tasks, conveyor belt systems offer a cost effective and efficient solution. However, with such a system comes a high 
...
Read more...
---
LSIS achieves Ex rating for HMI range
Africa Automation Fair 2019 Preview, Ana-Digi Systems , IS & Ex
LSIS is rolling out Ex certification for its entire range of HMIs. These products now carry a rating which allows for a maximum pollution degree 2 level. Mounting the HMIs into an IP54 enclosure ensures 
...
Read more...
---
Equipment for hazardous areas
Africa Automation Fair 2019 Preview, Extech Safety Systems , IS & Ex
Extech Safety Systems is showcasing Sensear digital communication and active listening headsets and earplugs at Stand E03. These are for use in high noise and hazardous environments. Sensear's patented 
...
Read more...
---
Solutions for the Ex automation industry
Africa Automation Fair 2019 Preview, Stahl Esaco , IS & Ex
Stahl Esaco is presenting leading R. Stahl solutions and products for the Ex automation industry. These include remote I/O systems, HMIs and cameras, which can be viewed at Stand F12. The I/O systems 
...
Read more...
---