printer friendly version
Embedded systems intelligently packaged
September 2017
Enclosures, Cabling & Connectors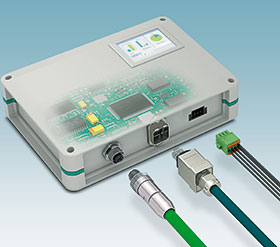 Technological trends, ranging from smart homes to Industrie 4.0, are resulting in increased requirements for electronic devices. Practical solutions often require highly specific housing designs. The new UCS universal housing system concept makes it easier for device manufacturers to a find suitable housing for their embedded system.
Electronics are also becoming increasingly networked as a result of trends such as the IoT, LTE (the 4th generation of mobile communications technology) and smart homes. The devices used in these applications are increasingly based on embedded systems. At the same time, new applications are bringing forth a variety of new electronic modules. It is often difficult to find a suitable housing for these devices. Thanks to their flexible PCB mounting system, the new UCS generation of housings helps device manufacturers implement their applications quickly and easily.
For any form factor
The sensitive electronics in many standardised and non-standardised PCBs must have a suitable housing for effective protection against environmental influences. With respect to networking, standardised electronic components offer multiple advantages as they have already proven their effectiveness in industrial applications and are available at competitive prices. These advantages help device manufacturers to develop devices faster and lower development costs.
Manufacturers have an incredible variety of housing solutions to choose from in today's market. Housings are often made for a specific solution or headers are tailored to application-specific requirements at a high cost. Different housings are usually required if the electronics are used in different applications. This is a disadvantage for device manufacturers who purchase their housings from different suppliers.
Modular structure
The UCS concept (universal case system) makes it easier for device manufacturers to find the right solution for their electronics. UCS housings are modular. They consist of two identical half shells. The removable side panels are guided through the colour-contrasted corner inserts and supported in the half shells. The housing is screwed together using thin-shaft captive screws with a combined slotted Torx head, eliminating the risk of loss once they are screwed into a half shell.
A different housing height can even be implemented without increasing the surface area. The side panels and screws are simply replaced with a taller version and tailored to the new requirement. The corner inserts and half shells are retained. The side panels can also be used in different sizes of housing. The system is designed so that the larger of two different-sized side panels can be used as the small side panel in the next larger housing version.
The advantage of this is that the side panel designed for the corresponding interfaces can be used in two sizes of housing. The additional space can then be used for extensions. The removable side panels also allow the interfaces to be positioned on more than one side.
Flexible PCB mounting
The UCS offers different options for mounting PCBs, which can be mounted directly to the corner insert using the built-in screw boss to utilise the maximum component space when designing custom circuits. The corner inserts can also be used without the built-in screw boss to increase flexibility when standardised PCBs with and without custom extensions are used. In this case, special screw bosses, which are bonded to the specified location, can be used. This combination of mounting systems allows for custom designs. Even installing two PCBs is not a problem, since the entire surface space can be used in each half shell of the housing. The sole limitation in this case is the installation height of the printed circuit boards.
Faster configuration online
More and more device manufacturers value the ability to procure their housings quickly and through convenient channels. The online configurator is a valuable tool that helps manufacturers find the right housing in just a few steps. Configuration is easiest for standardised PCBs because only the form factor must be selected. Alternatively, the configurator can show other variants that can be used for integrating electronic components. Almost any PCB can be mounted in the UCS, and the configurator assists here too.
UCS adapts to the environment
Thanks to a range of adaptors that allow for flat, upright or wall-mounting, almost every type of application is possible. Housings can also be easily installed on the DIN-rail in control cabinets. Here too, add-on modules are available in the configurator for this purpose. Components are available in different colours so that housings can be individually styled. Multi-collared elements can be used to create special visual effects in the housing design. Customers can also request custom colours to meet their specific needs or match their corporate design.
For more information contact Sean Hadley, Phoenix Contact, +27 (0)11 801 8200, seanh@phoenixcontact.co.za, www.phoenixcontact.co.za
Credit(s)
Further reading:
Surge protection for electro-mobility
July 2020, Phoenix Contact , IS & Ex
The market for electric cars is growing exponentially and automobile manufacturers are increasingly focusing on electro-mobility. However, surge protection also has a part to play in this technology. 
...
Read more...
---
Power supplies for building automation
June 2020, Phoenix Contact , Electrical Power & Protection
The new Step Power power supplies from Phoenix Contact are specifically tailored to the needs of modern building automation. With their comprehensive approval package, which includes the standard 
...
Read more...
---
Simply safe in the IoT environment
May 2020, Phoenix Contact , IS & Ex
Extension of the PLCnext Technology ecosystem with a safety controller.
Read more...
---
New range of compact enclosures
April 2020, Rittal , Enclosures, Cabling & Connectors
After more than 50 years and 35 million enclosures sold, Rittal has introduced its small and compact enclosures in the form of the AX and KX series respectively. According to managing director of Rittal 
...
Read more...
---
SMC offers services as well as components
April 2020, SMC Corporation South Africa , Enclosures, Cabling & Connectors
Besides being a leading supplier of industrial automation components, SMC South Africa also offers value-added services. One of these is in-house control panel design and construction. This takes a labour 
...
Read more...
---
Enclosures with modular design
April 2020, Vepac Electronics , Enclosures, Cabling & Connectors
CamdenBoss CNMB DIN rail enclosures, feature a modular design. Terminal guards and top covers can be snap-fitted for a quick and simple assembly. PCBs can be placed into the DIN rail enclosure in five 
...
Read more...
---
Self-venting compressed air safety couplers
April 2020, Parker Hannifin Sales Company South , Enclosures, Cabling & Connectors
Motion control technologies specialist, Parker Hannifin, has introduced a new series of safety couplings for compressed air systems. The new KP series is an ergonomic push-button, self-venting coupler 
...
Read more...
---
Pick-to-light solutions kit
April 2020, Turck Banner , Enclosures, Cabling & Connectors
The Pick-to-Light Solutions kit is an integrated solution that consists of an enclosure, an DXM controller, a HMI, plus direct connections for PTL110 devices and power. The integrated device and power 
...
Read more...
---
What's the difference between round and flat cables?
Technews Industry Guide: Maintenance, Reliability & Asset Optimisation 2020, Helukabel , Enclosures, Cabling & Connectors
Understanding how to make reliable connections to an application starts with proper cable selection.
Read more...
---
Connectors for automotive applications
April 2020, RS Components SA , Enclosures, Cabling & Connectors
RS Components has launched the A Series of high-specification automotive connectors from Amphenol, one of the world's leading makers of interconnection devices suitable for a huge diversity of markets 
...
Read more...
---