printer friendly version
IoT strategy powered by Kepware reduces human error at Teel Plastics
August 2017
IT in Manufacturing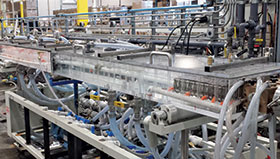 For more than six decades, Teel Plastics has specialised in custom extruded plastic tubing and profiles. With highly-skilled employees and unique extrusion manufacturing techniques, Teel has earned a reputation for excellence in its field. Trusted by some of the world's largest companies, Teel Plastics' products are used in geothermal pipes, solar film cores, co-extruding products, healthcare tubing, film cores, converting cores, filtration components, industrial tubing, and more.
"On any given day, a consumer likely interacts with at least one product that we've had a hand in making," said Owen Gwynne, senior programmer, Teel Plastics. "We view our customers as partners and invite them to work collaboratively during the design and development of their projects. As such, we have been able to complete products quicker and innovate to keep up with demands and anticipate future needs."
The challenge
The Teel Plastics facility in Wisconsin has ten manufacturing lines that produce different products at various times throughout the day. Each line requires a custom recipe for every product. These recipes include different material inputs, equipment, heating components and other variables. Recipes can change several times in one day, and ones that have not been used in months can resurface when new orders come in.
All these variables quickly caused instances where human error corrupted the recipes. These deviations inspired Teel Plastics to find a solution that would allow operators to control all pieces electronically and reduce human error.
"There are many variables that go into a single recipe, and our employees are interacting with and having to memorise and apply multiple recipes during a single shift," said Gwynne. "There are a lot of different reasons for errors – employees are moving too quickly, it's a recipe they are unfamiliar with, or they've entered in the middle of production – but what seems like a miniscule issue can lead to our products having flaws or manufacturing downtime. We knew there had to be a way to minimise some of this error."
The approach
Recognising the need for connectivity, data access, and scalability, Teel Plastics executives worked to develop a competitive strategy that would also enable them to capitalise on the benefits of the Internet of Things (IoT). They began by identifying the fundamental technology that would fuel their IoT effort. After evaluating several IoT offerings, they found that many solutions could address one component of their needs – such as a business aspect, protocol, or standard – but not everything. Further complicating the process, many of Teel Plastics' machines are custom built, meaning they needed a solution capable of speaking to an entire range of PLCs from vendors including Allen-Bradley and Siemens.
Though at first the engineers considered developing an in-house solution, they ultimately found that Kepware's IoT Gateway for KEPServerEX provided a seamless, reliable and scalable way to control all the essential components through a single web interface.
The results
Leveraging Kepware's software solutions, a Teel Plastics line operator can send a pre-saved recipe with more than 20 parameters from a web interface to the gateway, which then distributes the instructions to the machines on the line. This is a much more efficient method than the previous manual process, and by providing device connectivity to multiple PLCs, Teel drastically reduces the risk of human error. With these new processes, Teel has reduced its setup times by 30 percent.
"By incorporating the IoT throughout our shop floor, we've been able to take something that previously required memorisation and 30 to 40 clicks, and bring it down to a single click of a button," said Gwynne. "Working with the gateway is seamless. We're able to trust that as our recipes evolve, KEPServerEX will be able to take on anything and everything that we throw at it."
Since implementing the IoT Gateway, Teel Plastics has gained increased visibility into the granular details of its manufacturing process. This in-depth plant floor data enables the engineers to test different variables, which has led to decreased downtime. By monitoring different aspects of production (such as room temperature) and making slight adjustments, the company has also made its recipes much more efficient. In addition, seamlessly aggregating data on indicators (such as humidity or wear on parts) into a central database enables operators to monitor equipment for predictive maintenance, and leadership to make more informed decisions on recipes, enabling the company to produce greater output at a higher quality. For example, prior to the implementation, one line was completing 18 units a minute. Now, it is outputting 35 units a minute, nearly doubling its capacity.
For more information contact Duan Gauche, 1Worx, +27 (0)83 327 7069, duan@1worx.co, www.1worx.co
Credit(s)
Further reading:
Siemens launches report on Dawn of Digitalisation and its Impact on Africa
October 2019, Siemens Digital Industries , IT in Manufacturing
Africa needs a digitalisation strategy to compete in the global economy.
Read more...
---
Integrating IT with Operations Technology - a CIO perspective
October 2019, Absolute Perspectives , IT in Manufacturing
Digitisation projects, spurred on by Industry 4.0 and technological advances, have opened up many possibilities to create new value.
Read more...
---
The power of data
October 2019, Throughput Technologies , IT in Manufacturing
Gain access to important information with ProSoft's new OPC UA-based gateway and data logger.
Read more...
---
Securing and managing devices the modern way
October 2019 , IT in Manufacturing
Organisations of all types and sizes are bringing vast numbers of devices into their IT infrastructure and networks. Moreover, these devices are not only smartphones, wearables and tablets because the 
...
Read more...
---
Reliable gas production
September 2019, Siemens Digital Industries , IT in Manufacturing
Energy supplier uses Siemens technology for optimum information exchange.
Read more...
---
Automotive supplier relies on Siemens PLM solution
September 2019, Siemens Digital Industries , IT in Manufacturing
Küster Automotive is an internationally active family-run company and a part of Küster Holding. A full-service supplier, Küster manufactures components for the automotive industry. For its production 
...
Read more...
---
Top tips to help you implement 4IR projects that deliver value
September 2019 , Editor's Choice, IT in Manufacturing
In the just over 10 years I have spent working on IT projects in the manufacturing space, the amount of new fads and IT jargon that has to be adopted has reached the heavens, and ascended into other realms. 
...
Read more...
---
Digitisation requires new skills
September 2019, Schneider Electric South Africa , IT in Manufacturing
Smart grid investments by municipal and public power utilities typically focus on electric distribution and customer systems. The expected benefits include lower costs, better customer service and more 
...
Read more...
---
Industry 4.0: Manufacturing Executing Systems
September 2019, S4 Integration , IT in Manufacturing
Industry 4.0 is set to lead the way for digitisation of manufacturing processes. Manufacturing Executing Systems (MES) are a critical component of Industry 4.0 as they act as an enabler for end-to-end 
...
Read more...
---
Safety and cybersecurity convergence goes beyond safety systems
August 2019 , IT in Manufacturing
However, the scope of safety and cybersecurity goes well beyond process safety systems alone. Across the industrial and infrastructure worlds, an increasing number of end users are adopting more sophisticated 
...
Read more...
---