printer friendly version
Afrilek achieves ISO 9001:2008
July 2017
News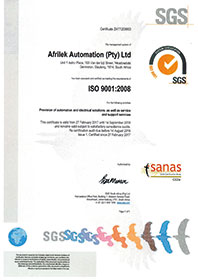 Automation solutions specialist, Afrilek, recently achieved ISO 9001:2008 certification in record time. The certificate was received within four months of starting the process. The conformance process was iteratively optimised so that quality procedures and associated forms were constantly reviewed and tweaked, and the quality management systems produced highly effective and efficient procedures for the team to follow. The teams involved ranged from logistics to procurement, finance, project administration, project management, technical software and technical design. Through these quality management systems, Afrilek aims to meet the following objectives: improve customer satisfaction by 9%; resolve and reduce customer complaints by 40%; increase on-time project delivery by 31% by improving efficiency and performance; and improve employee efficiency by 5%.
For more information contact Grant Douglas, Afrilek, +27 (0)11 372 9340, sales@afrilek.com, www.afrilek.com
Further reading:
New chief marketing and communications officer joins Zutari
News
Leading consulting engineering and infrastructure advisory firm, Zutari, has appointed Zipporah Maubane as chief marketing and communications officer for Africa and the Middle East (AME).    The company 
...
Read more...
---
New features, products and learning at this year's Electra Mining Africa
Specialised Exhibitions News
Topics presented by industry experts will be aligned to the show's theme days: automation, innovation, safety, future skills and South African Day.
Read more...
---
SABS webinars covering sustainable nanotechnology
News
Industrial areas identified as benefitting from nanotechnology are mining and minerals, chemical and bio-processing, and advanced materials and manufacturing.
Read more...
---
Bosch Projects opens new Australian office
News
Although its initial focus will be in the sugar industry, the company also facilitates industrial plants, water and wastewater, roads and urban developments, as well as ports and terminals.
Read more...
---
Smart mining with 5G
News
MTN and Huawei are to provide 5G-based ICT solutions for smart mining requirements, including 5G broadband access as well as smart mining solutions like vehicle remote control, IoT and enterprise digital transformation.
Read more...
---
AI takes control of chemical plant for 35 days
Yokogawa South Africa News
Yokogawa Electric and JSR successfully put into practical use a next-generation control technology that takes into account quality, yield, energy savings, and sudden disturbances.
Read more...
---
Remote monitoring keeps cherries cool
Sensors & Transducers News
The innovative and adaptable nature of the NviroSense system allows for various applications to be added on as per the client's requirements.
Read more...
---
Women thrive at the coalface of BI's sales and customer service
Bearings International News
"Do not compare yourself to others. Work hard, as no job is beneath you. Soak up the knowledge available to you. Do not be discouraged or demotivated."
Read more...
---
More women to be capped at MUT's Women's Month graduation
News
All told, 990 women will graduate from the Faculty of Management Sciences, 308 from the Faculty of Natural Sciences, and 310 from the Faculty of Engineering.
Read more...
---
Hitachi Energy is championing its Diversity 360 approach
News
In recognition of Women's Month, the company highlighted the achievements of exceptional local female talent by profiling three leading women who form part of the company's South African operations.
Read more...
---