printer friendly version
Closed loop vector drives
June 2017
Motion Control & Drives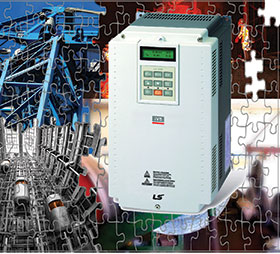 The LSLV-iV5 series offers high precision vector control in all operational areas with precise speed control and is superb for crane, continuous lines or elevator system controls. It is also easily adapted to corrugated paper mills, metal processing, winders and most other applications.
For winding applications there are various options including inside/outside winding and splicing. Speed and positioning using SIN/COS encoder option with expansion I/O, elevator dedicated I/O and synchronous motor control capacities.
Standstill auto-tuning allows for auto-tuning to be performed even with the motor shaft directly connected to the load. This is especially useful in lift applications as it does not require releasing the mechanical brake when integrating the motor with the drive. Rotational auto-tuning is available where motor shafts are free from an application. This is the norm for the entire LSIS range of drives.
Draw, droop and process PID control is provided for precise tension control, linear velocity control, temperature and pressure control and load balancing. Internal brake control and antiroll back can be applied in addition to mechanical braking where risk of dropping a load would be a concern, such as in elevators and cranes.
What makes the iV5 particularly attractive to the South African industry is that it caters not only for 380-480 VAC up to 800 kW but also from 540-680 VDC up to 500 kW. Just on elevators, more than 800 iV5 have been sold in South Africa, Zimbabwe and Zambia. The Sky Trains at Sun City have the iV5 DC drives installed in synchronous mode.
For medium voltage applications the drive of choice would be the LSMV-M1000, which has a voltage range from 3,3-13,8 kV. When it comes to drives, LSIS has developed a range that is able to provide effective motor control from 200 VAC to 13,8 kV, making this range one of the most comprehensive to date.
For more information contact Ana-Digi Systems, 086 132 3334, sales@anadigi.co.za, www.anadigi.co.za
Credit(s)
Further reading:
Electromagnetic brakes for DC motors
Motion Control & Drives
Mini motor applications utilise DC motor technology because of compactness, low weight, and reliability. Stopping, slowing or holding the position and load of these motors is crucial for many applications, 
...
Read more...
---
New motors for servo drive system
Siemens South Africa Motion Control & Drives
The servo motor thus meets all hygienic conditions and can be used for mixing and stirring, dosing and filling, as well as conveying, packaging and storing a wide variety of end products.       The 
...
Read more...
---
The demand for higher efficiency motors
Motion Control & Drives
With electricity prices increasing rapidly, the justification for adopting more efficient motors is that much greater. To achieve this improved efficiency, such motors are designed to run cooler, which 
...
Read more...
---
Compact drive technology mobilises high-tech CT scanner
Beckhoff Automation Editor's Choice Motion Control & Drives
PC- and EtherCAT-based technology from Beckhoff delivers the desired viewing angles and mm-precise alignment of the X-ray source to the patient.
Read more...
---
Drive-based predictive maintenance solutions
Bearing Man Group t/a BMG Motion Control & Drives
BMG's NORD predictive maintenance solutions offer fast, efficient and comprehensive evaluation of analogue and digital data, to enhance the operational efficiency and safety of machines. The intelligent 
...
Read more...
---
Next-generation motor starters with digital innovation
Schneider Electric South Africa Motion Control & Drives
Schneider Electric has announced the release of the new generation of TeSys Giga series motor starters. The iconic TeSys Giga series has been re-imagined with the latest smart digital innovations to deliver 
...
Read more...
---
Compact planar scanner with air bearing
Horne Technologies Motion Control & Drives
PIglide positioning systems are ideally suited for high-precision applications such as inspection systems, laser marking, microscopy or scanning.
Read more...
---
Match & Tag for high accuracy in paired chain
Bearing Man Group t/a BMG Motion Control & Drives
Modern machinery often requires chains of precisely the same length to be used in pairs or other multiples. For these applications, BMG specialists recommend Tsubaki Match & Tag chains, which guarantee 
...
Read more...
---
SEW-EURODRIVE delivers for WWTP upgrade
SEW-Eurodrive Motion Control & Drives
A wastewater treatment plant in the Western Cape is undergoing a R1,7 billion upgrade. Sales manager Willem Strydom highlights SEW-EURODRIVE's contribution to the project.
Read more...
---
WEG motors power wastewater plant
Zest WEG Motion Control & Drives
The project to expand a wastewater treatment plant, undertaken by water purification specialist PCI Africa, included the installation of 65 WEG motors.
Read more...
---