printer friendly version
How secure is your smart factory?
June 2017
IT in Manufacturing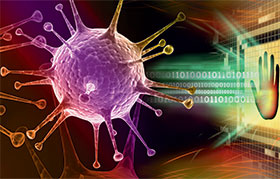 Industry 4.0, IIOT and the 'connected factory' are beyond the point of being buzz words. In reality they offer huge opportunities for manufacturers. But as a smart factory goes online, how secure are communications in and out of the site? Let us consider and look at remote access and how companies can protect themselves against cyber threats.
Remote access to machines has become vital for OEMs and system integrators to meet response time and uptime obligations. But engineering resources and budgets are limited, so efficiency is key.
Resolving issues without the need for onsite visits saves time and money, however as businesses embrace connectivity, the threat of a cyber attack increases. Protecting data when connected to a network can be a complicated challenge.
Cybersecurity is top priority for the Danish solution, Secomea. Designed specifically for remote programming, monitoring and data logging, it provides secure remote access without the need for advanced firewall configuration.
Moving on from VPN
Traditional VPN is widely used and suits the job of connecting networks remotely or providing remote access to a central site. However, it has some serious limitations for remote device monitoring and management.
VPN solutions can be complex. Connecting different engineers to different sites around the world by traditional VPN would be a huge task. Setting up a VPN is resource heavy, time consuming and requires the involvement of IT personnel. Subnet conflict issues, firewall setups and single level authentication can also trigger security concerns.
Secomea has developed an Internet-based technology that specifically addresses the security and usability requirements of linking service engineers with industrial equipment.
Each machine has a SiteManager, a small piece of hardware that the engineer connects to and uses to control the machine. The SiteManager can connect to industrial equipment via LAN, serial or USB ports. There are also multiple Internet access options including LAN, 3G and 4G or WiFi. The LinkManager Windows based client provides (VPN like) access to serial and USB devices, no configuration is required. A web version, the LinkManager Mobile, can be operated from multiple platforms with a browser allowing users remote access to equipment via a phone or tablet.
The solution also includes a GateManager, a M2M server that is either hosted by Secomea or by the customer themselves. All communication between the factory and the engineer through GateManager is via an encrypted connection. Through the web-based GateManager Portal users can administer accounts, manage SiteManagers and manage devices. It is also straightforward to determine who has access, what equipment and which sites can be accessed, and also when and for how long that access remains active.
The engineer can securely log on to the system via a X.509 certificate and associated password. GateManager also logs all events. Secomea has two and three factor security authentication, event audit trails, role-based account management and standard measures for eliminating the risk of vulnerabilities from configuration or human errors.
Future proofing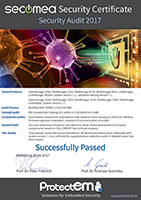 Secomea says it has achieved Industry 4.0 certification by enabling these connections in a secure way. Unlike an open VPN network, restricting access to certain devices for a specified time is easily achieved using a simple folder and drag and drop system.
The development of smart factories offers significant benefits for the automation industry. If companies are to take full advantage, they must make timely decisions about how to utilise new technology that is designed to keep those connections secure.
For more information contact Bob Petrie, Throughput Technologies, +27 (0)11 705 2497, bob@throughput.co.za, www.throughput.co.za
Credit(s)
Further reading:
The most common cyber threats in the industrial environment
Rockwell Automation IT in Manufacturing
Rockwell Automation's cybersecurity portfolio strategic growth leader delves into this topic in a recent blog post.
Read more...
---
Deploying IT into the factory floor environment
Omniflex Remote Monitoring Specialists IT in Manufacturing
The ongoing debate on whether OT and IT should be integrated has never been more intense. Closing the gap between the two has many benefits, not least of which are efficiency and profitability managed in near real time.
Read more...
---
PACTware further refines user interface
VEGA Controls SA IT in Manufacturing
Optimising a user interface for multiple sensor equipment manufacturers is possible in such a way that industrial users can use it similarly to everyday smart devices.
Read more...
---
EPLAN Marketplace networks users and service providers
EPLAN Software & Services IT in Manufacturing
The free online platform is divided into engineering services, module manufacturing services and general consulting sectors.
Read more...
---
Condition monitoring software gets asset health boost
Emerson Automation Solutions IT in Manufacturing
The newest version of Emerson's AMS Machine Works adds support for embedded, automatic analytics at the edge using patented PeakVue technology.
Read more...
---
A robust cybersecurity strategy is critical
ABB South Africa IT in Manufacturing
Understanding and managing the risks associated with a cyberattack can seem a daunting prospect in the face of keeping a plant up and running.
Read more...
---
Is your manufacturing plant ready for IoT?
Editor's Choice Fieldbus & Industrial Networking IT in Manufacturing
Pockets of IoT exist in manufacturing plants today; the challenge is to fully digitalise the entire plant.
Read more...
---
Revolutionising space exploration
Siemens South Africa IT in Manufacturing
Sierra Space, a commercial space company at the forefront of creating and building the future of space transportation for low earth orbit commercialisation, has implemented the Siemens Xcelerator portfolio of software and services as the foundation of its next-generation digital engineering program.
Read more...
---
Impact of innovative technologies on the mining industry
Parker Hannifin - Sales Company South Africa Editor's Choice IT in Manufacturing
Mining operations must identify creative ways to handle the increased demand for minerals and resources as global economies become even more reliant on mineral sales. As a result, mine operators must 
...
Read more...
---
SIM management essential in changing IoT market
IT in Manufacturing
Trinity IoT provides a myriad of tools to manage SIMs, whether as part of a mobile device strategy or a rapidly evolving IoT ecosystem.
Read more...
---