printer friendly version
Emerson introduces safety certified level radar
June 2017
Level Measurement & Control
At a time when experienced personnel are retiring and processes are being run closer to their capacity, Emerson Automation Solutions has launched a new non-contacting radar transmitter that helps operators increase reliability and safety. The SIL 3-capable Rosemount 5408 radar level transmitter uses enhanced technology and human-centred design to deliver accurate, reliable measurement and ease-of-use, supporting greater worker efficiency and plant safety.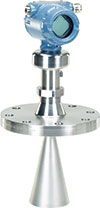 To reduce complexity and enable less experienced workers to manage their level measurements for tank monitoring, process control and overfill prevention, the instrument has been designed to simplify operator tasks. Pictorial instructions and a highly intuitive software interface guide the operator through installation, commissioning, proof-testing, operation and maintenance. Enhanced on-board diagnostics support preventative maintenance, and provide actionable information, streamlining the troubleshooting process. The ability to perform proof and site acceptance tests remotely saves time, increases worker efficiency and reduces the reliance on highly experienced staff.
"With a changing workforce demographic and increasing pressure to improve plant efficiency, companies require instrumentation that is extremely reliable and easy to implement and operate," said Andreas Hessel, Rosemount strategic product manager, Emerson Automation Solutions. "The Rosemount 5408 takes level measurement a big step forward in both areas offering an advanced but simple to use radar solution."
With the need to run plants closer to capacity it is essential that instrumentation provides greater measurement accuracy and reliability, especially in critical overfill prevention applications. To support this, the Rosemount 5408 uses two-wire frequency modulated continuous wave (FMCW) technology that uses a continuous echo to maximise radar signal strength and produce a more robust and reliable measurement. In addition, radar-on-chip technology replaces a circuit board, thereby removing sources of EMC noise which cause signal disturbance, improving measurement accuracy and reliability. A unique embedded power backup removes vulnerability to intermittent power losses.
Supporting efforts to increase plant safety, the Rosemount 5408's SIL 3 capability enables it to be seamlessly integrated into a safety instrumented system. ATEX and IECEx approvals allow installation in hazardous locations.
For more information contact Rob Smith, Emerson Automation Solutions, +27 (0)11 451 3700, rob.smith@emerson.com, www.emerson.com
Credit(s)
Further reading:
Condition monitoring software gets asset health boost
Emerson Automation Solutions IT in Manufacturing
The newest version of Emerson's AMS Machine Works adds support for embedded, automatic analytics at the edge using patented PeakVue technology.
Read more...
---
Emerson's new edge solutions simplify IIoT projects
Emerson Automation Solutions IT in Manufacturing
PACSystems Edge Solutions are fit-for-purpose packages that reduce the time spent integrating, developing and validating IIoT projects.
Read more...
---
Load sensor for force measurement
Instrotech Level Measurement & Control Mass Measurement
The instrument provides a solution for non-intrusive level measurements of materials that are subject to uneven build-up, bridging or sidewall collection.
Read more...
---
Diesel level sensing for rail engines
Instrotech Level Measurement & Control
Diesel fuel levels are measured, recorded and displayed, and kilowatt-hours are measured, using the Senix ToughSonic CHEM 10 ultrasonic sensor.
Read more...
---
How smart pneumatics enhance machine safety
Emerson Automation Solutions Pneumatics & Hydraulics
The Industrial Internet of Things and the digital transformation it has empowered have already proven their many benefits. One that deserves a closer look is how smart pneumatic devices can improve machine 
...
Read more...
---
Radar level sensor with IO-Link interface
ifm - South Africa Level Measurement & Control
Its non-contact radar measuring principle prevents malfunctions or failures of the sensor caused by the adhesion of viscous media or damage from agitators.
Read more...
---
Why are rate of change alarms used?
Omniflex Remote Monitoring Specialists Level Measurement & Control
Often the domain of control and safety software, rate of change alarms can be implemented in hardware to benefit from an additional layer of protection to systems or processes.
Read more...
---
Improving efficiency and reliability of CIP and SIP systems
Emerson Automation Solutions Flow Measurement & Control
By using clean-in-place and steam-in-place systems, food and beverage manufacturers can improve product quality, minimise recalls and protect personnel.
Read more...
---
Vibronics, Liquiphants, and human brainpower set free
Endress+Hauser South Africa Level Measurement & Control
Why are field device manufacturers continually developing new technologies? On the one hand, these technologies make work outside in the field easier. Fewer qualified personnel are needed and the technologies 
...
Read more...
---
"Oops! I forgot to check" – How a simple switch can prevent critical system failure
Hydrasales Level Measurement & Control
Daily checks of hydraulic systems, or checks at the time of employee shift changes, are good practices that should be part of a successful maintenance programme.
Read more...
---