printer friendly version
Safeguard against costly condensation
May 2017
Pneumatics & Hydraulics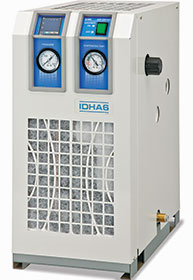 In today's manufacturing environment, compressed air is an essential power source and therefore its quality requirements are vital. Even when meeting operational requirements, air moving through pipelines can lay down more moisture through condensation than what is acceptable, causing costly damage to production machinery.
SMC Pneumatics recognises the importance of correctly prepared air and strives to be the 'one supplier for all needs', going beyond pneumatics to provide solutions such as its range of quality air dryers to combat moisture.
Wet air is everywhere
Brian Abbott, product manager at SMC Pneumatics says that a simple solution which is often overlooked to avoid damage and downtime is a refrigerated air dryer. "Water carried with compressed air to the production systems can cause significant damage to the valves, cylinders, fittings and more," explains Abbott. "Components tend to rust and lubrication is rinsed out, resulting in a significantly shorter life span and slower production."
It is in fact impossible to produce compressed air without depositing any moisture into the system, and, as such, loss of income, replacement of parts, low levels of productivity and damage to the production machinery will prove destructive and costly to any business.
"Cost cutting around air preparation is never advised. Like with most things, what you put in is what you get out and the solution is very simple. Dry air can easily be obtained by means of refrigerated air dryers as a cost-effective means in the long-run," says Abbott.
"Compressed air is led through the refrigerated air dryer, cooling it drastically to reduce the water content to between 10 and 3°C pressure dew point. Dryers can be located on the most critical work stations in the production process delivering air to the required ISO Class or can placed after the compressor for general usage," he adds.
SMC's quality solution
SMC's refrigerated air dryers chill the air to around 3°C, reducing the water content in the compressed air to about 6 grams per cubic
centimetre. The surplus water is drained directly from the refrigerated air dryer and dumped via an auto drain.
The range
Refrigerated air dryers are a cost-effective means of providing air with pressure dew points of 3 to 10°C, thus meeting the requirements of ISO 8573-1 moisture classes 4 to 6. "All energy-efficient SMC refrigerated air dryers feature compact and quiet construction, stainless steel heat exchangers, Montreal Protocol compliant refrigerants and low pressure drops," says Abbott. "Models are also available to meet various regional requirements in standard inlet temperature designs as well as high inlet temperature models."
The IDU, IDF and IDH series from SMC are designed to meet the unique requirements of factories using compressed air, offering various capacities to meet the demands of the modern customer. These energy-efficient solutions offer stable, compressed air temperature control while being able to withstand corrosion, regardless of external conditions.
IDF series
The IDF refrigerated air dryer series uses refrigerants R134a and R407C to prevent any damage to the earth's ozone layer. The IDF series can accommodate an inlet temperature of 60°C and corrosion resistance is improved by using a stainless steel, plate type heat exchanger. Other features include:
• Standard inlet temperature air.
• Stainless steel heat exchangers designed for long life and low pressure drops.
• Compact and quiet construction.
• Energy efficient design.
IDU series
The refrigerated air dryer series, IDU, uses refrigerants R134a and R407C once again showcasing SMC's commitment to a greener environment (medium size series use R22). The IDU series provides a stable supply of dry air even under high demand conditions with an inlet air temperature of 80°C. Other features include:
• Improved corrosion resistance with the use of stainless steel, plate type heat exchanger.
• Protects pneumatic equipment from moisture.
• Rated inlet air temperature: 80°C.
• Refrigerant R134a (HFC).
IDH series
SMC's IDH series of compact air dryers offers stable, compressed air temperature control with its integrated heater, regulator, dryer, and filter. The IDH air dryer delivers a constant volume of compressed air at the correct temperature, dew point, pressure and cleanliness, regardless of external conditions or seasonal climatic conditions. Due to its compact size, and the ventilation holes being on the front and top, the IDH can be installed closed to a wall or panel. Other features include:
• All-in-one air preparation with temperature and pressure control, drying and cleaning.
• Stable adjustable outlet temperature:15 to 30°C ±0,1°C.
Credit(s)
Further reading:
Refrigeration compressed air dryers
January 2020, Artic Driers , Pneumatics & Hydraulics
The R Class range of compressed air refrigeration dryers and RSXW chemical adsorption dryers have consistently low dew points, with an attractive entry price and a low cost of ownership once in operation. 
...
Read more...
---
RS adds self-adjusting double-acting air cylinders
December 2019, RS Components SA , Pneumatics & Hydraulics
RS Components has expanded its offering from factory automation manufacturer Festo to include new double-acting pneumatic cylinders in the DSBC product range. Aimed at both machine builders and maintenance 
...
Read more...
---
Parker enhances H Series ISO valve portfolio
September 2019, Parker Hannifin Sales Company South , Pneumatics & Hydraulics
Parker Hannifin has added an expanded range of features and capabilities to its H Series ISO valve platform as part of its global focus on factory automation. Designed with a new universal manifold, the 
...
Read more...
---
SMC is here to stay
August 2019, SMC Corporation South Africa , Pneumatics & Hydraulics
Kim Roberts [KR]: How does SMC SA fit into SMC's global vision and strategy?
Peter Findlay [PF]:
SMC entered the South African market directly in 2015 as a subsidiary of SMC UK, and in turn as a subsidiary 
...
Read more...
---
How the latest pneumatics can reduce plant costs
August 2019, Parker Hannifin Sales Company South , Pneumatics & Hydraulics
The implementation of predictive maintenance has become a high-held ambition for many modern plants, a strategy that avoids the costs of both reactive and scheduled preventative maintenance by only deploying maintenance routines exactly when needed; namely, shortly before a pneumatic component is predicted to fail.
Read more...
---
Boltight hydraulic bolt tightening from BMG
August 2019, Bearing Man Group t/a BMG , Pneumatics & Hydraulics
BMG's Nord-Lock bolting solutions now include Boltight hydraulic bolt tensioning tools, which are used to tighten bolts simultaneously, ensuring even preload in industrial applications and extreme environments, 
...
Read more...
---
Robotics meets artificial intelligence
June 2019, Festo , Pneumatics & Hydraulics
Whether its grabbing, holding or turning, touching, typing or pressing – in everyday life, we use our hands as a matter of course for the most diverse tasks. In that regard, the human hand, with its unique 
...
Read more...
---
Parker Hannifin introduces couplings for quick and easy installation
May 2019, Parker Hannifin Sales Company South , Pneumatics & Hydraulics
Parker Hannifin now offers quick connection couplings for its NSA series, notable for features including their low weight. NSA couplings are available in nickel-plated brass or stainless steel, while 
...
Read more...
---
VUVS-LT Poppet Valve
Technews Industry Guide: Maintenance, Reliability & Asset Optimisation 2019, Festo , Pneumatics & Hydraulics
Frequently used in different locations and exposed places, the VUVS-LT Poppet Valve can take a lot – all without losing its good looks. Simple on the outside, sturdy on the inside, it is the ideal combination 
...
Read more...
---
Optimum hydraulic performance through cost effective filtration solutions
Technews Industry Guide: Maintenance, Reliability & Asset Optimisation 2019, Hydrasales , Pneumatics & Hydraulics
Maintenance personnel have to facilitate optimum hydraulic system performance through their programmes, hence the incorporation of oil cleanliness checks, or oil contamination monitoring should not be 
...
Read more...
---