printer friendly version
Blow line consistency measurement in Kamyr digester
May 2017
Sensors & Transducers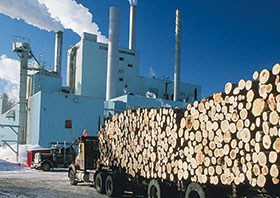 Harsh process conditions have historically prevented the use of mechanical consistency transmitters in Kamyr continuous digester blow lines. The mechanical design of existing transmitters has not been robust enough to survive the unusually high flow rates enforced with uncooked chips and knots, high chemical concentrations with pH exceeding 13, temperatures above flash point as well as rocks and debris.
Traditionally the operators have made some estimation of the consistency by monitoring the current of the scraper motor, or by measuring the differential pressure at the outlet device at the bottom of the digester. While neither measurement has been adequate for the control of cold blow flow, they were used as an indication.
The KC/3 for severe process conditions
ABB Oy, KPM has developed a new consistency transmitter which finally meets the challenge. This blade type transmitter, called KC/3, is made of a solid titanium body without any seals, O-rings or gaskets. This leak-proof design can safely be installed in very severe process conditions, including blow lines and blow tank outlets.
Stora Enso in Oulu, Finland installed a KC/3 in its pulp mill blow line. The installation was straightforward as all required hardware was included in delivery. The special protective deflectors designed for blow line applications with detailed installation and welding instructions are part of the delivery.
The benefits
Occasionally the production rate can drop due to disturbances in flow internal to the digester e.g. chip column movement can stop because of channelling in the washing zone. This will immediately cause serious quality problems. Chips are over cooked, strength properties suffer, and, of course, production rate drops as a result of lower blow consistency.
Having a reliable consistency measurement in the blow line, the operator is warned immediately about a disturbance and can react swiftly. He could, for example, temporarily reduce the flow in washing circulation or change the locations of the wash liquid feed.
During normal run, the differential pressure at the bottom, scraper current and consistency track each other fairly well. The pressure difference does not see the consistency drop but on the contrary indicates higher numbers. Shortly thereafter, the scraper current of the diffusion washer proves that consistency really has dropped. In addition to prompt and reliable information of process disturbances, the production rate calculation becomes more accurate.
This helps to track and control the grade changes to the screening and washing stages. Reliable and exceptionally strong the KC/3 when installed in a blow line provides an important measurement to assist the operators with digester control.
For more information contact Stuart Brown, UIC Instrumentation, +27 (0)31 468 2561, stuartb@uic.co.za, www.uic.co.za
Credit(s)
Further reading:
Conductivity measurement in CIP processes
January 2020, Morton Controls , Sensors & Transducers
CIP cleaning facilities are primarily used in those installations where hygiene and product safety are paramount, for instance breweries and food production. Throughout the process the complete production 
...
Read more...
---
Sensors for predictive maintenance solutions
December 2019, Turck Banner , Sensors & Transducers
Banner Engineering's QM30VT series sensors build on the capabilities offered by the QM42VT Series sensors they replace. They maintain all the same functionality, registers, and scaling, however, their 
...
Read more...
---
On safe paths with Leuze
December 2019, Countapulse Controls , Sensors & Transducers
When using the principle of triangulation for navigating automated guided vehicles (AGVs), vehicles are often equipped with two different scanners – one for safety and one for navigation. Now there is 
...
Read more...
---
Electronic position indicator with Ethernet interface
December 2019, Instrotech , Sensors & Transducers
Instrotech now offers the Siko AP20 position indicator, equipped to detect the position of spindle adjustments in machines. It displays the corresponding positional data to the operator and passes it 
...
Read more...
---
Inline measurement in chemical process monitoring and control
December 2019 , Sensors & Transducers
For reasons of quality and safety, the control of processes in the chemical industry is essential. The monitoring should be done directly in the process, continuously, and on a real-time basis. Modern 
...
Read more...
---
Setting the future standard for 3D image processing
November 2019, SICK Automation Southern Africa , Sensors & Transducers
SICK Automation has set the future standard for 3D image processing with regard to technology, speed, resolution and ease of integration. The company's Ranger3 3D vision camera is capable of taking high 
...
Read more...
---
Millimetre perfect from ifm electronic
November 2019, ifm - South Africa , Sensors & Transducers
Precise ToF distance sensor for demanding applications
Thanks to the innovative on-chip time-of-flight principle with PMD technology (photonic mixer device), the new OGD precision sensor from ifm electronic, 
...
Read more...
---
Bright, versatile illumination
November 2019, Turck Banner , Sensors & Transducers
The bright, uniform output of the WLB72 reduces shadows, improves visibility and gives workers the light they need to work efficiently and without making mistakes. A diffuse window minimises eye strain 
...
Read more...
---
Time synchronise your key remote sites
November 2019, Omniflex Remote Monitoring Specialists , Sensors & Transducers
Managing processes where root cause identification is rapidly identified can generate substantial savings though improved productivity and implementation of planned preventive maintenance schedules. Knowing 
...
Read more...
---
Infrared sensors for stock control
October 2019, Gail Norton Instrumentation , Sensors & Transducers
Telco's high performance, self-contained infrared sensor series provides a total solution for pulp and paper applications. This industry poses serious problems for photoelectric sensors as the highly 
...
Read more...
---