printer friendly version
Can IR windows be considered 'arc resistant'?
March 2017
Electrical Power & Protection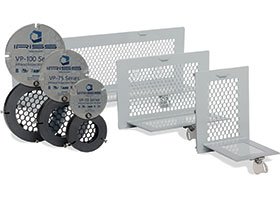 It is easy for an end-user to be misinformed about the specifications of an IR window because there is often confusion in the market about parameters such as arc resistance, IP ratings and environmental stability, in respect of these particular devices. This is particularly true for IR windows manufactured from a crystal substrate, since these are often perceived as being stronger than steel.
Completing an arc containment test on switchgear is required to confirm that the design meets the IEEE and IEC standards, and, if IR windows were installed in the piece of equipment under test, then, if successful, an IR window manufacturer could claim that the window met the IEEE or IEC arc containment requirements for that particular piece of equipment for that particular test. However, a claim of all-encompassing 'arc resistance' for that particular IR window would be misleading.
What do the regulations say?
Whilst there are regulations from UL and CSA on IR windows fitted in electrical enclosures up to 600 V, there are no specific regulations from IEEE or IEC. There are however IEEE regulations on 'visual viewing panes', which have been in place since the inception of these standards. Like all standards, these have evolved with suppliers' ability to provide superior, less expensive materials and manufacturing options.
A common theme for all visual viewing pane testing is impact and load testing. This requires the viewing pane to meet a minimum impact and load test without cracking, shattering or dislodging from its housing.
The regulation requires visual viewing panes to withstand impact and load per IEEE C37.20.2 Section a.3.6. Unlike UL, this IEEE standard does not differentiate between the types of material, or give exemptions to crystal infrared windows. Instead it clearly specifies that any transparent material covering an observation opening and forming a part of the enclosure should be reliably secured in such a manner that it cannot be readily displaced in service and not shatter, crack, or become dislodged when both sides of the viewing panes in turn are subjected to impact and load.
This testing method has been in place for many years and is the accepted method for visual viewing panes, so why not use the same test for IR windows? Well, the fact is that the fluoride-based crystal IR windows cannot pass any form of impact, so the IR window manufacturers lean more towards the UL regulation UL1558 for impact and load testing.
Two different test criteria
UL 1558 is the impact and load standard for visual viewing and IR window testing. This test is identical to the IEEE C37.20.2 Section a.3.6 test, except they doubled the load and impact test.
On the face of it, this sounds perfect. But herein lies the rub, unlike the IEEE test, UL1558 has two different test criteria: one with covers fitted and closed on the IR window, and one for covers opened or removed.
When provided with a cover, results are considered to be acceptable if the assembly prevents insertion of a 13 mm diameter rod at the conclusion of the test. When no cover is provided, the results are considered acceptable if the view pane does not shatter, crack or become dislodged (as with the IEEE test).
Testing IR viewing windows with the metal cover in place is in conflict with the intent of the standard, since the crystal lens will shatter during the test. This renders the window 'electrically unsafe' because it fails the IP20 requirement that stipulates the largest allowable hole size in the cabinet is 13 mm. However, the window passes the test due to the fact that a steel rod of that diameter cannot be passed through the metal or plastic cover! If this standard is to be used to certify an IR window, then it is important to insist that the UL1558 test be completed with the covers open, and then meets the minimum test requirement by not shattering, cracking or dislodging, during or after the test.
When it comes to IR windows, the user needs to be more concerned with the mechanical stability of the windows, as a component within the switchgear assembly, and that it meets the minimum requirements for impact and load testing, rather than being misled that the window is somehow arc resistant.
For more information contact R&C Instrumentation, 086 111 4217, info@randci.co.za, www.randci.co.za
Credit(s)
Further reading:
Compact uninterruptible DC power supply
Electrical Power & Protection
Traco Power's new 240 W UPS module is suited to demanding industrial applications needing a stable source of power.
Read more...
---
Rethinking energy usage in South Africa
Electrical Power & Protection
While sustainability is increasingly on the agenda of most organisations, the transition to a sustainable energy mix is not easy.
Read more...
---
Compact and powerful energy monitoring unit
Opto Africa Holdings Electrical Power & Protection Fieldbus & Industrial Networking
The RIO EMU's slim form factor is ideal for 'just one more thing' retrofit jobs thanks to DIN-rail and panel-mount options.
Read more...
---
Vacuum circuit breaker with thermal monitoring
Schneider Electric South Africa Electrical Power & Protection
The EasyPacT EXE offers IoT sensors and digital connectivity for a simpler, more sustainable and safer experience for panel builders, facility managers and OEMs.
Read more...
---
Vibration pen for hazardous areas
R&C Instrumentation IS & Ex
Vibration and temperature are the most common parameters measured on process plants to predict equipment failure or process problems. As part of the extensive range of vibration measurement products and IS rated instruments from R&C Instrumentation, the TV712 series from Time now comes in IS versions for EX Hazardous areas such as coal mines and chemical plants.
Read more...
---
Valmet automation system chosen for waste-to-energy plant
Valmet Automation News Electrical Power & Protection
The new plant in Warsaw, Poland, will process 305 000 tons of municipal solid waste per year to produce electricity and district heating
Read more...
---
Smart manufacturing will power the battery gigafactory of the future
Rockwell Automation Electrical Power & Protection
Electric vehicles' role in the decarbonisation of mobility requires gigafactories that can produce batteries in high volumes, at high speeds and with consistently high quality.
Read more...
---
Upskilling will be critical to alternative energy production projects
Electrical Power & Protection
One of the challenges for this sector is that jobs are typically project-based, which means they involve fixed-term contracts.
Read more...
---
Propelling green hydrogen toward large-scale African commercialisation
RTS Africa Technologies Electrical Power & Protection
RTS Africa Engineering, a founding member of the African Hydrogen Partnership, believes the industry is on the cusp of pricing diesel and petrol out of the market.
Read more...
---
Data logger for energy surveys, load studies
Comtest Electrical Power & Protection
In conjunction with Fluke's infrared cameras, the energy logger can enhance energy surveys by quickly identifying opportunities for energy savings, both electrically and thermally.
Read more...
---