printer friendly version
Can IR windows be considered 'arc resistant'?
March 2017
Electrical Power & Protection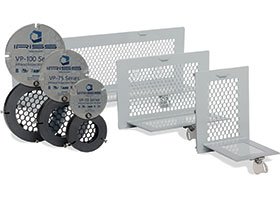 It is easy for an end-user to be misinformed about the specifications of an IR window because there is often confusion in the market about parameters such as arc resistance, IP ratings and environmental stability, in respect of these particular devices. This is particularly true for IR windows manufactured from a crystal substrate, since these are often perceived as being stronger than steel.
Completing an arc containment test on switchgear is required to confirm that the design meets the IEEE and IEC standards, and, if IR windows were installed in the piece of equipment under test, then, if successful, an IR window manufacturer could claim that the window met the IEEE or IEC arc containment requirements for that particular piece of equipment for that particular test. However, a claim of all-encompassing 'arc resistance' for that particular IR window would be misleading.
What do the regulations say?
Whilst there are regulations from UL and CSA on IR windows fitted in electrical enclosures up to 600 V, there are no specific regulations from IEEE or IEC. There are however IEEE regulations on 'visual viewing panes', which have been in place since the inception of these standards. Like all standards, these have evolved with suppliers' ability to provide superior, less expensive materials and manufacturing options.
A common theme for all visual viewing pane testing is impact and load testing. This requires the viewing pane to meet a minimum impact and load test without cracking, shattering or dislodging from its housing.
The regulation requires visual viewing panes to withstand impact and load per IEEE C37.20.2 Section a.3.6. Unlike UL, this IEEE standard does not differentiate between the types of material, or give exemptions to crystal infrared windows. Instead it clearly specifies that any transparent material covering an observation opening and forming a part of the enclosure should be reliably secured in such a manner that it cannot be readily displaced in service and not shatter, crack, or become dislodged when both sides of the viewing panes in turn are subjected to impact and load.
This testing method has been in place for many years and is the accepted method for visual viewing panes, so why not use the same test for IR windows? Well, the fact is that the fluoride-based crystal IR windows cannot pass any form of impact, so the IR window manufacturers lean more towards the UL regulation UL1558 for impact and load testing.
Two different test criteria
UL 1558 is the impact and load standard for visual viewing and IR window testing. This test is identical to the IEEE C37.20.2 Section a.3.6 test, except they doubled the load and impact test.
On the face of it, this sounds perfect. But herein lies the rub, unlike the IEEE test, UL1558 has two different test criteria: one with covers fitted and closed on the IR window, and one for covers opened or removed.
When provided with a cover, results are considered to be acceptable if the assembly prevents insertion of a 13 mm diameter rod at the conclusion of the test. When no cover is provided, the results are considered acceptable if the view pane does not shatter, crack or become dislodged (as with the IEEE test).
Testing IR viewing windows with the metal cover in place is in conflict with the intent of the standard, since the crystal lens will shatter during the test. This renders the window 'electrically unsafe' because it fails the IP20 requirement that stipulates the largest allowable hole size in the cabinet is 13 mm. However, the window passes the test due to the fact that a steel rod of that diameter cannot be passed through the metal or plastic cover! If this standard is to be used to certify an IR window, then it is important to insist that the UL1558 test be completed with the covers open, and then meets the minimum test requirement by not shattering, cracking or dislodging, during or after the test.
When it comes to IR windows, the user needs to be more concerned with the mechanical stability of the windows, as a component within the switchgear assembly, and that it meets the minimum requirements for impact and load testing, rather than being misled that the window is somehow arc resistant.
For more information contact R&C Instrumentation, 086 111 4217, info@randci.co.za, www.randci.co.za
Credit(s)
Further reading:
UPS with integrated power supply and USB interface
June 2019, Phoenix Contact , Electrical Power & Protection
Supplying critical DC loads safely, increased system availability, confined spaces, and tough ambient conditions present system designers and operators with a variety of challenges.
Read more...
---
Powder coating cure performance
June 2019, R&C Instrumentation , Temperature Measurement
In any industrial paint or powder coating operation, getting the paint cure correct is critical to both the physical and cosmetic performance of the product. To get the best out of the coating, it is 
...
Read more...
---
Power analysis and energy saving evolved
June 2019, HellermannTyton , Electrical Power & Protection
Advanced power and energy consumption analysis is now available using a smartphone or tablet. The TPQA820 is a true RMS, self-powered 3-phase power quality analyser used to analyse and record the most 
...
Read more...
---
Zest helps farmers find good 'ground'
June 2019, Zest WEG Group , Electrical Power & Protection
According to Zest WEG Group, there are misconceptions around what constitutes 'earth' and 'neutral' connections, and not understanding the differences can create serious problems when connections are 
...
Read more...
---
BMG enhances efficiency of solar tracking system
June 2019, Bearing Man Group t/a BMG , Electrical Power & Protection
BMG has extended the supply of Varvel gearboxes for small and medium power applications to include customised worm gearboxes for installation in photovoltaic solar tracking systems. "As part of BMG's 
...
Read more...
---
RS Components introduces new Power over Ethernet injectors
June 2019, RS Components SA , Electrical Power & Protection
RS Components has announced availability of a new selection of Power over Ethernet (PoE) single-port mid-span power injectors manufactured by Phihong, a leader in advanced power solutions and a specialist 
...
Read more...
---
Infrared inspection windows on ships
June 2019, R&C Instrumentation , Maintenance, Test & Measurement, Calibration
Infrared thermography is a widely-accepted preventive maintenance technology, both for land-based and maritime applications. Electromechanical assets like motors, especially on ships where both vibration 
...
Read more...
---
Residual circuit breaker with overcurrent protection
Africa Automation Fair 2019 Preview , Electrical Power & Protection
Entek Electric's RCBO models KBL-6 and KBL-10 are used to protect electrical circuits with a high level of reliability in industrial machines or residential buildings. Both models are widely in demand 
...
Read more...
---
Smart pyrometers
Africa Automation Fair 2019 Preview, R&C Instrumentation , Temperature Measurement
R&C Instrumentation is showcasing the Thermalert 4.0 pyrometer from Fluke Process Instruments at Stand F04. The series comprises 13 models with varied spectral responses, including dedicated sensors for 
...
Read more...
---
Conveyor system fire prevention
May 2019, R&C Instrumentation , IS & Ex
The transport of materials is a key activity for most industries. For many of these tasks, conveyor belt systems offer a cost effective and efficient solution. However, with such a system comes a high 
...
Read more...
---