printer friendly version
Can IR windows be considered 'arc resistant'?
March 2017
Electrical Power & Protection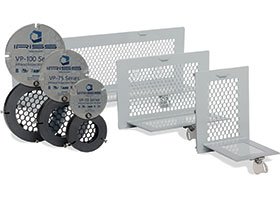 It is easy for an end-user to be misinformed about the specifications of an IR window because there is often confusion in the market about parameters such as arc resistance, IP ratings and environmental stability, in respect of these particular devices. This is particularly true for IR windows manufactured from a crystal substrate, since these are often perceived as being stronger than steel.
Completing an arc containment test on switchgear is required to confirm that the design meets the IEEE and IEC standards, and, if IR windows were installed in the piece of equipment under test, then, if successful, an IR window manufacturer could claim that the window met the IEEE or IEC arc containment requirements for that particular piece of equipment for that particular test. However, a claim of all-encompassing 'arc resistance' for that particular IR window would be misleading.
What do the regulations say?
Whilst there are regulations from UL and CSA on IR windows fitted in electrical enclosures up to 600 V, there are no specific regulations from IEEE or IEC. There are however IEEE regulations on 'visual viewing panes', which have been in place since the inception of these standards. Like all standards, these have evolved with suppliers' ability to provide superior, less expensive materials and manufacturing options.
A common theme for all visual viewing pane testing is impact and load testing. This requires the viewing pane to meet a minimum impact and load test without cracking, shattering or dislodging from its housing.
The regulation requires visual viewing panes to withstand impact and load per IEEE C37.20.2 Section a.3.6. Unlike UL, this IEEE standard does not differentiate between the types of material, or give exemptions to crystal infrared windows. Instead it clearly specifies that any transparent material covering an observation opening and forming a part of the enclosure should be reliably secured in such a manner that it cannot be readily displaced in service and not shatter, crack, or become dislodged when both sides of the viewing panes in turn are subjected to impact and load.
This testing method has been in place for many years and is the accepted method for visual viewing panes, so why not use the same test for IR windows? Well, the fact is that the fluoride-based crystal IR windows cannot pass any form of impact, so the IR window manufacturers lean more towards the UL regulation UL1558 for impact and load testing.
Two different test criteria
UL 1558 is the impact and load standard for visual viewing and IR window testing. This test is identical to the IEEE C37.20.2 Section a.3.6 test, except they doubled the load and impact test.
On the face of it, this sounds perfect. But herein lies the rub, unlike the IEEE test, UL1558 has two different test criteria: one with covers fitted and closed on the IR window, and one for covers opened or removed.
When provided with a cover, results are considered to be acceptable if the assembly prevents insertion of a 13 mm diameter rod at the conclusion of the test. When no cover is provided, the results are considered acceptable if the view pane does not shatter, crack or become dislodged (as with the IEEE test).
Testing IR viewing windows with the metal cover in place is in conflict with the intent of the standard, since the crystal lens will shatter during the test. This renders the window 'electrically unsafe' because it fails the IP20 requirement that stipulates the largest allowable hole size in the cabinet is 13 mm. However, the window passes the test due to the fact that a steel rod of that diameter cannot be passed through the metal or plastic cover! If this standard is to be used to certify an IR window, then it is important to insist that the UL1558 test be completed with the covers open, and then meets the minimum test requirement by not shattering, cracking or dislodging, during or after the test.
When it comes to IR windows, the user needs to be more concerned with the mechanical stability of the windows, as a component within the switchgear assembly, and that it meets the minimum requirements for impact and load testing, rather than being misled that the window is somehow arc resistant.
For more information contact R&C Instrumentation, 086 111 4217, info@randci.co.za, www.randci.co.za
Credit(s)
Further reading:
Motor system efficiency for reduced carbon emissions
January 2020 , Electrical Power & Protection
With electric motors consuming almost 70% of industry's energy, companies are always looking for better motor efficiencies. For many years, motor efficiency has been well defined; however, when driven 
...
Read more...
---
Enabling IIoT connectivity for virtual power plants
December 2019, RJ Connect , Electrical Power & Protection
The power grid has seen many changes that have enabled the integration of power from distributed energy sources (DERs).
Read more...
---
DIN rail power supply for demanding applications
December 2019, ElectroMechanica , Electrical Power & Protection
Automated production systems require power supplies with high stability and safety protection. DIN rail power supply series for such demanding applications are available from Delta Electronics, distributed 
...
Read more...
---
Dry-type transformers go mainstream
December 2019 , Electrical Power & Protection
The uptake of dry-type transformers in South Africa is now well beyond 'niche' applications, with local specialist Trafo Power Solutions installing a range of sizes across various sectors. "In recent 
...
Read more...
---
Robust embedded power supply series
December 2019, RS Components SA , Electrical Power & Protection
RS Components (RS) has announced the availability of a new series of AC-DC embedded switch-mode power supplies (SMPS) from TDK-Lambda. The cost-effective RWS-B series of AC-DC industrial power supplies 
...
Read more...
---
Ultra-compact soft starter with protection
December 2019, Vepac Electronics , Electrical Power & Protection
The Tele Christian P4.0/RL/TP/IC electronic soft starter is, with all of its integrated functionality, designed for ultra-compact installation. It helps to reduce wiring material, installation time and 
...
Read more...
---
Latest power monitoring device
November 2019, ElectroMechanica , Electrical Power & Protection
A new panel-mounted power monitoring device (PMD) from Socomec has been launched locally by ElectroMechanica (EM). The Socomec DIRIS A-40 has been designed for measuring, monitoring, and reporting electrical 
...
Read more...
---
Hotspot detection in pressboard manufacturing applications
October 2019, R&C Instrumentation , Temperature Measurement
In the building industry, there is a product used that is commonly referred to as pressboard, also known as chipboard. Sheets of pressboard are typically 1,2 m x 2,4 m in size and are used in the construction 
...
Read more...
---
WEG IE3 compliant motor control and protection
October 2019, Zest WEG Group , Electrical Power & Protection
The increased move towards the use of IE3 electric motors has made it increasingly important that the most appropriate starting method be selected to ensure optimum performance. With this move it is essential 
...
Read more...
---
Vibration measurement in machine maintenance
October 2019, R&C Instrumentation , Maintenance, Test & Measurement, Calibration
Vibration and temperature are the most common parameters measured on process plants for machine maintenance. Temperature measurement has been around for longer, probably because it was available first 
...
Read more...
---