printer friendly version
Datapaq's compact thermal profiling system with data-logger
February 2017
Temperature Measurement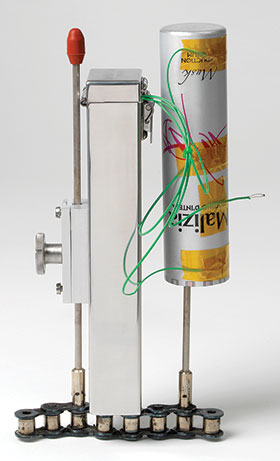 R&C Instrumentation has announced the launch of the new Datapaq MonoPaq2 thermal profiling system, designed specifically for monitoring coating-cure ovens used in the manufacture of aluminium bottles, aerosols and collapsible tubes by the Monoblock processes.
Using the MicroQ18 data-logger in the TB0072 thermal barrier, together with Insight software, the system can monitor both basket ovens (internal bake ovens, IBO) and pin ovens (outside bake ovens, OBO) used to cure internal and external tube coatings. The coating and curing temperatures, along with ramp, temperature reached and cooling cycles of the process are no longer guess work as the logger will monitor all this as it passes through your process and will supply the quality control information required to meet the exacting standards set down in this industry.
The thermal barrier measures merely 41 x 48 x 195 mm, making it 43% smaller by volume than the preceding generation. The temperature profiling system can be used in lines with very closely spaced pins (>45 mm) and with various product basket sizes. This engineering success is primarily based on the development of a new data-logger with a minimal footprint. The new Datapaq MicroQ18 logger connects four thermocouples via micro-miniature sockets and logs up to 32 000 readings per channel with an adjustable interval of 0,05 s or more. Its accuracy of 0,5°C puts it squarely in the class of the best available loggers.
Downloaded to a PC or notebook, the thermal profile can be reviewed with the Insight software, which includes versatile visualisation, analysis, and reporting functions. Manufacturers can thereby optimise their oven settings and ensure that every product experiences the specified time at temperature.
Regular monitoring is facilitated by the compact size and light weight of the system. Mounting brackets are available in different versions for quick and secure attachment in any line layout.
For more information contact R&C Instrumentation, 086 111 4217, info@randci.co.za, www.randci.co.za
Credit(s)
Further reading:
Bimetal thermometer with switch contacts
December 2019, WIKA Instruments , Temperature Measurement
WIKA's model TGS55 is a stainless steel bimetal thermometer which offers high reliability and long service life. Wherever the process temperature has to be indicated on-site and, at the same time, circuits 
...
Read more...
---
Infrared monitoring of kiln shells extends refractory life
December 2019 , Temperature Measurement
Extending the life of a kiln refractory as well as preventing disastrous failures requires a good understanding of the condition of the refractory material.
Read more...
---
Thermocouples in gasification reactors
November 2019, WIKA Instruments , Temperature Measurement
Gasification reactors, due to their harsh process conditions, place high demands on the instruments used there. Many manufacturers have reacted to this and adapted their products accordingly, but what 
...
Read more...
---
Hotspot detection in pressboard manufacturing applications
October 2019, R&C Instrumentation , Temperature Measurement
In the building industry, there is a product used that is commonly referred to as pressboard, also known as chipboard. Sheets of pressboard are typically 1,2 m x 2,4 m in size and are used in the construction 
...
Read more...
---
Pair temperature probes with different cable lengths
October 2019, ASSTech Process Electronics + Instrumentation , Temperature Measurement
In heat meters for heating systems, two paired temperature probes are usually used for symmetrical installation. These must have identical cable lengths to comply with the legal regulations. Now, Jumo 
...
Read more...
---
Vibration measurement in machine maintenance
October 2019, R&C Instrumentation , Maintenance, Test & Measurement, Calibration
Vibration and temperature are the most common parameters measured on process plants for machine maintenance. Temperature measurement has been around for longer, probably because it was available first 
...
Read more...
---
IR thermometers in the steel industry
September 2019, R&C Instrumentation , Temperature Measurement
In many foundry applications, temperature readings show whether processes are operating within their proper ranges, whether a reheater is too cold or too hot, whether a stand needs adjusting, or how much 
...
Read more...
---
Ten facts about infrared windows
September 2019, R&C Instrumentation , Maintenance, Test & Measurement, Calibration
Infrared (IR) inspection is widely used and quickly becoming indispensable in electrical maintenance programmes. With the advent of IR windows, this procedure is now both safe and cost-effective. However, 
...
Read more...
---
Compact IR camera with industrial accessories
September 2019, Comtest , Temperature Measurement
Comtest has announced an addition to the Optris Compact line of IR cameras – Xi 80 and Xi 400 – with new industrial accessories for use in harsh conditions. The range has a modular design and as a result, 
...
Read more...
---
IR measurement optimises plastic stationary and rotary thermoforming
August 2019, R&C Instrumentation , Temperature Measurement
Background
Thermoforming is the process by which a thermoplastic sheet is made soft and pliable by heating, and bi-axially deformed by being forced into a three-dimensional shape. This process may take 
...
Read more...
---