printer friendly version
AST launches new fire detection system into Africa
July 2016
IS & Ex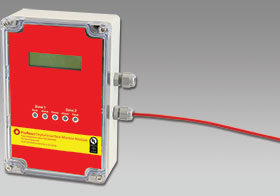 Alien Systems & Technologies has announced the latest in linear heat detection systems – the ProReact range of linear detection heat cables. Linear heat detection is a cable type of detection, formally known as line-type detection. It significantly increases the surface area coverage of detection from a single sensor when compared to an alternative 'spot' type detector. Spot detection consists of a device positioned in a discrete location and either linked to a fire control panel, possibly via other spot detectors or be an inert cable. The linking between spot detectors is a necessity but provides no additional benefits to the sensitivity or performance of the system. Conversely a linear heat detection cable inherently senses along its entire length thus maximising sensitivity and minimising the need for additional ancillary equipment.
Other advantages of linear heat detection cables are their small diameter, flexibility and the ability to be formed within the area or around equipment requiring protection or possibly areas that would be difficult to protect using alternative methods. It may be possible to place the linear heat detection cables in the immediate vicinity of the identified risk, for example a gearbox, transformer or in a cable tray.
In its simplest form, whilst remaining extremely effective, a linear heat detection cable consists of a pair of conductors that are mechanically held apart. Once the cable reaches a pre-determined temperature, the conductors come into contact and trigger an alert. This is known as a 'digital linear heat detector' because the two possible states are 'off' (normal) and 'on' (alert). The reliability of this type of detector means it has a huge range of uses from protection of motors, to tunnels, to cable trays and conveyor belts. The range of possible activation temperatures (the temperature at which the cable switches from off to on) further expands the range of applications including detection of abnormal overheat situations which may be at a much lower temperature than required to ignite a fire.
Once these cables are activated, the process of the two conductors coming into contact is irreversible. However, only the section of cable, that which has been subject to the activation temperature, needs to be replaced. For example, on a 1000 m installation, if 3 m of cable is subject to an overheat condition then only that specific 3 m section requires replacement.
ProReact digital linear heat detection cables – UL521 and FM approved
These cables use a twisted pair of low resistance, tri-metallic conductors and sheathed in advanced temperature sensitive polymers. Full product traceability is guaranteed. A single zone length can extend to 3000 m.
Detection Action Temperatures: 68°C, 78°C, 88°C, 105°C and 185°C.
Optional nylon outer extrusion offers UV protection, increased durability for outdoor use and increased chemical protection in environments containing hydrocarbons. Optional polypropylene outer extrusion offers increased chemical protection in caustic environments. Optional stainless steel over-braiding offers increased mechanical protection.
Added functionality to ProReact linear heat detection systems
A UL864 10th Edition approved Digital Interface Monitor Module is available exclusively for use with the ProReact cables and can monitor up to two zones at any one time. This unique dual zone monitor module offers advanced functionality to traditional digital linear heat detection systems, and is intended to be installed between the ProReact digital cable and a conventional or addressable fire alarm control panel.
The module simultaneously monitors two zones and has separate fault and alarm outputs for each one. A built-in display shows the state of each zone, including the distance to the alarm point if an alarm is triggered. It also includes an RS-485 Modbus RTU output for integration with a PLC or scada system. The integrity of the system is guaranteed at multiple levels:
1. A zone fault is triggered if the ProReact cable is broken.
2. A ground fault occurs on either zone if power is lost to the module or the microprocessor malfunctions.
There are two operating modes:
• Independent – this is when the module is used for either 1 or 2 zones. The zones can contain either identical rated action temperature ProReact digital cables or two differently rated cables.
• Interlock – this mode is used when an application requires a fail-safe guarantee that an alarm is only triggered when an overheat condition has been detected. In this mode the system is operational for 1 zone only and same rated action temperature ProReact digital cables are used. The alarm is only triggered when both cables trigger an alarm due to an overheat condition.
Typical applications for these systems are found in power generation, oil & gas, mining, cable trays, tunnels, escalators and warehouse racking.
For more information contact Grant Wilkinson, Alien Systems & Technologies, +27 (0)11 949 1157, sales@astafrica.com, www.astafrica.com
Credit(s)
Further reading:
Fluke's intrinsically safe tools
September 2021, Comtest , IS & Ex
Fluke offers a growing number of intrinsically safe tools, which dampen the available energy at the output terminals and do not produce any static electricity.
Read more...
---
Inventory management for LNG
September 2021, Endress+Hauser South Africa , IS & Ex
Endress+Hauser's innovative instrumentation and advanced inventory management solutions for LNG storage tanks ensure safe operation of plant and high levels of inventory transparency.
Read more...
---
Smart machines improve safety
September 2021, Rockwell Automation , IS & Ex
Manufacturers can harness the power of data to improve their safety compliance and performance using two new smart safety devices from Rockwell Automation.
Read more...
---
Troubleshooting process loops in Ex areas
September 2021, Comtest , IS & Ex
Tracking down problems within a process loop can be a difficult challenge in the best of environments. Doing so in an area that has the potential for explosion takes the degree of difficulty to another level.
Read more...
---
Wi-Fi in South African underground coal mines
August 2021, Extech Safety Systems , Industrial Wireless, IS & Ex
In the author's opinion, Wi-Fi and all it offers can dramatically improve safety in all industries, including underground coal mines.
Read more...
---
Monitor access to cabinets
July 2021, Turck Banner , IS & Ex
A gas transfer station of the Villingen-Schwenningen municipal utility company uses Turck Banner's IMX12-CCM to monitor control cabinets and thus offer reliable protection from manipulation.
Read more...
---
Tube connector for Ex areas
May 2020, Parker Hannifin - Sales Company South Africa , IS & Ex
Parker Hannifin has extended its Phastite permanent instrumentation connection range, which is now available in a number of corrosion-resistant alloys (CRAs), including Alloy 825, 625 and Super Duplex, 
...
Read more...
---
How to calculate an intrinsically safe loop approval - updated and revised
March 2021, Extech Safety Systems , IS & Ex
We all know what can happen when the correct techniques are not used when interfacing into a hazardous area.
Read more...
---
Robust safety light curtains
April 2021, Turck Banner , IS & Ex
Ez-Screen LS light curtains are intuitive, easy-to-use safety devices designed by Turck Banner for machine safeguarding.
Read more...
---
Delivering modern SIS for wellhead applications
April 2021, Emerson Automation Solutions , IS & Ex
Keeping the safety and non-safety functions separate while achieving seamless integration.
Read more...
---