printer friendly version
Dehn Blitzductor surge protection for maximum system availability
January 2016
Electrical Power & Protection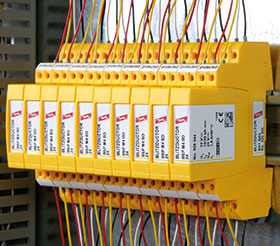 The surge arresters of the Dehn Blitzductor SP series are pluggable multi-pole DIN rail mounted arresters with integrated earthing. They can be universally used for protecting measuring and control circuits, bus systems or telecommunication infrastructure.
The arresters combine a permanently high impulse current discharge capacity up to 20 kA (8/20 µs) with an extremely low voltage protection level, thus ensuring effective protection of terminal equipment even in case of interference caused by impulse currents and surges resulting from switching operations. The arresters provide protection against vibration effects and shock up to 30 times the acceleration of gravity.
They ensure maximum system availability since the modules can be replaced without signal interruption (hot-swappable). The arrester consists of a protection module and a base part. The function-optimised design ensures both fast and easy replacement and maintenance of protection modules which house all relevant protection components. Though mechanically strong in its function, each SPD module can easily be removed by squeezing the side tabs to unlock the module. Insertion is easy and secure when the mechanical "click" is heard and felt. A mechanical reverse polarity protection ensures that a module is always installed in the correct position.
Two universal base parts are optionally available with or without signal disconnection. The Blitzductor SP arresters require minimum space, with four single lines or two pairs only covering a width of 12 millimetres. For DIN rail mounting purposes, lines of a pair belonging to each other are connected on top of one another (vertically). The universal base part not only minimises storage requirements but also eases wiring and maintenance operations. Additionally, the base part metallically bonds the arrester module to the rail allowing for easy grounding of the arrester.
The products were tested in third-party laboratories according to application and country-specific requirements and standards. For example they can be applied with SIL ratings for use in systems requiring high reliability and safety. They are also UL 497 listed.
For more information contact Alexis Barwise, Dehn Africa, +27 (0)11 704 1487, alexis.barwise@dehn-africa.com, www.dehn-africa.com
Credit(s)
Further reading:
DIN rail redundancy power modules
February 2020, RS Components SA , Electrical Power & Protection
RS Components has announced availability of a new series of DIN rail-mount redundancy power modules from TDK-Lambda, a group company of TDK corporation and a leading maker of highly reliable power supplies 
...
Read more...
---
The importance of surge protection in the lightning protection arena
February 2020, DEHN Protection South Africa , Electrical Power & Protection
In order to understand the need for surge protection, it is important to understand how lightning causes damage. The sources of lightning damage can be quite different, therefore different protection 
...
Read more...
---
Power measurement from sensor to cloud
February 2020, Beckhoff Automation , Electrical Power & Protection
With the new SCT current converters, Beckhoff completes the power measurement chain that now ranges from measuring the physical value to transmitting the captured data to the cloud. The portfolio of current 
...
Read more...
---
Solar plant monitoring and control
February 2020, RJ Connect , Electrical Power & Protection
The power industry is now ready for clean power such as solar energy. Utility-scale solar power stations with electric power capacity of more than 50 MW and the capability to feed excess power back to 
...
Read more...
---
Enabling IIoT connectivity for virtual power plants
December 2019, RJ Connect , Electrical Power & Protection
The power grid has seen many changes that have enabled the integration of power from distributed energy sources (DERs).
Read more...
---
DIN rail power supply for demanding applications
December 2019, ElectroMechanica , Electrical Power & Protection
Automated production systems require power supplies with high stability and safety protection. DIN rail power supply series for such demanding applications are available from Delta Electronics, distributed 
...
Read more...
---
Dry-type transformers go mainstream
December 2019 , Electrical Power & Protection
The uptake of dry-type transformers in South Africa is now well beyond 'niche' applications, with local specialist Trafo Power Solutions installing a range of sizes across various sectors. "In recent 
...
Read more...
---
Robust embedded power supply series
December 2019, RS Components SA , Electrical Power & Protection
RS Components (RS) has announced the availability of a new series of AC-DC embedded switch-mode power supplies (SMPS) from TDK-Lambda. The cost-effective RWS-B series of AC-DC industrial power supplies 
...
Read more...
---
Ultra-compact soft starter with protection
December 2019, Vepac Electronics , Electrical Power & Protection
The Tele Christian P4.0/RL/TP/IC electronic soft starter is, with all of its integrated functionality, designed for ultra-compact installation. It helps to reduce wiring material, installation time and 
...
Read more...
---
Motor system efficiency for reduced carbon emissions
January 2020 , Electrical Power & Protection
With electric motors consuming almost 70% of industry's energy, companies are always looking for better motor efficiencies. For many years, motor efficiency has been well defined; however, when driven 
...
Read more...
---