printer friendly version
Dehn Blitzductor surge protection for maximum system availability
January 2016
Electrical Power & Protection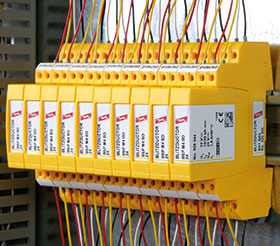 The surge arresters of the Dehn Blitzductor SP series are pluggable multi-pole DIN rail mounted arresters with integrated earthing. They can be universally used for protecting measuring and control circuits, bus systems or telecommunication infrastructure.
The arresters combine a permanently high impulse current discharge capacity up to 20 kA (8/20 µs) with an extremely low voltage protection level, thus ensuring effective protection of terminal equipment even in case of interference caused by impulse currents and surges resulting from switching operations. The arresters provide protection against vibration effects and shock up to 30 times the acceleration of gravity.
They ensure maximum system availability since the modules can be replaced without signal interruption (hot-swappable). The arrester consists of a protection module and a base part. The function-optimised design ensures both fast and easy replacement and maintenance of protection modules which house all relevant protection components. Though mechanically strong in its function, each SPD module can easily be removed by squeezing the side tabs to unlock the module. Insertion is easy and secure when the mechanical "click" is heard and felt. A mechanical reverse polarity protection ensures that a module is always installed in the correct position.
Two universal base parts are optionally available with or without signal disconnection. The Blitzductor SP arresters require minimum space, with four single lines or two pairs only covering a width of 12 millimetres. For DIN rail mounting purposes, lines of a pair belonging to each other are connected on top of one another (vertically). The universal base part not only minimises storage requirements but also eases wiring and maintenance operations. Additionally, the base part metallically bonds the arrester module to the rail allowing for easy grounding of the arrester.
The products were tested in third-party laboratories according to application and country-specific requirements and standards. For example they can be applied with SIL ratings for use in systems requiring high reliability and safety. They are also UL 497 listed.
For more information contact Alexis Barwise, Dehn Africa, +27 (0)11 704 1487, alexis.barwise@dehn-africa.com, www.dehn-africa.com
Credit(s)
Further reading:
WEG IE3 compliant motor control and protection
October 2019, Zest WEG Group , Electrical Power & Protection
The increased move towards the use of IE3 electric motors has made it increasingly important that the most appropriate starting method be selected to ensure optimum performance. With this move it is essential 
...
Read more...
---
Electronic monitoring devices from EM
October 2019, ElectroMechanica , Electrical Power & Protection
A comprehensive range of electronic monitoring and timing devices in different formats for ease of use and retrofit purposes is available from ElectroMechanica (EM). The ElectroDev units are suited to 
...
Read more...
---
Integrated earth leakage protection
October 2019, Schneider Electric South Africa , Electrical Power & Protection
Schneider Electric has announced the introduction of integrated earth leakage protection for its Compact NSX and NSXm moulded circuit breaker ranges. "The award-winning Compact NSX moulded case circuit 
...
Read more...
---
Batteries in motive power applications
October 2019, Comtest , Electrical Power & Protection
When discussing motive power applications, the initial thought is that their batteries must be similar to transportation batteries. After all, this equipment is 'motive' just like a car or truck. However, 
...
Read more...
---
Better transformer design improves safety
October 2019 , Electrical Power & Protection
As electricity utilities and users worldwide look to become more safety conscious and efficient in their use of electrical energy, it is important to leverage the improvements that have been made in the 
...
Read more...
---
Stakeless ground loop tester
October 2019, Comtest , Electrical Power & Protection
Testing the grounding components of equipment in hard to reach spaces, including areas that are indoors or fully paved and do not permit driving auxiliary test stakes, is always challenging. Comtest is 
...
Read more...
---
Cut the complexity of panel design
September 2019, ElectroMechanica , Electrical Power & Protection
A low-voltage electrical distribution system design to reduce the complexities often associated with panel design is available from leading local supplier ElectroMechanica (EM). Quadro+ from Hager combines 
...
Read more...
---
Ultra slim DIN rail power supplies
September 2019, Vepac Electronics , Electrical Power & Protection
XP Power has announced the DSR range of AC-DC DIN rail power supplies approved for industrial control systems and information technology equipment applications. These versatile supplies provide reliable 
...
Read more...
---
Oil dielectric RF termination loads
September 2019, Comtest , Electrical Power & Protection
For maximum process repeatability and consistency, modern plasma applications require precise RF power regulation and control. A key component in ensuring accurate and repeatable RF power delivery to 
...
Read more...
---
Outsmarting the DC switch arc
August 2019, Phoenix Contact , Electrical Power & Protection
Trouble-free switching even of higher DC loads up to 250 VDC and 10 A can be realised by means of selecting a special coupling relay, preferably with blowout magnet.
Read more...
---