printer friendly version
Dehn Blitzductor surge protection for maximum system availability
January 2016
Electrical Power & Protection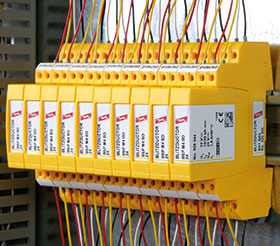 The surge arresters of the Dehn Blitzductor SP series are pluggable multi-pole DIN rail mounted arresters with integrated earthing. They can be universally used for protecting measuring and control circuits, bus systems or telecommunication infrastructure.
The arresters combine a permanently high impulse current discharge capacity up to 20 kA (8/20 µs) with an extremely low voltage protection level, thus ensuring effective protection of terminal equipment even in case of interference caused by impulse currents and surges resulting from switching operations. The arresters provide protection against vibration effects and shock up to 30 times the acceleration of gravity.
They ensure maximum system availability since the modules can be replaced without signal interruption (hot-swappable). The arrester consists of a protection module and a base part. The function-optimised design ensures both fast and easy replacement and maintenance of protection modules which house all relevant protection components. Though mechanically strong in its function, each SPD module can easily be removed by squeezing the side tabs to unlock the module. Insertion is easy and secure when the mechanical "click" is heard and felt. A mechanical reverse polarity protection ensures that a module is always installed in the correct position.
Two universal base parts are optionally available with or without signal disconnection. The Blitzductor SP arresters require minimum space, with four single lines or two pairs only covering a width of 12 millimetres. For DIN rail mounting purposes, lines of a pair belonging to each other are connected on top of one another (vertically). The universal base part not only minimises storage requirements but also eases wiring and maintenance operations. Additionally, the base part metallically bonds the arrester module to the rail allowing for easy grounding of the arrester.
The products were tested in third-party laboratories according to application and country-specific requirements and standards. For example they can be applied with SIL ratings for use in systems requiring high reliability and safety. They are also UL 497 listed.
For more information contact Alexis Barwise, Dehn Africa, +27 (0)11 704 1487, alexis.barwise@dehn-africa.com, www.dehn-africa.com
Credit(s)
Further reading:
Contactless energy transfer system for an automotive assembly line extension
April 2019, SEW-Eurodrive , Electrical Power & Protection
The Movitrans contactless energy transfer system from SEW-Eurodrive, in conjunction with its Movipro SDC decentralised drive, position and application controller, has played a critical role in an assembly 
...
Read more...
---
VSDs drive cost saving in pumping systems
April 2019, Zest WEG Group , Electrical Power & Protection
WEG variable speed drives (VSDs) offer the agricultural sector the ability to reduce the operating cost on automated water collection systems with a reduction in motor energy consumption when the motor 
...
Read more...
---
Power module with load sharing
April 2019, Accutronics , Electrical Power & Protection
TDK Corporation has announced the introduction of the DRM40 series of DIN rail mount redundancy modules. Two 10 30 V DC inputs are rated at 20 A each and the output at 40 A. A 150% peak load capability 
...
Read more...
---
Cummins technology and innovation
April 2019 , Electrical Power & Protection
Powering a world that's always on
At the recent Middle East Electricity (MEE) exhibition held at the Dubai World Trade Centre, visitors could discover a range of the latest power products, systems and 
...
Read more...
---
Stakeless earth ground loop testing
April 2019, Comtest , Electrical Power & Protection
Testing the grounding components of equipment in hard to reach spaces, including areas that are indoors or fully paved and do not permit driving auxiliary test stakes, is always challenging. Comtest is 
...
Read more...
---
Let there be light
March 2019, RJ Connect , Electrical Power & Protection
Fuel cell system helps channel electricity to rural community.
Read more...
---
Convection cooled 600 W AC-DC supplies
March 2019, Accutronics , Electrical Power & Protection
TDK Corporation has announced the introduction of the GXE600 series of 600 W AC-DC power supplies, certified to the IEC 60601-1 medical safety standard as well as IEC 62368-1. In a 1U high package, these 
...
Read more...
---
Dry-type transformers for water project
March 2019 , Electrical Power & Protection
Dry-type transformer specialist Trafo Power Solutions has secured an order for 13 custom-designed cast resin units for Rand Water's large Zuikerbosch Wastewater Treatment Works near Vereeniging. The 
...
Read more...
---
Converters for building technology
March 2019, Siemens Digital Industries , Electrical Power & Protection
Siemens presented a new converter series at last year's SPS IPC Drives. The converters of the new Sinamics G120X series are especially suited for use in pump and fan applications in industries such as 
...
Read more...
---
EM supplies smart building solutions
March 2019, ElectroMechanica , Electrical Power & Protection
The latest Hager smart solutions for automated building control have been supplied by ElectroMechanica (EM) of Cape Town for Swarovski Lighting's new showroom in Green Point. The leading supplier specified 
...
Read more...
---