Dehn Blitzductor surge protection for maximum system availability
January 2016
Electrical Power & Protection

printer friendly version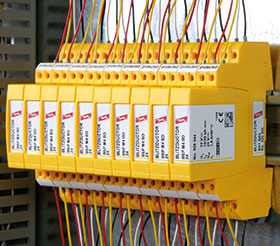 The surge arresters of the Dehn Blitzductor SP series are pluggable multi-pole DIN rail mounted arresters with integrated earthing. They can be universally used for protecting measuring and control circuits, bus systems or telecommunication infrastructure.
The arresters combine a permanently high impulse current discharge capacity up to 20 kA (8/20 µs) with an extremely low voltage protection level, thus ensuring effective protection of terminal equipment even in case of interference caused by impulse currents and surges resulting from switching operations. The arresters provide protection against vibration effects and shock up to 30 times the acceleration of gravity.
They ensure maximum system availability since the modules can be replaced without signal interruption (hot-swappable). The arrester consists of a protection module and a base part. The function-optimised design ensures both fast and easy replacement and maintenance of protection modules which house all relevant protection components. Though mechanically strong in its function, each SPD module can easily be removed by squeezing the side tabs to unlock the module. Insertion is easy and secure when the mechanical "click" is heard and felt. A mechanical reverse polarity protection ensures that a module is always installed in the correct position.
Two universal base parts are optionally available with or without signal disconnection. The Blitzductor SP arresters require minimum space, with four single lines or two pairs only covering a width of 12 millimetres. For DIN rail mounting purposes, lines of a pair belonging to each other are connected on top of one another (vertically). The universal base part not only minimises storage requirements but also eases wiring and maintenance operations. Additionally, the base part metallically bonds the arrester module to the rail allowing for easy grounding of the arrester.
The products were tested in third-party laboratories according to application and country-specific requirements and standards. For example they can be applied with SIL ratings for use in systems requiring high reliability and safety. They are also UL 497 listed.
For more information contact Alexis Barwise, Dehn Africa, +27 (0)11 704 1487, alexis.barwise@dehn-africa.com, www.dehn-africa.com
Credit(s)
Further reading:
Compact soft starters for control of three-phase motors
February 2019, ElectroMechanica , Electrical Power & Protection
Soft starters limit the inrush current, improving overall stability of the power supply and reducing transient voltage drops, which may affect other loads in a network. They are ideal for applications 
...
Read more...
---
Forward-thinking municipality uses pumps to generate electricity
February 2019 , Electrical Power & Protection
A technical team serving the requirements of the Drakenstein municipality in the Western Cape has designed one of the country's largest pump and turbine stations to be used for water reticulation to the 
...
Read more...
---
How to optimise power quality in critical applications
February 2019, Schneider Electric South Africa , Electrical Power & Protection
As global energy consumption continues to rise, energy is becoming more decentralised and decarbonised. While demand is estimated to increase by 70% through 2040, 50% of new energy generation capacity 
...
Read more...
---
Compact DIN rail power supply
February 2019, Accutronics , Electrical Power & Protection
TDK Corporation has announced the introduction of the TDK-Lambda brand DRF960-24-1 DIN rail mount AC-DC power supply, rated at 24 V 40 A (960 W) with a 60 A (1440 W) peak for 4 seconds. The product has 
...
Read more...
---
Power supply protects against hour-long power failures
February 2019, Siemens Digital Factory & Process Indust. & Drives , Electrical Power & Protection
Siemens has upgraded its Sitop PSU8600 power supply system with the addition of new supplementary modules to transform it into an uninterruptible DC power supply. To achieve this, the new DC UPS module 
...
Read more...
---
Rockwell Automation expands power range
February 2019, Rockwell Automation , Electrical Power & Protection
Rockwell Automation has expanded the power ranges and capabilities of TotalForce technology for its Allen-Bradley PowerFlex 755T AC drives. The drives now offer an expanded power range, helping engineers 
...
Read more...
---
Compact contactor solutions
January 2019, Zest WEG Group , Electrical Power & Protection
Engineered to provide a compact contactor solution, the WEG CWB range of devices offers a width space saving of up to 18%. Developed in two frame sizes, the contactors meet a range of industrial and domestic 
...
Read more...
---
RS Components expands current transformer range
January 2019, RS Components SA , Electrical Power & Protection
RS Components has announced availability of a range of RS Pro current transformers targeting a wide range of applications including process control, motor control, utility power monitoring, control panels, 
...
Read more...
---
Efficient lighthouse operation in the modern age
December 2018, Horne Technologies , Electrical Power & Protection
In a lighthouse the structures may appear old and dignified, but the technology inside is modern and robust. Low operating costs, availability and long maintenance intervals are the decisive criteria 
...
Read more...
---
Evolving power management for intelligent buildings
December 2018, Schneider Electric South Africa , Electrical Power & Protection
Without doubt, managing energy costs while driving sustainability and efficiency is one of the biggest power management challenges that facility professionals face today. While advances in technology 
...
Read more...
---