printer friendly version
Legrand's modular power distribution enclosures IEC ­certified
October 2015
Enclosures, Cabling & Connectors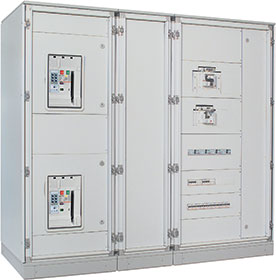 Legrand's range of XL³ modular power distribution enclosures complies with international IEC 61439 standards that have replaced the previous edition of IEC 60439.
"The certification of enclosures is defined by IEC 61439-1 and IEC 61439-2 for power switchgear and controlgear assemblies. This accreditation formulates the definitions, operating conditions, structural provisions, technical characteristics and tests for low voltage wiring accessory assemblies," explains Marc Naidoo, projects and technical co-ordinator, Legrand SA.
"Modifications to these IEC standards encompass three different, but equivalent types for verifying requirements. These are verification by a test, verification by calculation or measurement, or verification by satisfying design rules. Unlike IEC 60439-1, conformity cannot be established simply on the basis of the general rules of the standard. Assemblies must comply with the specific standards dedicated to them. Compliance with standard IEC 61439-2 also enables the CE mark to be attached, if required."
There are 13 standard tests for the certification of pre-equipped enclosures, which are an additional guarantee of safe operation. Legrand is also committed to carrying out 10 type tests, Characteristics that need to be checked include resistance of materials and parts, temperature rise, degree of protection (IP), dielectric properties and short circuit resistance, as well as electric shock protection and integrity of the protective circuit. Clearances and creepage distances, mechanical operation and electromagnetic compatibility are also important.
Standards IEC 61439-1 and IEC 61439-2 also require final checks on all wired assemblies. These checks certify that the essential characteristics linked to safety are fully complied with.
Legrand's XL³ cabinets and enclosures – for sites between 160 A and 6300 A – provide solutions adapted to meet exact site power distribution needs in industrial, commercial and residential environments. Most importantly, these units comply with every part of the standard IEC 61439 to guarantee reliability and total protection of the installation.
Each model in this range includes a selection of sizes, versions and equipment. XL³ enclosures are enhanced by Legrand devices for optimum protection and efficient distribution. These devices include DMX³ air circuit breakers, MCCB's, DX³ DIN rail mounting circuit breakers, busbars and modular distribution blocks.
XL³ metallic or plastic enclosures, with index protection ratings between IP30 and IP55, have a short circuit resistance from 20 kA to 110 kA.
This flexible power distribution system, which can be adapted at any time, includes either standard or optimised distribution. Standard distribution allows the user to choose busbars and their supports, with a personal configuration for efficient power distribution.
The optimised distribution system, which ensures freedom of assembly, eliminates the need to create special connections upstream and ensures time savings during installation by being able to connect appliances on pre-equipped units.
Also available to optimise the design, is user-friendly XL Pro panel design software, incorporating XL Pro Calculator software, which automatically calculates the total power consumption, required protection devices and cable selection for the circuit, as well as cascading and discrimination solutions.
Credit(s)
Further reading:
Compact emergency stop button
Anglo Allied Engineering Enclosures, Cabling & Connectors
Bernstein has brought out a smaller version of its safety rope limit switch, adding an extra layer of safety to the operation of machines and conveyor belts, with greater space saving and versatility.
Read more...
---
Automation construction kit replaces the control cabinet
Beckhoff Automation Enclosures, Cabling & Connectors
Beckhoff's MX-System harnesses all the advantages of PC- and EtherCAT-based control technology at the same time.
Read more...
---
Reliable interface for the blind plugging of modular connections
Phoenix Contact Enclosures, Cabling & Connectors
The new docking frames of the Phoenix Contact Heavycon product family enable the time-saving installation and maintenance of push-in systems and other applications in which the interfaces cannot be seen.
Read more...
---
Tool-free cabling with M12 push-lock connectors
Phoenix Contact Enclosures, Cabling & Connectors
Confined spaces and customised cable lengths are becoming increasingly common when it comes to the cabling of machines and systems. Whether for signal, data or power transmission, the Phoenix Contact 
...
Read more...
---
Pratley stands firm with international and local market growth
Pratley Enclosures, Cabling & Connectors
Shipping and supply-chain issues have led to a global shortage of a range of items and commodities. "The world is shopping around at the moment and we have seen fairly substantial international interest 
...
Read more...
---
Amphenol circular connectors available from RS Components
RS Components SA Enclosures, Cabling & Connectors
Extensive series of M8x1 D-coded devices delivers best-in-class data and power signal integrity for Ethernet industrial automation applications.
Read more...
---
Pratley's flameproof junction box
Pratley Enclosures, Cabling & Connectors
By combining a flameproof junction box with its Kwikblok terminals, Pratley can prevent arcing across the connections themselves.
Read more...
---
Rittal and Eplan join forces to add value for customers
Enclosures, Cabling & Connectors
By joining forces, sister companies Rittal and Eplan deliver solutions to speed up processes and boost productivity.
Read more...
---
Adjustable cable gland is easy to fit
Pratley Enclosures, Cabling & Connectors
Pratley, produces a uniquely adjustable cable gland that fits any size armouring.
Read more...
---
Legrand's Atlantic stainless steel cabinets
Legrand Enclosures, Cabling & Connectors
Legrand's Atlantic stainless steel cabinets have been designed for safe use in corrosive conditions and in areas requiring a high level of hygiene.
Read more...
---