AST Africa introduces Whisp-Air
August 2015
IS & Ex

printer friendly version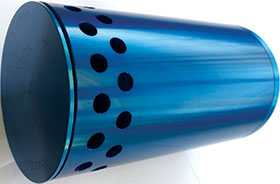 Today, many hard disk drives are designed and produced in China with little to no vibration testing. This has created something of a problem when one considers the potential vibration damage that could result when a gaseous fire extinguishing system discharges a data centre. Noise issues, and the vibration damage associated with these, have been attributed to all gas types, and IT specialists need to investigate specific measures that can be implemented because as the mechanical disk drives become more sensitive due to performance and cost objectives, this problem will only get worse.
However, for the interim, Alien Systems & Technologies has developed and manufactured a product that will treat the symptoms and lower the risk of damage to hard disks. The Whisp-Air Silencer Nozzle has been designed specifically for use in applications where protection of sound sensitive equipment such as hard drives is required.
The Whisp-Air's full-flow design uses interposing sound waves, multiple-stage velocity deceleration, an obstruction-free expansion chamber and a metal fibre disseminator to dissipate potentially damaging discharge noise. A large peripheral exhaust surface area diffuses the extinguishing media, further lowering its velocity and reducing discharge noise.
The Whisp-Air silent nozzle product eliminates excessive discharge noise by dividing the extinguishing media stream and turning it back on itself. As the extinguishant enters the muffler at high velocity, it is redirected into smaller streams that rebound off opposing walls of the chamber. When these steams collide head-on with each other, the velocity is reduced and the extinguishant is dispersed throughout the large exit surface area. This technique eliminates noise without sacrificing flow rate or increasing back pressure.
For more information contact Samantha Wright, Alien Systems & Technologies, +27 (0)11 949 1157, sam@astafrica.com, www.astafrica.com
Credit(s)
Further reading:
Safety meets security
March 2019, Phoenix Contact , IS & Ex
A common strategy required for the future.
Read more...
---
Is your building safe from fire?
March 2019, Alien Systems & Technologies , IS & Ex
Correct selection of detectors is vital.
Read more...
---
Safety exhaust valve for emergency stop
March 2019, Parker Hannifin Sales Company South , IS & Ex
Parker Hannifin has introduced a new safety exhaust valve that rapidly exhausts compressed air in the event of a fault condition or when a machine has an emergency stop. The P33 is designed for two-channel 
...
Read more...
---
Ex-rated instruments for explosive atmospheres
March 2019, R&C Instrumentation , IS & Ex
In many industries, there are certain areas that are classified as hazardous or Ex areas. This is an area that contains, or may contain, combustible substances such as gas, vapour or dust. Typical hazardous 
...
Read more...
---
New generation safety controllers
March 2019, Beckhoff Automation , IS & Ex
TwinSAFE: consistently modular, scalable and distributed safety applications.
Read more...
---
LSIS obtains Ex rating for HMI range
March 2019, Ana-Digi Systems , IS & Ex
Starting with the iXP2 premium series of HMIs, in the latter half of 2018 LSIS began rolling out the Ex certification for the entire range of these exceptional products. The products carry the rating 
...
Read more...
---
AST's line-type heat sensing
February 2019, Alien Systems & Technologies , Temperature Measurement
Alien Systems & Technologies (AST) offers a wide range of automatic fire detection systems from advanced ultra-smart addressable point type detection systems to regular conventional systems.
Read more...
---
Contact in to contact out over fibre optic cable
February 2019, Omniflex Remote Monitoring Specialists , IS & Ex
The Omniterm FCT and FCR modules provide the ability to send a digital contact signal up to 4 km over a single optical fibre. When the contact on the FCT transmitter module is closed, the relay output 
...
Read more...
---
Zoned approach reduces the complexity of machine safety
January 2019, ASCO , IS & Ex
This article examines a unique approach known as zoned safety, which reduces complexity in the design of redundant pneumatic safety circuits. It explains the advantages of the concept over the traditional 
...
Read more...
---
Kia Slovakia reduces safety ­downtime
January 2019, Rockwell Automation , IS & Ex
Allen-Bradley GuardLogix maximises efficiency in body shop.
Read more...
---