printer friendly version
Omniflex wireless control and data acquisition
Technews Industry Guide - Wireless 2015
Industrial Wireless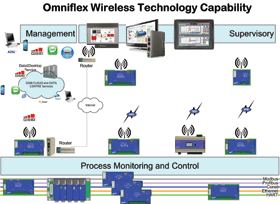 Omniflex specialises in remote monitoring solutions based on years of plant networking experience, from last mile networking to mainstream Ethernet backbones. The Teleterm range specifically addresses the remote outstation issue by providing a programmable platform (IEC61131 languages) for control and networking options from low grade cable to radio and GSM infrastructure. Wireless distributed PLCs with inherent data acquisition capability are an attractive proposition against cable based systems.
Supervisory systems can also be wireless implementations though the use of WiFi. A tablet can be used as a portable operator interface or management tool for linking into the system without having to use fixed desktop computers. Remote site visualisation is achieved the same way using a tablet and remote Teleterm devices via the Internet and local routers.
Wireless capabilities include:
• Licence free band RTUs.
• Licence free band wireless PLC units.
• WiFi and wireless HMI solutions.
• GSM RTUs
• GSM PLC units.
• Repeater solutions.
• Internet based monitoring.
For more information contact Ian Loudon, Omniflex, +27 (0)31 207 7466, sales@omniflex.com, www.omniflex.com
Credit(s)
Further reading:
The importance of up-to-date alarm annunciators
January 2020, Omniflex Remote Monitoring Specialists , IS & Ex
At 1.23 pm on Sunday, 24 July 1994, twenty-six people were injured when an explosion erupted through an oil refinery in an otherwise quiet corner of South Wales in the United Kingdom. The site was occupied 
...
Read more...
---
5G – the wireless network of the future
December 2019, Siemens Digital Industries , Industrial Wireless
Mobile wireless network standards, starting with 1G, have been shaping our mobile communication for years. While previous developments have focused on improved usability in the public sector, the new 
...
Read more...
---
Dome protects communication sticks
December 2019, Beckhoff Automation , Industrial Wireless
With the new CU8210-M001 cabinet dome, the USB port of an industrial PC can be fed out of the control cabinet and still be well protected. In this way, reliable and powerful wireless connections to the 
...
Read more...
---
Instrument Area Network
December 2019 , Industrial Wireless
Modern plant managers and operations professionals can save time and money through a robust condition and preventative maintenance model enabled by wireless Instrument Area Network devices. Instrument 
...
Read more...
---
Banner Engineering simplifies monitoring of rotating equipment
November 2019, Turck Banner , Industrial Wireless
Banner's Wireless Solutions Kit for vibration monitoring is a fully integrated and easy-to-use solution for monitoring assets with rotating motion. It is designed to make it easy for users of any experience 
...
Read more...
---
AGV systems need wireless networks
November 2019, RJ Connect , Industrial Wireless
In order for factories to perform their tasks efficiently and optimise production, automated material handling (AMH) systems, such as AS/RS and AGVs, need the flexibility to move around on their designated 
...
Read more...
---
Time synchronise your key remote sites
November 2019, Omniflex Remote Monitoring Specialists , Sensors & Transducers
Managing processes where root cause identification is rapidly identified can generate substantial savings though improved productivity and implementation of planned preventive maintenance schedules. Knowing 
...
Read more...
---
Omniflex eases mine water compliance
October 2019, Omniflex Remote Monitoring Specialists , System Integration & Control Systems Design
Water licences carry a 'Burdon of Proof' that the licence holder will not harm the environment or the water system through its activities. This covers the use of water from the system and the responsible 
...
Read more...
---
Alarm system upgrade from Omniflex
September 2019, Omniflex Remote Monitoring Specialists , IS & Ex
Fiddler's Ferry Power Station was constructed by the CEGB (Central Electricity Generating Board) in the UK and came into full operation in 1973. It has four 500 MW sets, giving a total generating capacity 
...
Read more...
---
Intelligent wireless connectivity
September 2019, RJ Connect , Industrial Wireless
The ultimate goal of most industrial automation applications is to obtain actionable insights from data sources for more precise decision-making. To achieve this, businesses need to make their field data 
...
Read more...
---