printer friendly version
Moxa's high bandwidth wireless solutions enable reliable video-over-wireless networks
Technews Industry Guide - Wireless 2015
Industrial Wireless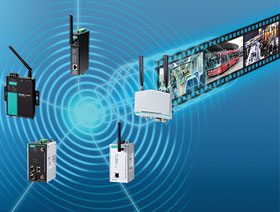 Moxa has introduced a complete series of high bandwidth wireless solutions for enabling video-over-wireless networks in industrial automation applications. The products feature low latency, seamless mobility, and a rugged design. The high bandwidth wireless product portfolio Moxa offers includes both 802.11n for WLANs and HSPA for WWANs, making it easier for bandwidth hungry systems, such as are used for IP surveillance, to transmit video data over a wireless network.
"Moxa has produced world-class industrial wireless products for many years. However, we recently saw an increasing demand to deploy video-over-wireless networks for IP surveillance systems and wireless hotspots in hard-to-wire environments," said Moxa product manager, Jeffrey Ke. "Operators are not only asking for wireless devices that support high bandwidth technology, such as the 802.11n or HSPA standards, they are also looking for a solution for building a reliable wireless network. To achieve this, wireless devices must provide real-time communication, seamless connections even on the move, and a rugged design for harsh environments. Our AWK and OnCell series offer end-users a comprehensive solution that fulfils all of these demands. Features such as dual-radio redundancy technology and GuaranLink technology are designed to achieve zero packet loss transmission, Turbo Roaming delivers unstoppable wireless communication even when connected to vehicles moving at high speed, and a variety of industrial-grade design features and certifications ensure that your wireless network can provide reliable video-over-wireless transmission."
Moxa has experience helping customers implement video-over-wireless networks in many different scenarios (IP surveillance and wireless hotspots) and for a variety of industrial applications. It offers reliable high bandwidth wireless solutions and professional field application engineers are available to assist users with a wide range of tasks, from network planning to field site deployment.
Credit(s)
Further reading:
Adding mobile network visibility
January 2020, RJ Connect , Fieldbus & Industrial Networking
A high-speed railway operator built a fibre Ethernet backbone for data transmission between its operational management centre and railway stations to ensure high network availability. The customer used 
...
Read more...
---
5G – the wireless network of the future
December 2019, Siemens Digital Industries , Industrial Wireless
Mobile wireless network standards, starting with 1G, have been shaping our mobile communication for years. While previous developments have focused on improved usability in the public sector, the new 
...
Read more...
---
Dome protects communication sticks
December 2019, Beckhoff Automation , Industrial Wireless
With the new CU8210-M001 cabinet dome, the USB port of an industrial PC can be fed out of the control cabinet and still be well protected. In this way, reliable and powerful wireless connections to the 
...
Read more...
---
Instrument Area Network
December 2019 , Industrial Wireless
Modern plant managers and operations professionals can save time and money through a robust condition and preventative maintenance model enabled by wireless Instrument Area Network devices. Instrument 
...
Read more...
---
Enabling IIoT connectivity for virtual power plants
December 2019, RJ Connect , Electrical Power & Protection
The power grid has seen many changes that have enabled the integration of power from distributed energy sources (DERs).
Read more...
---
Advanced controller for data acquisition
December 2019, RJ Connect , Data Acquisition & Telemetry
The ioThinx 4530 series is an advanced modular controller product with a unique hardware design, making it an ideal solution for a variety of industrial data acquisition applications. The controller has 
...
Read more...
---
Four key factors to consider when choosing devices for the control cabinet
November 2019, RJ Connect , System Integration & Control Systems Design
Drawing from over 30 years of experience in providing reliable products for industrial control cabinets, Moxa has identified the following four key considerations for choosing the best control cabinet 
...
Read more...
---
Banner Engineering simplifies monitoring of rotating equipment
November 2019, Turck Banner , Industrial Wireless
Banner's Wireless Solutions Kit for vibration monitoring is a fully integrated and easy-to-use solution for monitoring assets with rotating motion. It is designed to make it easy for users of any experience 
...
Read more...
---
AGV systems need wireless networks
November 2019, RJ Connect , Industrial Wireless
In order for factories to perform their tasks efficiently and optimise production, automated material handling (AMH) systems, such as AS/RS and AGVs, need the flexibility to move around on their designated 
...
Read more...
---
Intelligent wireless connectivity
September 2019, RJ Connect , Industrial Wireless
The ultimate goal of most industrial automation applications is to obtain actionable insights from data sources for more precise decision-making. To achieve this, businesses need to make their field data 
...
Read more...
---