printer friendly version
Benefits of using WirelessHART instruments in hazardous locations
Technews Industry Guide - Wireless 2015
Industrial Wireless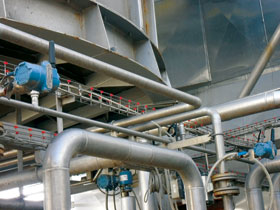 When instruments are required to be installed in hazardous areas, there is a requirement that all wiring must be installed and maintained to the relevant standards to prevent an ignition of the explosive environment. The costs of protecting a wired 4-20 mA HART instrument in hazardous areas is not just simply the installation cost but also ongoing inspections and remedial works that will inevitably follow.
WirelessHART devices certified to the relevant protection level for the hazardous area can reduce the duration and complexity of inspections due to the reductions of equipment installed in the hazardous area, such as the wiring, junction boxes, cables and IS barriers needed with a traditional wired installation. WirelessHART process transmitters can be powered by an IS power module, which eliminates the need for power and signal wiring. Such power modules are field interchangeable in the hazardous location.
Inspection requirements
4-20 mA HART field transmitters require wiring, conduits, cable trays, field junction boxes and marshalling cabinets. If the instrument is 4-wire, it must have separate power wiring. All wiring systems must meet the requirements of IEC 60079 for the type of protection that the circuit is certified for. This could be 'EX ia' for intrinsically safe, 'Ex d' for explosion-proof or one of the other types of protection permitted.
IEC 60079 covers the use of electrical equipment in hazardous areas. IEC 60079-14 requires that an initial inspection must be carried out when the equipment is first installed. IEC 60079-17 says that the interval between following inspections shall not exceed three years without seeking expert advice. Typical inspections are done annually.
Cutting costs with WirelessHART
Adoption of WirelessHART equipment can have significant impact on both capex (capital expenditures) and opex (operating expenses).
In the capex phase, designs using a wireless device can achieve cost savings. By removing the glands, wires, conduit/tray, field junction boxes and marshalling cabinets wiring component costs are reduced, and further savings are realised by eliminating associated installation drawings and equipment lists that are required for maintenance and installation.
WirelessHART also reduces opex, especially the cost of hazardous area inspections. This is due to not having to have supporting infrastructure between the device and the host system for the measurement circuit. Only the instruments themselves have to be inspected and possibly the wireless gateways if they are installed in the hazardous area. In many instances, these gateways can be installed outside of the hazardous area, further cutting costs.
In comparison the costs of inspecting and maintaining wired 4-20 mA HART or fieldbus process instruments in a hazardous area is very high because of the need to support the instruments with an infrastructure including power supplies, wires, and conduit and marshalling cabinets. All of these items need to be protected from igniting a flammable or explosive atmosphere, all of this equipment needs to be inspected on a regular basis, and repairs are often required to keep the entire system safe.
Using WirelessHART eliminates wiring infrastructure, and reduces required inspection tasks.
For more information contact Michael Eksteen, Emerson Process Management, +27 (0)11 451 3700, michael.eksteen@emerson.com, www.emersonprocess.com
Credit(s)
Further reading:
Emerson monitoring accelerates asset digitalisation
December 2019, Emerson Automation Solutions , Maintenance, Test & Measurement, Calibration
Emerson has introduced the AMS Asset Monitor edge analytics device, which digitalises essential asset data and analytics for better operations performance and improved decision making. AMS Asset Monitor 
...
Read more...
---
5G – the wireless network of the future
December 2019, Siemens Digital Industries , Industrial Wireless
Mobile wireless network standards, starting with 1G, have been shaping our mobile communication for years. While previous developments have focused on improved usability in the public sector, the new 
...
Read more...
---
Dome protects communication sticks
December 2019, Beckhoff Automation , Industrial Wireless
With the new CU8210-M001 cabinet dome, the USB port of an industrial PC can be fed out of the control cabinet and still be well protected. In this way, reliable and powerful wireless connections to the 
...
Read more...
---
Instrument Area Network
December 2019 , Industrial Wireless
Modern plant managers and operations professionals can save time and money through a robust condition and preventative maintenance model enabled by wireless Instrument Area Network devices. Instrument 
...
Read more...
---
Europe's largest-ever Emerson Users Conference to be held in Milan
December 2019, Emerson Automation Solutions , News
The largest-ever Emerson Global Users Exchange in Europe will be taking place in Milan, Italy, in 2020. The biennial conference will be held at the Milano Convention Centre from March 18 to 20, with current 
...
Read more...
---
Emerson acquires Spence and Nicholson steam technology product lines
November 2019, Emerson Automation Solutions , News
Emerson has announced the acquisition of the Spence and Nicholson product lines from Circor International. The acquisition complements Emerson's broad portfolio of steam system solutions for process industries 
...
Read more...
---
Emerson deepens commitment to manufacturers' top quartile performance
November 2019, Emerson Automation Solutions , News
As leaders across industries work to realise measurable business improvement in today's complex technology environment, global engineering and technology company, Emerson, announced it has established 
...
Read more...
---
Banner Engineering simplifies monitoring of rotating equipment
November 2019, Turck Banner , Industrial Wireless
Banner's Wireless Solutions Kit for vibration monitoring is a fully integrated and easy-to-use solution for monitoring assets with rotating motion. It is designed to make it easy for users of any experience 
...
Read more...
---
AGV systems need wireless networks
November 2019, RJ Connect , Industrial Wireless
In order for factories to perform their tasks efficiently and optimise production, automated material handling (AMH) systems, such as AS/RS and AGVs, need the flexibility to move around on their designated 
...
Read more...
---
Emerson helps complete first Caspian subsea project
October 2019, Emerson Automation Solutions , News
Emerson has completed its $48 million contract for automation systems and cloud engineering software-as-a-service for the Shah Deniz 2 project in Azerbaijan and is fulfilling an ongoing five-year services 
...
Read more...
---