False alarms caused by surges can be prevented
July 2015
Electrical Power & Protection

printer friendly version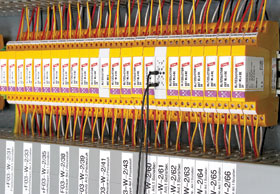 The function of emergency alarm systems is to produce an alarm in the event of danger and to remain passive when there is none. The malfunction of these systems, either no alarm sounding if there is danger, or an alarm sounding unnecessarily, is not just a nuisance; it can also be dangerous and can result in expensive call-out fees.
False alarms have the following consequences:
• Personnel start ignoring the alarm messages.
• Emergency staff is unnecessarily called out.
• The triggering of fire extinguishing systems can cause interruption of operations.
All these factors cause unnecessary costs and can be prevented if possible causes of false alarms are recognised at an early design stage and are eliminated by taking suitable preventive measures. Lightning strikes are one such cause, and given the profusion of summer storms in South Africa, this is a real threat.
Coordinated lightning and surge protection prevents false alarms and increases the availability of the systems.
Many of today's emergency alarm systems have an increased immunity to transients on the primary lines, secondary lines and mains voltage cables according to IEC 61000-4-5. Nevertheless, only external and internal lightning protection measures provide comprehensive protection against damage resulting from lightning strikes and surges.
Monitoring principles
Different monitoring principles are used for emergency alarm systems:
Pulse polling technology:
• Information from the sensor which has triggered the alarm is digitally transmitted. This allows the identification of the sensor and its exact location.
• DC circuit technology: According to the closed circuit principle, every alarm line is permanently monitored. If a sensor in a line is triggered, the line is interrupted and an alarm is produced in the alarm panel. However, only the alarm line, but not the individual sensor can be identified.
Irrespective of the monitoring principle used, all cables extending between the different areas of the emergency alarm system must be integrated in the lightning and surge protection concept of the overall system.
Recommended protection
Dehn's Blitzductor XT, type BXT ML2 BE, must be installed to protect two-wire alarm lines and connect the earth drain wire by means of an EMC spring terminal. For cables with more than two wires, a four-wire version, BXT ML4 BE, is available. Surge protective devices are selected according to the voltage of the alarm lines, which is typically between 12 and 48 V. The low internal resistance is also a clear advantage of arresters since the maximum resistances of the alarm lines must not be exceeded. For the outputs of the alarm panels (acoustic and visual) it must be ensured that the nominal current of the surge protective devices is not exceeded.
For more information contact Alexis Barwise, Dehn Protection South Africa, +27 (0)11 704 1487, alexis.barwise@dehn-africa.com, www.dehn-africa.com
Credit(s)
Further reading:
Let there be light
March 2019, RJ Connect , Electrical Power & Protection
Fuel cell system helps channel electricity to rural community.
Read more...
---
Convection cooled 600 W AC-DC supplies
March 2019, Accutronics , Electrical Power & Protection
TDK Corporation has announced the introduction of the GXE600 series of 600 W AC-DC power supplies, certified to the IEC 60601-1 medical safety standard as well as IEC 62368-1. In a 1U high package, these 
...
Read more...
---
Dry-type transformers for water project
March 2019 , Electrical Power & Protection
Dry-type transformer specialist Trafo Power Solutions has secured an order for 13 custom-designed cast resin units for Rand Water's large Zuikerbosch Wastewater Treatment Works near Vereeniging. The 
...
Read more...
---
Converters for building technology
March 2019, Siemens Digital Factory & Process Indust. & Drives , Electrical Power & Protection
Siemens presented a new converter series at last year's SPS IPC Drives. The converters of the new Sinamics G120X series are especially suited for use in pump and fan applications in industries such as 
...
Read more...
---
EM supplies smart building solutions
March 2019, ElectroMechanica , Electrical Power & Protection
The latest Hager smart solutions for automated building control have been supplied by ElectroMechanica (EM) of Cape Town for Swarovski Lighting's new showroom in Green Point. The leading supplier specified 
...
Read more...
---
Compact motor starter with protection
March 2019, Vepac Electronics , Electrical Power & Protection
The new motor starter Christian P-4.0 from Tele is designed for motors up to 4 kW @ 400 V, and includes five functions in one compact unit, requiring only 22,5 mm width. This intelligent instrument offers 
...
Read more...
---
Compact soft starters for control of three-phase motors
February 2019, ElectroMechanica , Electrical Power & Protection
Soft starters limit the inrush current, improving overall stability of the power supply and reducing transient voltage drops, which may affect other loads in a network. They are ideal for applications 
...
Read more...
---
Forward-thinking municipality uses pumps to generate electricity
February 2019 , Electrical Power & Protection
A technical team serving the requirements of the Drakenstein municipality in the Western Cape has designed one of the country's largest pump and turbine stations to be used for water reticulation to the 
...
Read more...
---
How to optimise power quality in critical applications
February 2019, Schneider Electric South Africa , Electrical Power & Protection
As global energy consumption continues to rise, energy is becoming more decentralised and decarbonised. While demand is estimated to increase by 70% through 2040, 50% of new energy generation capacity 
...
Read more...
---
Compact DIN rail power supply
February 2019, Accutronics , Electrical Power & Protection
TDK Corporation has announced the introduction of the TDK-Lambda brand DRF960-24-1 DIN rail mount AC-DC power supply, rated at 24 V 40 A (960 W) with a 60 A (1440 W) peak for 4 seconds. The product has 
...
Read more...
---