printer friendly version
False alarms caused by surges can be prevented
July 2015
Electrical Power & Protection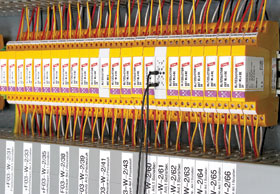 The function of emergency alarm systems is to produce an alarm in the event of danger and to remain passive when there is none. The malfunction of these systems, either no alarm sounding if there is danger, or an alarm sounding unnecessarily, is not just a nuisance; it can also be dangerous and can result in expensive call-out fees.
False alarms have the following consequences:
• Personnel start ignoring the alarm messages.
• Emergency staff is unnecessarily called out.
• The triggering of fire extinguishing systems can cause interruption of operations.
All these factors cause unnecessary costs and can be prevented if possible causes of false alarms are recognised at an early design stage and are eliminated by taking suitable preventive measures. Lightning strikes are one such cause, and given the profusion of summer storms in South Africa, this is a real threat.
Coordinated lightning and surge protection prevents false alarms and increases the availability of the systems.
Many of today's emergency alarm systems have an increased immunity to transients on the primary lines, secondary lines and mains voltage cables according to IEC 61000-4-5. Nevertheless, only external and internal lightning protection measures provide comprehensive protection against damage resulting from lightning strikes and surges.
Monitoring principles
Different monitoring principles are used for emergency alarm systems:
Pulse polling technology:
• Information from the sensor which has triggered the alarm is digitally transmitted. This allows the identification of the sensor and its exact location.
• DC circuit technology: According to the closed circuit principle, every alarm line is permanently monitored. If a sensor in a line is triggered, the line is interrupted and an alarm is produced in the alarm panel. However, only the alarm line, but not the individual sensor can be identified.
Irrespective of the monitoring principle used, all cables extending between the different areas of the emergency alarm system must be integrated in the lightning and surge protection concept of the overall system.
Recommended protection
Dehn's Blitzductor XT, type BXT ML2 BE, must be installed to protect two-wire alarm lines and connect the earth drain wire by means of an EMC spring terminal. For cables with more than two wires, a four-wire version, BXT ML4 BE, is available. Surge protective devices are selected according to the voltage of the alarm lines, which is typically between 12 and 48 V. The low internal resistance is also a clear advantage of arresters since the maximum resistances of the alarm lines must not be exceeded. For the outputs of the alarm panels (acoustic and visual) it must be ensured that the nominal current of the surge protective devices is not exceeded.
For more information contact Alexis Barwise, Dehn Protection South Africa, +27 (0)11 704 1487, alexis.barwise@dehn-africa.com, www.dehn-africa.com
Credit(s)
Further reading:
Five tips to manage energy use while staying at home
May 2020 , Electrical Power & Protection
Covid-19 continues to impact many aspects of our lives. Many are now required to stay at home in an effort to curb the spread of the pandemic. One of the many implications of staying at home will be the 
...
Read more...
---
Holistic approach to energy security
April 2020 , Electrical Power & Protection
As South Africans settle into the routine and inconvenience of load shedding and planning their activities around shifting electricity supply, it is businesses that are taking the biggest hit through 
...
Read more...
---
Save energy costs with highly-efficient Delta VFDs
April 2020, ElectroMechanica , Electrical Power & Protection
Customers can realise significant savings on their total energy costs by replacing older motor starters with energy-efficient Delta variable frequency drives (VFDs), distributed locally by ElectroMechanica 
...
Read more...
---
Utility made easy
April 2020, Schneider Electric South Africa , Electrical Power & Protection
In recognition of the growing demand for reliable power provision, Schneider Electric strives to assist network operators to deliver electricity safely and efficiently. The company's Advanced Distribution 
...
Read more...
---
Specialised transformers for renewable energy projects
April 2020, Zest WEG Group , Electrical Power & Protection
Zest WEG's local transformer manufacturing facility has supplied 36 specialised photovoltaic (PV) transformers to a solar energy generation plant in the Northern Cape. According to sales team leader, 
...
Read more...
---
Meeting the needs of the mining industry
April 2020, Varispeed (Div of Hudaco Trading) , Electrical Power & Protection
Both above and below ground, Varispeed keeps the interests of its customers top of mind, all the time. The company was recently approached by a platinum mine in South Africa to assist with a robust application. 
...
Read more...
---
Game-changing electrical accessories
April 2020, Schneider Electric South Africa , Electrical Power & Protection
In a world where products are moving from standardised to customised, today's consumers want high quality products that meet their specific requirements. Electrical accessories are no exception and Schneider 
...
Read more...
---
EnI Electrical delivers at the sharp end of African contracts
March 2020, Zest WEG Group , Electrical Power & Protection
Usually the last contractor on site, electrical instrumentation and control (EC&I) specialist EnI Electrical puts extra effort into helping clients around Africa meet their scheduled start-ups. With 
...
Read more...
---
In-house testing of transformers
March 2020, Zest WEG Group , Electrical Power & Protection
The recent installation of an impulse voltage generator at Zest WEG's transformer manufacturing facility in Heidelberg will allow in-house testing of transformers, saving time and money for customers. According 
...
Read more...
---
Sulphate and chloride monitoring
March 2020, Microsep , Electrical Power & Protection
Chlorides and sulphates cause pitting and stress corrosion in expensive power plant components, such as turbines and boilers, leading to extensive maintenance and unplanned shutdowns. Monitoring these 
...
Read more...
---