printer friendly version
False alarms caused by surges can be prevented
July 2015
Electrical Power & Protection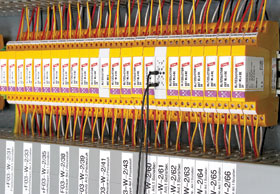 The function of emergency alarm systems is to produce an alarm in the event of danger and to remain passive when there is none. The malfunction of these systems, either no alarm sounding if there is danger, or an alarm sounding unnecessarily, is not just a nuisance; it can also be dangerous and can result in expensive call-out fees.
False alarms have the following consequences:
• Personnel start ignoring the alarm messages.
• Emergency staff is unnecessarily called out.
• The triggering of fire extinguishing systems can cause interruption of operations.
All these factors cause unnecessary costs and can be prevented if possible causes of false alarms are recognised at an early design stage and are eliminated by taking suitable preventive measures. Lightning strikes are one such cause, and given the profusion of summer storms in South Africa, this is a real threat.
Coordinated lightning and surge protection prevents false alarms and increases the availability of the systems.
Many of today's emergency alarm systems have an increased immunity to transients on the primary lines, secondary lines and mains voltage cables according to IEC 61000-4-5. Nevertheless, only external and internal lightning protection measures provide comprehensive protection against damage resulting from lightning strikes and surges.
Monitoring principles
Different monitoring principles are used for emergency alarm systems:
Pulse polling technology:
• Information from the sensor which has triggered the alarm is digitally transmitted. This allows the identification of the sensor and its exact location.
• DC circuit technology: According to the closed circuit principle, every alarm line is permanently monitored. If a sensor in a line is triggered, the line is interrupted and an alarm is produced in the alarm panel. However, only the alarm line, but not the individual sensor can be identified.
Irrespective of the monitoring principle used, all cables extending between the different areas of the emergency alarm system must be integrated in the lightning and surge protection concept of the overall system.
Recommended protection
Dehn's Blitzductor XT, type BXT ML2 BE, must be installed to protect two-wire alarm lines and connect the earth drain wire by means of an EMC spring terminal. For cables with more than two wires, a four-wire version, BXT ML4 BE, is available. Surge protective devices are selected according to the voltage of the alarm lines, which is typically between 12 and 48 V. The low internal resistance is also a clear advantage of arresters since the maximum resistances of the alarm lines must not be exceeded. For the outputs of the alarm panels (acoustic and visual) it must be ensured that the nominal current of the surge protective devices is not exceeded.
For more information contact Alexis Barwise, Dehn Protection South Africa, +27 (0)11 704 1487, alexis.barwise@dehn-africa.com, www.dehn-africa.com
Credit(s)
Further reading:
Guaranteed power protection
July 2019, Schneider Electric South Africa , Electrical Power & Protection
During energy month, it may be time to assess what equipment in your office or data centre is critical to keep online. Adopting smart uninterruptible power supply (UPS) technology has become the preferred 
...
Read more...
---
Quick transformer turnaround for KZN mine
July 2019 , Electrical Power & Protection
When a mining company in KwaZulu-Natal experienced a transformer failure recently, it was hoping for a quick solution. The mine got one from dry-type transformer specialist Trafo Power Solutions. It took 
...
Read more...
---
UPS for industrial networks
July 2019, Phoenix Contact , Electrical Power & Protection
The new Quint DC UPS uninterruptible power supply can be integrated into established networks, and continues to supply systems without interruption even in the event of a mains failure. It can be integrated 
...
Read more...
---
Smart Grid solutions enhance utility revenue collection
July 2019, Schneider Electric South Africa , Electrical Power & Protection
At African Utility Week in Cape Town, Johan Pretorius, business development manager, Schneider Electric South Africa, presented a paper on 'The Impact of Revenue Collection on Non-Technical Losses'. "The 
...
Read more...
---
Leonardo fitted with backup power by Zest WEG Group
July 2019, Zest WEG Group , Electrical Power & Protection
As Sandton anticipates the completion this year of the Leonardo, the top end mixed-use skyscraper being constructed by Aveng-Grinaker LTA, Level 1 BBBEE-rated Zest WEG Group has supplied generator sets 
...
Read more...
---
UPS with integrated power supply and USB interface
June 2019, Phoenix Contact , Electrical Power & Protection
Supplying critical DC loads safely, increased system availability, confined spaces, and tough ambient conditions present system designers and operators with a variety of challenges.
Read more...
---
Power analysis and energy saving evolved
June 2019, HellermannTyton , Electrical Power & Protection
Advanced power and energy consumption analysis is now available using a smartphone or tablet. The TPQA820 is a true RMS, self-powered 3-phase power quality analyser used to analyse and record the most 
...
Read more...
---
Zest helps farmers find good 'ground'
June 2019, Zest WEG Group , Electrical Power & Protection
According to Zest WEG Group, there are misconceptions around what constitutes 'earth' and 'neutral' connections, and not understanding the differences can create serious problems when connections are 
...
Read more...
---
BMG enhances efficiency of solar tracking system
June 2019, Bearing Man Group t/a BMG , Electrical Power & Protection
BMG has extended the supply of Varvel gearboxes for small and medium power applications to include customised worm gearboxes for installation in photovoltaic solar tracking systems. "As part of BMG's 
...
Read more...
---
RS Components introduces new Power over Ethernet injectors
June 2019, RS Components SA , Electrical Power & Protection
RS Components has announced availability of a new selection of Power over Ethernet (PoE) single-port mid-span power injectors manufactured by Phihong, a leader in advanced power solutions and a specialist 
...
Read more...
---