printer friendly version
World-class vodka from Russia
February 2014
System Integration & Control Systems Design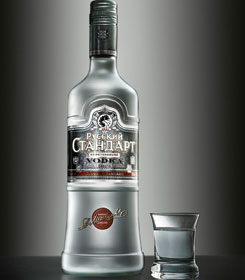 The word vodka means 'little water' in Russian. Vodka was described as Russia's national drink as early as in the 14th century. Some 500 years later, in 1894, after centuries of unregulated production, Dmitri Mendeleev, Professor of Chemistry at St. Petersburg University, and later the creator of the Periodic Table of Elements, established the absolute standard for vodka distillation. His perfect balance of 40% alcohol by volume gave Russian vodka a precise formula for what had been, until then, a process closer to alchemy than chemistry.
Established in 1998 by Roustam Tariko, one of the most successful entrepreneurs in Russian history, Russian Standard brought this groundbreaking formula for perfect vodka distillation to the 21st century levels of quality.
"After years of watching our motherland abandon its vodka producing heritage, we made history by launching a new premium vodka, distilled and bottled exclusively in Russia, using only the finest Russian ingredients," he comments on the company website. "By employing a unique blend of centuries-old tradition, a passionate attention to detail and state-of-the-art distilling techniques, we have created a classic Russian vodka unrivalled anywhere in the world."
Based on Mendeleev's principles for vodka, the company devised a strict four-tier production protocol consisting of mashing and fermenting, distillation and rectification, filtration and relaxation, and bottling and packaging.
Not the biggest, but the best distillery in Russia
In 2010, Russian Standard acquired a distilling plant in Buinsk, the capital of the Republic of Tatarstan. The distillery had been built in 2003 as a turnkey delivery by a Finnish company called JPI Process Contracting Oy for the local government. Metso's Value Added Reseller (VAR) partner at the time, N-Prima, had supplied a Metso DNA automation system for the plant.
"As the target of Russian Standard is always to improve the quality of its products and to optimise its business, it decided to acquire a distillery of its own," explains Bahodyr Uzakov, director of the Buinsk distillery. He was involved in building the distillery but left in 2005 to work for Russian Standard's St. Petersburg plant. "I was among the people who recommended the acquisition of the Buinsk distillery since I had been working there before as a chief engineer and knew both its technology and automation system very well."
The Buinsk distillery produces spirit and dry distillery dregs. The latter are used for making dry feed for cattle and fertilisers. The plant processes 60 000 tons of winter wheat per year. The production capacity of spirit amounts to 6000 decaliters per day. Russian Standard transports this spirit from Buinsk to St. Petersburg for further processing. "Our distillery is not the biggest one in Russia, but it is the best with the newest technology and the latest process equipment," Uzakov adds.
Automation to the maximum
Although the distilling plant was reasonably new when acquired by Russian Standard, the new owner wanted to make some changes. The company decided to carry out a major modernisation project costing €12,5 million, to implement the latest technologies available.
"During the past two years, we have added a new grain cleaning unit to our production, improved the quality of water, the rectification process and the safety interlock system, for example," says Pavel Devin, head of the automation system department.
The modernisation project included a Metso DNA upgrade supplied by the original equipment manufacturer, Metso. The existing VME controllers were upgraded to modern high-capacity ACN technology. Process safety is now guarded by a HIMA safety interlock system, also supplied by Metso. According to Devin, the process line as well as auxiliary processes such as the water supply, cooling water, air supply, power supply, pumps, pressure and air temperature, are now automated to the maximum.
"First of all, we appreciate system reliability. Second, it is now easier to operate the process. The details that we especially like in the Metso DNA system are the built-in Timeline Machine tool in which events can be analysed and the remote monitoring," Devin says. "Other beneficial tools are the Metso DNA Engineering Loop Auto Tuner and the Metso DNA Report Tracer as part of Metso DNA Historian to see real-time trends."
Cheers to co-operation
The main part of the modernisation project has been completed, and the Buinsk distillery was re-opened in May 2012. However, there are still a lot of plans for the future. According to Aleksander Pirogov, chief engineer, one of them is a one-button start of the processes such as fermentation. Recently, the fermenters, wort aeration unit and yeast machine have been partially automated – a project to be completed later.
So, co-operation between Russian Standard and Metso to boost the level of automation, and consequently the quality of company's flagship premium Russian vodka, will continue through services and modernisations. Cheers to that.
Credit(s)
Further reading:
A good combination for the primaries and metals industry
November 2019, Endress+Hauser , System Integration & Control Systems Design
Endress+Hauser?s measurement devices for flow, level, pressure, temperature and liquid analysis.
Read more...
---
Four key factors to consider when choosing devices for the control cabinet
November 2019, RJ Connect , System Integration & Control Systems Design
Drawing from over 30 years of experience in providing reliable products for industrial control cabinets, Moxa has identified the following four key considerations for choosing the best control cabinet 
...
Read more...
---
Saryx helps Transnet achieve ROI through scada modernisation
November 2019, Saryx Engineering Group , System Integration & Control Systems Design
Saryx Engineering has set the bar high in terms of scada modernisation and standardisation. So much so that the company won 'Best Control & Information Implementation' in recognition of a project with 
...
Read more...
---
Standardisation of ABInBev automation on three Tanzanian breweries
November 2019, Process Dynamics , System Integration & Control Systems Design
Process Dynamics has a long history within the brewing industry. The company has completed a number of projects for SABMiller and when the company was bought by Anheuser-Busch InBev (ABInBev) in 2015, 
...
Read more...
---
VinFast deploys Siemens technology to deliver cars ahead of schedule
November 2019, Siemens Digital Industries , System Integration & Control Systems Design
VinFast, Vietnam's first volume car manufacturer, has successfully produced its first cars ahead of schedule using Siemens' portfolio of integrated software and hardware. By deploying its portfolio, Siemens 
...
Read more...
---
The complexity of water management in mines
October 2019, Endress+Hauser , System Integration & Control Systems Design
Industries across the globe are encouraged to reuse water as much as possible, and therefore a 'zero liquid discharge' policy has already been implemented by various companies in different sectors.
Read more...
---
PC-based control platform optimises water treatment product dosing
October 2019, Beckhoff Automation , System Integration & Control Systems Design
Clean water is vital in both consumer and commercial areas, including numerous industrial applications, such as mining, petroleum refining and groundwater remediation, in addition to residential applications
Read more...
---
Rockwell Automation walks the Connected Enterprise talk
October 2019, Rockwell Automation , System Integration & Control Systems Design
The Connected Enterprise is Rockwell Automation's vision for seamless integration across all divisions of the organisation to enable more efficient decision making through access to the power of information based on real-time data.
Read more...
---
Omniflex eases mine water compliance
October 2019, Omniflex Remote Monitoring Specialists , System Integration & Control Systems Design
Water licences carry a 'Burdon of Proof' that the licence holder will not harm the environment or the water system through its activities. This covers the use of water from the system and the responsible 
...
Read more...
---
Smart Press Kit from Bosch Rexroth
October 2019, Tectra Automation , System Integration & Control Systems Design
Bosch Rexroth is setting new standards for fast and efficient pressing and joining applications with its innovative new modular Smart Press Kit. Designed to meet future industrial requirements by providing 
...
Read more...
---