printer friendly version
Internally fitted industrial fire suppression systems
October 2013
System Integration & Control Systems Design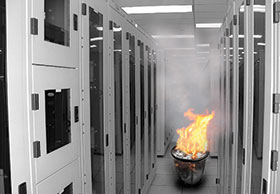 Until recently, the traditional method of fire detection and suppression for buildings and rooms was confined to smoke detection and flooding by a fire suppression medium. These mediums were mostly in a gaseous form, usually having disadvantageous effects on equipment and humans, and environmentally undesirable results like ozone depletion.
The introduction of fire extinguishing aerosol generators has expanded the choices of fire suppression mediums through both the sensing and actuation methods. The Pyrogen ranges of fire extinguishing aerosol generators have advantages in general room flooding applications. One of these is the ability to be situated internally in the volume to be protected, ranging from engine compartments in vehicles, aircraft, and marine vessels, to electrical and electronic equipment.
This ability for internal fitment is achieved by the various methods of activation, plus the nature and composition of the post-activation residue. Activation methods include electrical, thermal cord and self-activation:
* Electrical, from a conventional fire alarm panel.
• Thermal cord attached to the aerosol generator, initiated when a pre-set temperature is reached.
• Self-activation in the event of the two previously described methods having failed, due to extraneous reasons.
The post-activation residue has 24 kV insulation properties, enabling immediate re-use of electrical equipment following replacement of the components which created the fire.
These design and construction features enhance the normal 'failure to safety' required in fire suppression systems. This autonomous system has no external power supply and is on standby 24/7 for the ten years installed life of the Pyrogen unit – all with zero maintenance.
There is an advantage to fire detection and suppression systems fitted internally to electrical equipment, compared to sub-station flooding by fire suppression media.
Electrical equipment by requirement and construction is to a minimum IP55 protection i.e. gasketed doors, covers and fitments. This inhibits the egress of smoke from the compartment until the fire is of major proportions i.e. before the smoke detectors in the sub-station would activate and initiate the release of the fire suppression medium, gas or aerosol.
When activated, the sub-station is flooded with the suppression medium but it has no means of ingress into the switchgear compartments. The result could be a complete burn out and destruction of the electrical switchgear panel in which the fire started.
With Pyrogen aerosol generators, correctly selected for the volume to be protected, the fire source can be localised to minimise ­collateral damage.
Credit(s)
Further reading:
CIP design, planning and installation
February 2020, Morton Controls , System Integration & Control Systems Design
A complete system for a company specialising in the transport of liquid food.
Read more...
---
Machine-level block I/O devices
February 2020, Siemens Digital Industries , System Integration & Control Systems Design
Concepts for new machinery and plants are becoming increasingly distributed. Control cabinets are getting smaller, or even disappearing completely, and I/O systems which used to be deployed in the control 
...
Read more...
---
PC-based control decorates plastic lids and containers
December 2019, Beckhoff Automation , System Integration & Control Systems Design
In-mold labelling (IML) is ideally suited to meet today's customer requirements in the plastics industry, especially in the packaging segment.
Read more...
---
Project-based learning challenges the modern engineering student
December 2019, Test Dynamics , System Integration & Control Systems Design
Projects that inherently challenge students to use innovative design thinking often involve interacting with an unknown process or device. Students are encouraged to understand the unknown through theory, 
...
Read more...
---
FieldEcho: the future of integrated IO-Link technology
December 2019, SICK Automation Southern Africa , System Integration & Control Systems Design
Integrated IO-Link technology that enables full data accessibility and transparency across all platforms is here with the FieldEcho from SICK Automation. IO-Link is an increasingly used manufacturer-independent 
...
Read more...
---
AI module improves industrial production
December 2019, Rockwell Automation , System Integration & Control Systems Design
Industrial workers can now use the data from their equipment more easily to predict production issues and improve processes with their existing automation and control skill set. The new FactoryTalk Analytics 
...
Read more...
---
Tailor-made intralogistics solutions harness scalable control and drive technology
January 2020, Beckhoff Automation , System Integration & Control Systems Design
RO-BER Industrieroboter of Kamen, Germany, develops automation solutions based on area and linear gantry robots for intralogistics. These solutions, including the new Twin-Gantry robot system, are characterised 
...
Read more...
---
Festo's digitalised product world
January 2020, Festo , System Integration & Control Systems Design
HoloLens, mobile phones, 3D printing and smart glasses – the gadgets that captured the public imagination in the blockbuster movie 'Back to the Future' over 30 years ago have now become a reality, all thanks to digitalisation.
Read more...
---
Electromechanical motion products for the machines of today
January 2020, Parker Hannifin Sales Company South , System Integration & Control Systems Design
Engineers from the older generation will remember the days when machine design had to be based around catalogued electromechanical actuators.
Read more...
---
Siemens contributes to Coca-Cola Beverages Africa's digitalisation vision
January 2020 , System Integration & Control Systems Design
The Nairobi Bottler's Embakasi Plant based in Nairobi, Kenya, a fully owned subsidiary of Coca-Cola Beverages Africa (CCBA), received a Totally Integrated Automation (TIA) training rig from Siemens Digital 
...
Read more...
---