printer friendly version
Conveyor belt fire protection
July 2013
Sensors & Transducers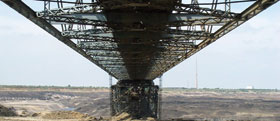 The movement of materials for the mining and metals industry is of critical importance to operations. A key decision is therefore the transport reliability versus the capital and operational cost of the transportation system.
Choice of the transport system
The basic decision revolves around whether trucking or conveyor systems should be used. Conveyor systems are the ideal solution to transport manageable sized material from one processing point to another, such as from an underground mine to a processing refinery. The reliance on manpower is minimised and reliability is maximised provided the correct protection measures are taken to reduce the chance of a mechanical or electrical failure.
Fire protection
A key protection area for consideration is how to handle the issue of a conveyor belt system fire. What questions need to be asked? What areas need consideration? What solutions are available? Are they practical solutions?
Conveyor belt fire protection is a specialised niche area where knowledge can be vague or hard to come by. Conveyor belt fires are not new: the March 1940 issue of Popular Mechanics published an article relating to a 20 mile gravel haulage conveyor system. It described the use of thermocouple hoods as means of detecting fire. Of course, there are much more effectual systems available today, but you have to hand it to those past engineers for using the best technology available at the time.
Any mechanical process is liable to failure at some point and some failures can prove catastrophic if there are no emergency systems in place to alleviate the risk. The philosophy behind conveyor belt fire protection involves the preservation of the conveyor system structure. A fire can weaken the metal structure, in some cases to the point of collapse, hence the need for early detection and extinguishing of the fire, while at the same time cooling the affected structure.
Detection methods have evolved since the thermocouple hoods of the 1940s. Fire detection companies have tried to adapt detection devices that were designed for less rugged applications and sought in the past to use them on conveyor belt systems. The uses of spark and ember detectors have been popular, but have proved largely ineffectual. The problems revolve around the potential of false alarms namely from reflective light or solar emissions. Also the monitored bandwidth that would result in an alarm is quite narrow, meaning early stage combustion cannot always be detected.
Static and moving fires
There are two primary sources of conveyor belt fires: either static heat build-up from friction caused by belt movement, over a jammed idler for example, or moving fire on the belt itself. For early detection of static type fires, Linear Heat Detection Cable has proven to be reliable when correctly installed, ideally at a height of 1-1,5 m above the belt. Tests have shown that such systems responded within two minutes to a small-sized fire.
Linear Heat Detection Cable can also be placed between the belt and return if practical. Its primary advantage is that it is easily configurable, either in zoned areas along a conveyor that can signal the belt to stop and switch on a water-spray system, or it can be integrated into a sprinkler system that uses temperature threshold bulbs to operate.
Another primary consideration is how to detect a moving fire as early as possible. The answer is to relate infrared emissions to the thermal properties of the masses. Black body radiation, of infrared emissions of a much wider spectrum compared to spark and ember detectors, can be detected when an object begins to increase in temperature. Such devices offer the capability to detect hot objects on a conveyor belt well before they begin to glow. In some cases, they can detect such objects even when buried. These types of detectors offer a reliable yet highly sensitive response to the early stages of combustion that can occur on a conveyor belt system.
Conclusion
Combined together, linear heat detection cable and thermal energy black body fire detectors offer a comprehensive solution to fire detection on conveyor belt systems. If installed properly, they can be integrated into a water extinguishing system, either a sprinkler bulb or a water-spray type.
It is only recently that fire engineers are beginning to understand the best approaches to conveyor belt fires and how to extinguish such fires. Factory Mutual, in its FM Global Property Loss Prevention Datasheet FM7-11, has put together a design matrix for selecting the appropriate type of water system for a conveyor belt system. These are excellent guidelines to mitigate against fire damage. By following the simple steps in FM7-11, in conjunction with the latest approaches in fire detection, companies can limit the damage and losses caused by conveyor belt fires.
For more information contact Sam Wright, Alien Systems & Technologies, +27 (0)11 949 1157, sam@astafrica.com, www.astafrica.com
Credit(s)
Further reading:
Prevent backward driving accidents
September 2020, SICK Automation Southern Africa , Sensors & Transducers
To prevent collisions and improve worker safety, Cologne-based sugar producer Pfeifer & Langen selected SICK Automation's Visionary-B CV 3D driver assistance system for use at its reloading point.
Read more...
---
Conductivity sensor for CIP monitoring
September 2020, ifm - South Africa , Sensors & Transducers
The LDL200 from ifm electronic is designed to be used in cleaning processes (CIP) in the food industry.
Read more...
---
Conductivity sensor for interface detection
September 2020, ifm - South Africa , Sensors & Transducers
The conductivity sensor LDL100 for interface detection from ifm electronic ensures that product validation is possible at all times.
Read more...
---
PyroStorm protection for control equipment
September 2020, Alien Systems & Technologies , IS & Ex
If you work at a large industrial plant or mine, you may have noticed those hydraulic lubricating oil packs, or perhaps the diesel generator sets, oil store rooms, pump rooms or flammable liquids stores, 
...
Read more...
---
Image processing software with Profinet interface
August 2020, ASSTech Process Electronics + Instrumentation , Sensors & Transducers
ASSTech now offers Wenglor's image processing software – uniVision – with new features. The latest release, Version 2.2, enables smart cameras and control units to be integrated into controls quickly 
...
Read more...
---
Flexible sensors for individual beer
August 2020, ifm - South Africa , Sensors & Transducers
A variety of individual beers characterise the regional brewery Skanderborg Bryghus in the Danish town of Skanderborg. Unlike large commercial breweries, this brewery is largely promoted and operated 
...
Read more...
---
Monitoring of chemical distribution
August 2020, Instrotech , Sensors & Transducers
The IoT offers smart solutions that help make life easier and more convenient, improve and streamline processes, and receive information in good time that were previously unavailable or difficult to acquire. 
...
Read more...
---
Programmable LED strip with19 colours
August 2020, Turck Banner , Sensors & Transducers
his work light can be programmed to provide bright white light for safety or efficiency during normal operation and then change colour to indicate other machine statuses, such as red for a stop condition.
Read more...
---
Sensors support crisp bread production in Sweden
August 2020, ifm - South Africa , Sensors & Transducers
Production is automated according to the latest state-of-the-art technology with sensors from ifm electronic monitoring the processes from the supply of ingredients to the dispatch area.
Read more...
---
Ecolab certified photoelectric sensors
August 2020, Turck Banner , Sensors & Transducers
Banner's new T18-2 photoelectric sensors have an FDA-grade shatterproof plastic housing and are IP69K rated and Ecolab certified to protect against water ingress and chemical washdown. IP69K and epoxy 
...
Read more...
---