Fire risks that affect the power generation industry
March 2013
Sensors & Transducers

printer friendly version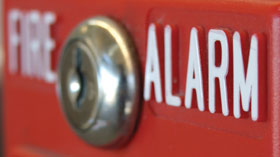 Power generation plants can pose significant fire risks. There are many different areas on a plant, each posing unique fire threats that could be catastrophic if not protected adequately. In the case of a suitably protected power plant, each of the identified risk areas would need fire detection, extinguishing and suppression capabilities. It may also be necessary to ensure building structures are compartmentalised against the spread of fire and smoke.
There is currently no specific standard in South Africa which relates directly to fire protection for power generation plants. Warehouses, workshops, offices, storage areas, gas turbo-generators, compressed gas storage sites and flammable liquid storage are just some of the many applications that pose a substantial fire risk on the plant, but there are also others that need to be considered.
Lubricating oil systems
Lubricating oil systems, tanks, pumps and filtration units can be protected by an impulse dry powder unit such as Alien Systems & Technologies' Pyrostorm units. Large gearboxes, which contain hundreds of litres of oil, should also be protected because their loss would have a detrimental effect on the operation of the plant. These areas should be bunded and the bund needs to be correctly designed – stone chips look pretty but they reduce the bund volume substantially.
Switchgear
For more than 10 years AST Africa's Pyrogen product has been utilised by companies as a preferred method of switchgear fire protection. The aerosol fire extinguishing system was developed from solid rocket fuel technology and is a safe and practical alternative to chemical powders and inert gases.
Pyrogen offers key protection against fire threats for switchgear compartments and motor control centres. It is an inert non-toxic solid that remains stable until electrically or thermally activated, whereupon it produces a gas-like extinguishing aerosol. The aerosol attacks the fire chemically and physically, giving fast extinguishing and preventing re-ignition.
Solid fuel storage and handling
When it comes to solid fuel handling elements such as conveyors, detection is the best protection. A detector which employs infra-red monitoring technology that enables the detection of both small glowing embers within direct sight of the sensor and black body low energy sources buried within the transported material should be utilised. AST Africa's Pyroscan3 unit is one such detector. The belt drives should also be linked to the fire detection system so that belts are stopped if a fire is detected. It is also necessary to ensure the belts are fire resistant.
Control, computer and communications rooms
This is where control of the plant and its equipment take place. A gas total flooding system is best utilised in these applications. Total flooding means flooding the room containing the asset with a gaseous medium which will inhibit combustion and extinguish the fire. This method of fire protection has become a popular solution among fire engineers and businesses alike.
The Pyroshield system is engineered utilising a fixed nozzle agent distribution network. It is designed and installed in accordance with the National Fire Protection Association (NFPA) Standard 2001, 'Clean Agent Fire Extinguishing Systems'. When properly designed, the system will extinguish surface burning fires in Class A, B, and C hazards by lowering the oxygen content below the level that supports combustion.
The system can be actuated by detection and control equipment for automatic system operation along with providing local and remote manual operation as needed. This is particularly useful for extinguishing fires in hazards where an electrically non-conductive medium is essential or desirable, where clean-up of other agents presents a problem or where the hazard is normally occupied and requires a non-toxic agent.
For turbine auxiliary plants, including fuel forwarding skids, lubricating oil skids and tanks, a unit such as Pyrostorm can be used as protection. Pyrostorm is ideal for protecting industrial risks such as transformers, oil pack rooms, exposed pumps and motors. It can be used in conjunction with voltage free heat activation devices, which can provide reliable electrical activation via temperature sensing without the need for batteries or electrical supplies.
For more information contact Samantha Wright, Alien Systems & Technologies, +27 (0)11 949 1157, sam@astafrica.com, www.astafrica.com
Credit(s)
Further reading:
Manoeuvring agricultural robots with 2D laser scanners
March 2019, SICK Automation Southern Africa , Sensors & Transducers
The problem: how do you navigate agricultural robots through a field? The challenge of this application can be found not only in the wide variety of crops out there, but also in the fact that crop rows 
...
Read more...
---
Is your building safe from fire?
March 2019, Alien Systems & Technologies , IS & Ex
Correct selection of detectors is vital.
Read more...
---
Sensors for motion control
March 2019, ifm Electronic RSA , Sensors & Transducers
The range of stainless steel housed incremental encoders from ifm electronic is ideal for applications such as conveyor belt synchronisation because of the long maintenance intervals, even when deployed 
...
Read more...
---
Background suppression laser sensor
March 2019, Turck Banner , Sensors & Transducers
Turck's Q5X laser sensor solves the most difficult distance-based applications, even at acute angles. The high-power laser sensor features excess gain, which enables the sensor to detect dark objects 
...
Read more...
---
Leuze camera looks around the corner
March 2019, Countapulse Controls , Sensors & Transducers
Manufacturing plants, packaging facilities and warehouse operations often have areas where visibility is not what it should be, and not only can these prove hazardous to both vehicles and pedestrians 
...
Read more...
---
Relative humidity probe hands control to the user
March 2019, Instrotech , Sensors & Transducers
The Michell HygroSmart HS3 advanced interchangeable relative humidity and temperature probe is 100% configurable to give users maximum flexibility. It also allows for alterations to RH measurements, to 
...
Read more...
---
Factor 1 sensors in a plastic barrel
March 2019, Turck Banner , Sensors & Transducers
Inductive sensors in a plastic threaded barrel design and with an antivalent output have been added to Turck's uprox series of factor 1 sensors, which offer the same large switching distance to all metals. 
...
Read more...
---
Yokogawa to release compact new IIoT sensors outside Japan
March 2019, Yokogawa South Africa , Sensors & Transducers
Yokogawa has announced that it will release the Sushi Sensor, an OpreX brand wireless solution, in markets other than Japan, starting with Europe (shipping in March 2019). Already available in Japan, 
...
Read more...
---
AST's line-type heat sensing
February 2019, Alien Systems & Technologies , Temperature Measurement
Alien Systems & Technologies (AST) offers a wide range of automatic fire detection systems from advanced ultra-smart addressable point type detection systems to regular conventional systems.
Read more...
---
Large German fertiliser manufacturer reduces costs thanks to SICK Automation
February 2019, SICK Automation Southern Africa , Sensors & Transducers
Available agricultural land in Europe is limited. As a result, large quantities of fertiliser are used in order to increase yields. Producing fertiliser, however, is an energy-intensive process which 
...
Read more...
---