printer friendly version
New IO-Link master future-proofs pneumatic valve systems
November 2023 Editor's Choice Pneumatics & Hydraulics
Emerson has introduced a new Class A IO-Link master that provides customers with a cost-effective solution for smart and analogue sensor connectivity on the AVENTICS Series G3 Fieldbus platform. The G3 IO-Link Master is suitable for machine architectures with many sensors and pneumatic valves, and where it is important to have reliable digital data communication between field devices, such as sensors and the machine controller. Application areas include automotive, tyre manufacturing, food and beverage, packaging, and metalworking.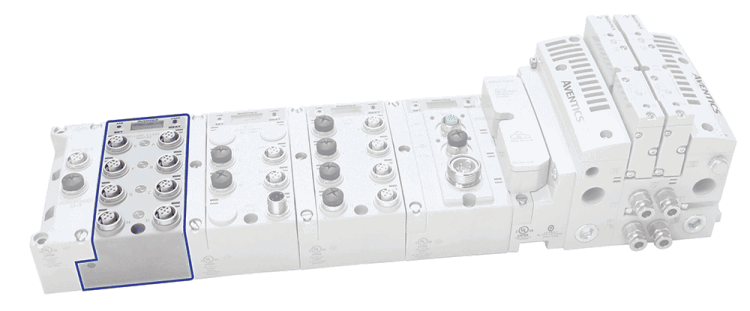 IO-Link is an internationally standardised I/O technology (IEC 61131-9) for communication at the sensor/actuator level in machine control. During replacement, IO-Link devices can identify and configure themselves automatically, saving maintenance time. The IO-Link master provides pneumatic valve control through direct digital data communication with the machine controller. It offers event-based and I/O mapped diagnostics. Both are important predictive maintenance requirements for Industry 4.0 and IIoT applications.
By adding the IO-Link capabilities to its valve systems, Emerson's customers can include multiple IO-Link masters on only one G3 Fieldbus platform, saving hardware costs and enabling its customers to be future-proof and positioned for Industry 4.0/IIoT application requirements.
Customers can cut costs by reducing the number of communication nodes. G3 IO-Link master is optimised for sensor-rich applications with eight Class A ports per module to support multiple IO-Link smart and standard analogue sensors. The IO-Link master can be distributed up to 30 metres away from G3. Together with the 20 metre IO-Link cable length maximum, the sensors can be located up to 50 metres in total from the G3 Fieldbus platform. As a result, material cost is reduced, and machines are more streamlined because fewer cables are required.
The IO-Link Master offers a complete Emerson solution. Customers can experience the benefits of integrating IIoT into their systems by connecting to the IO-Link-capable Series AV03/AV05 and 500 valve systems, Series EV12 and EV18 electropneumatic pressure regulators, Series 617 Sentronic LP and Series 614 Sentronic PLUS proportional valves, Series ECD-IV and ECD-LV intelligent compact vacuum ejectors, Series SM6-AL distance measuring sensors, Series ST4-2P magnetic proximity sensors, Series PE5 and PE7 pressure sensors, and Series AF2 flow sensors. In addition, Class B IO-Link solutions can be supported with an optional T-adaptor.
The G3 is the only fieldbus electronics platform for pneumatic valve systems that contains a graphical display used for configuration, commissioning and diagnostics. It offers improvements in performance, and reduces maintenance for original equipment manufacturers (OEMs) and end users alike. The G3 IO-Link Master can also be configurable with the G3 web server. With easy access to connections, the electronic platform is simple to assemble, install, commission and maintain. G3's functionality allows programmable logic controllers to turn valves on and off efficiently, and to channel I/O data from sensors, lights, relays, individual valves or other I/O devices via various industrial networks.
Further benefits include compatibility with the full G3 range of valve interfaces, including Series 501, 502, 503 (ISO15407-2), 2035, 2002, 2005, 2012 and 511, 512, 513 (ISO 5599-2). The G3 IO-Link Master supports the widely used protocols EtherNet/IP DLR and PROFINET. Additional protocols are available upon request.
Credit(s)
Further reading:
Emerson accelerates factory automation capabilities
Emerson Automation Solutions News
Emerson has announced a definitive agreement to acquire Afag, an innovative leader in electric linear motion.
Read more...
---
New engineering software accelerates plant modernisation
Emerson Automation Solutions News
Emerson is helping customers to transition legacy technology to modern DeltaV automation architecture, that modernises and digitises operations.
Read more...
---
Implementing industrial-grade cybersecurity
Emerson Automation Solutions IT in Manufacturing
Increasing capability and connectivity generate greater cybersecurity concerns. Internet connectivity and the adoption of Wi-Fi on the plant floor opens doors for bad actors to access all types of digital assets. Whereas in years past the availability of industrial digital devices was paramount, today confidentiality and integrity play equally important roles.
Read more...
---
Thor's hammer of pneumatic knockers
Neu Matics SA Editor's Choice Pneumatics & Hydraulics
Neu Matics acts as sole distributor for a range of internationally recognised brands, and one of these is the pneumatic knocker from singold.
Read more...
---
How to look after your pressure gauge
SA Gauge Editor's Choice Pressure Measurement & Control
Pressure and temperature gauges are very widely used on process plants. Specialising in the design and manufacture of pressure and temperature measuring instruments, SA Gauge believes that all process and ambient factors should be considered when selecting and installing pressure measuring devices. The company recommends that the following guidelines on selection and calibration be followed in order to prevent gauge failure.
Read more...
---
Case History 190: Measurement problem ruins level control.
Michael Brown Control Engineering Editor's Choice Fieldbus & Industrial Networking
The widely held belief in many plants that tuning will solve all base layer control problems is completely fallacious. Bad tuning is generally not the main reason for loops to perform badly. It is important when performing optimisation that all elements in a loop are considered, in addition to the control strategy, before even thinking of tuning.
Read more...
---
Precise part machining
Beckhoff Automation Editor's Choice Fieldbus & Industrial Networking
toolcraft manufactures on behalf of its customers using its 60 CNC machines, and designs, plans and builds turnkey production systems for companies in various industries, having added injection moulding, mould making and additive manufacturing technologies along the way. Robotics is the company's newest technology division. This is why toolcraft relies on PC-based control, including in the production cells, which have seven-axis milling robots for machining components at CNC level.
Read more...
---
Megatrends shaping the auto industry
Editor's Choice IT in Manufacturing
The automotive industry is in the midst of a technology-driven revolution that will not only advance the safety and sustainability of transportation, but also transform how consumers interact with their vehicles and the OEM brands behind them.
Read more...
---
How lighting solutions support lean manufacturing processes
Turck Banner Southern Africa Editor's Choice Industrial Wireless
The philosophy of lean principles is a big trend in the pharmaceutical industry. It emphasises using time and resources as efficiently as possible in order to reduce waste and focus on value-added activities. Here are four examples of how lighting solutions can help increase efficiency by addressing common sources of wasted time and resources in pharmaceutical manufacturing.
Read more...
---
Loop signatures 20: The great deceivers.
Michael Brown Control Engineering Editor's Choice
It is generally better to live with noise rather than filtering it out, provided it does not cause the final control element to jump around excessively.
Read more...
---