printer friendly version
Smart sensor solutions for sustainable farming practices
November 2023
Sensors & Transducers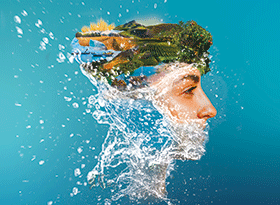 October was a special time on the global calendar − World Food Month. This was a month dedicated to raising awareness about food security, hunger, and the importance of sustainable agriculture. In this digital age, technology plays a pivotal role in addressing these challenges. Technology is revolutionising the food industry by enhancing productivity, reducing waste, and contributing to the global effort to eliminate hunger.
Sustainable farming
Sustainability in food production requires a holistic approach, from field to production to distribution, while mitigating environmental impact to promote long-term wellbeing. It involves meticulously managing resources and processes to achieve energy efficiency, resource optimisation and waste reduction through innovative production techniques and continuous improvement. Smart sensor solutions from ifm support sustainable farming practices by helping farmers use resources more efficiently. By optimising irrigation, fertilisation and pest control, these sensors reduce the environmental impact of agriculture, while increasing yields.
Precision agriculture
One of the key aspects of modern agriculture is precision farming. ifm supports precision agriculture through its sensor technology and automation solutions that enable farmers to optimise their agricultural processes, thereby improving their efficiency and productivity. Through better efficiency, food manufacturers can gain a competitive advantage, reduce environmental impact, and contribute to a more sustainable and resilient industry.
Water management
Fresh water is a precious resource with limited availability. Irrigation of fields and greenhouses accounts for around 70% of water demand. Food producers are under pressure to improve productivity while maintaining animal welfare, sustainability and profitability. ifm's cost-saving solutions for water are ideal for outdoor and indoor farming, livestock, aquaculture, and the production of alternative proteins. They also include solutions for the production and storage of raw materials. These smart sensor solutions help farmers to optimise their water usage by providing accurate data based on conclusive results. This information allows farmers to irrigate their fields precisely, when and where it is needed, thereby reducing water wastage and conserving this vital resource.
Food safety and reduction of waste
Food safety and minimising food waste are a global concern. Safety in food processing means that the automated systems, technologies and processes used in food production maintain, and even improve, the safety and quality of the final products. The ifm process sensor range with IO-Link technology can monitor various parameters during food processing, transportation and storage. The sensors can self-monitor their status to ensure accuracy and reliability in meeting food safety standards. They can improve traceability by accurately recording and tracking the flow of ingredients and products. This real-time monitoring helps maintain the quality and safety of food products, reducing foodborne illnesses and food waste. By continuously monitoring environmental factors like temperature and humidity throughout the transportation and storage of food, spoilage is reduced and shelf life is prolonged. This minimises the amount of food that goes to waste.
Supply chain optimisation
Efficient supply chains are crucial for delivering food from farm to table. ifm's sensors are employed to track and monitor goods throughout the supply chain. This technology enables better inventory management, reduces spoilage, and ensures that food products reach consumers in optimal condition. The ifm track-and-trace gate is the complete solution for automated and transparent logistics for incoming and outgoing goods. By taking the flow of goods to the IT level, production, inventory and suppliers can be coordinated more efficiently. Errors can be avoided and order throughput time can be decreased. This relieves internal resources and increases customer satisfaction.
IIoT integration
ifm's sensors and software solutions play a pivotal role in advancing the food industry. By utilising ifm's sensors together with IO-Link technology, real-time data collection and monitoring are enabled. This contributes to food safety and quality by facilitating quality control and predictive maintenance. IIoT software solutions such as Moneo help boost production efficiency, minimise waste, and increase productivity, while ensuring adherence to stringent industry regulations. This means that the data collected from these sensors can be seamlessly integrated into a farm management system. Farmers can then access this data remotely via smartphone or computer, enabling them to make timely decisions and adjustments to their farming practices.
Sensor technology is in a constant state of evolution in the agriculture and food sector. ifm's cutting-edge sensor technology provides an opportunity for food manufacturers to secure a competitive edge, diminish their environmental footprint, and actively participate in building a more sustainable industry – thereby supporting the initiatives and goals of World Food Month.
Credit(s)
Further reading:
Efficiency and precision with IO-Link sensors
RS South Africa Sensors & Transducers
RS South Africa has its own brand known as RS PRO, which offers a choice of over 88 000 products across all industries and technologies. The guaranteed quality and breadth of this range make RS PRO the smart choice for your business.
Read more...
---
Telco sensors for accuracy and reliability
Gail Norton Instrumentation Sensors & Transducers
Photoelectric eyes have always needed perfect working conditions, but in the workplace, there is no such thing.
Read more...
---
The challenge of accurate counting of transparent bottles
Turck Banner Southern Africa Sensors & Transducers
Detecting and counting clear bottles in pharmaceutical, food and beverage applications has been a difficult sensing challenge. The World-Beam QS30 clear object sensor from Turck Banner has been created specifically to detect and count clear objects reliably.
Read more...
---
Predictive maintenance can drive costs down
Omron Electronics Sensors & Transducers
Unplanned machine downtime is a huge headache for businesses. To combat this, manufacturers are looking for innovative solutions that go beyond traditional preventive maintenance.
Read more...
---
Optical sensing and indication in one device
Turck Banner Southern Africa Sensors & Transducers
The new PVS28 optical and indication sensor provides visual operator guidance, with touchless activation for fast and reliable picking, assembly and fulfilment applications. It features both optical sensing and intuitive indication in one device.
Read more...
---
New generation of photoelectric distance sensors
ifm - South Africa Sensors & Transducers
Thanks to innovative photonic mixer device (PMD) technology, the OGD photoelectric distance sensor from ifm detects objects with extreme precision up to a range of 2 metres.
Read more...
---
Innovative technology revolutionises 3D measurement
Pepperl+Fuchs Sensors & Transducers
From industrial automation, to autonomous vehicles, to care robots, mastering the challenges of the future will require powerful 3D sensors that capture their surroundings quickly, comprehensively and with millimetre precision. A technological innovation from Pepperl+Fuchs, in cooperation with the Fraunhofer Institute for Silicon Technology (ISIT), enables 3D measurement with maximum precision and performance while remaining highly cost-efficient.
Read more...
---
Vision system for surgical tool inspection
Sensors & Transducers
Fisher Smit used its vision expertise to take on the challenge of developing a system that meets the stringent standards of the medical sector.
Read more...
---
Monitoring in-line accumulation on a single filer
Turck Banner Southern Africa Sensors & Transducers
Monitoring clear bottles as they are removed from a depalletiser and progress through a single filer can be challenging. The Q5X laser distance sensor from Turck Banner solves this problem.
Read more...
---
Sensors in conveyor belt monitoring
Gail Norton Instrumentation Sensors & Transducers
We all know how high the costs of damaged conveyors can be. Gail Norton Instrumentation Agencies has designed a unit that can effectively monitor conveyors and stop further damage.
Read more...
---