printer friendly version
From the editor's desk: Joining the quantum dots
November 2023
News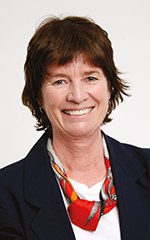 Kim Roberts, Editor
This year's Nobel prizes were recently announced. I was fascinated by the Nobel Prize for Chemistry, which was awarded for research on quantum dots, and I wondered what they actually are. Well, they are a new class of materials different from molecules, and they consist of tiny semiconductor nanoparticles. Adjusting their size by a billionth of a metre can change their optical, electric and magnetic properties, and even their melting point. They have different colours, depending on their size. Their luminous properties are already found in the tiny dots that light up our QLED computer and TV screens. They can be used in everything from everlasting light bulbs to tiny low-energy sensors, to quantum computers. Since they can release electrons and create electrical currents, they can be used to produce highly effective solar cells that are far more efficient at converting the energy from photons than today's ones.
This is something worthy of a Nobel. It's one of the most prestigious awards in the world, and honours people who have made outstanding contributions in their field. Many remarkable scientists have been recognised and celebrated. But not every brilliant scientist got this recognition. Here are some famous scientists who didn't get the Nobel Prize.
Thanks to Elon Musk, we are all familiar with the name Tesla. Nikola Tesla was a brilliant electrical engineer and inventor. His revolutionary work laid the foundation for the modern alternating current. You get electricity in your house because of him. By inventing the Tesla coil and the induction motor he transformed the world of electricity and power transmission. But in spite of his huge contribution to science and technology, Tesla never received the big prize. Apparently one reason was the ongoing feud between him and Thomas Edison. His eccentric personality and unorthodox ideas may also have contributed to his omission.
Stephen Hawking captured our imagination with his pioneering work on black holes, cosmology and the nature of the universe. Despite being diagnosed with a motor neuron disease at an early age, he defied all odds and made an extraordinary contribution to physics. His work on black holes and the nature of time resulted in one of his most significant discoveries. Although Hawking's achievements were widely recognised and admired, he never got the prize. Apparently the reasons for this are that the Nobel Prize for physics focuses on theoretical discoveries that can be proven experimentally. Hawking's, while highly influential, did not yield direct observational evidence.
Albert Einstein's name makes you think 'genius'. His theory of relativity redefined how we think about gravity, space and time. His groundbreaking work earned him huge recognition in the scientific community, but the Nobel Prize eluded him for many years. He was eventually awarded it in 1921, but not for his theory of relativity that we all know about. The prize was given for his discovery of the photoelectric effect.
Astronomer Edwin Hubble made groundbreaking discoveries that revolutionised our understanding of the universe. His observations and calculations gave compelling evidence for the expansion of the universe, and the existence of galaxies beyond our own. He has even had a space telescope named after him. Despite his role in advancing the field of astronomy, Hubble never received a Nobel Prize. Apparently his contributions were not directly aligned with the Nobel committee's criteria, which focused on theoretical and experimental work in the field of physics.
Thomas Edison held a record-breaking number of patents and was responsible for game-changing inventions like the phonograph and the electric light bulb. His work in electrical power generation and distribution transformed the world. Despite his huge impact on society and technology, Thomas Edison never received the Nobel Prize. It is speculated that the Nobel Committee's emphasis on scientific discoveries and theoretical advancements played a role in the exclusion of inventors like Edison. He was too practical.
I am wondering whether these incredible innovators were desperately disappointed at being left out. It occurred to me that as brilliant as they are, nobody really knows very much about Nobel Prize winners. Do you know the name of any winner in the last five years? The only ones I can remember are Mandela, De Klerk, Tutu, Luthuli and Gordimer, and that's because they're from home. But these famous scientists, who missed the prize, are household names and they have inspired generations of new scientists. Surely that's more of a legacy than a once-off science award, however distinguished, that nobody later remembers.
Credit(s)
Further reading:
merSETA and Festo to establish 4IR centre
Festo South Africa News
merSETA partnered with Festo, a leading supplier of industrial automation solutions and a global leader in technical education, to establish a 4IR skills centre at Maluti TVET College.
Read more...
---
Young KwaZulu-Natal innovator shines at Eskom Expo
News
A young innovator from KwaZulu-Natal has won awards at the 43rd Eskom Expo International Science Fair for his research project, which uses renewable energy resources like solar and wind power as a backup power source for cell phone towers during loadshedding.
Read more...
---
Electricity wheeled via Cape Town's grid
News
The first clean, green energy has officially been wheeled via the City of Cape Town's energy grid. Growthpoint Properties became the first party to wheel renewable electricity in the City in collaboration with licensed electricity trader Etana Energy.
Read more...
---
Innovate announces Space Challenge for SA innovators
News
Innovate UK invites South African youth interested in space technology to participate in the NextGen Space Challenge – an international knowledge exchange and mentorship opportunity for youth-led and space-related solutions, using Earth observation data to help tackle climate change and disaster management in South Africa.
Read more...
---
Iritron achieves impressive safety record
Iritron News
Iritron is an engineering, integration and manufacturing company, and also a provider of engineered solutions in the fields of electrical, instrumentation, control systems, decision support, and solar 
...
Read more...
---
EtherCAT Technology Group celebrates 20 years
News
The 20-year milestones of EtherCAT and EtherCAT Technology Group are a reason to celebrate. To mark the occasion, Beckhoff invited guests to a gala dinner.
Read more...
---
Trends in the test and measurement industry
News
The third annual TANDM Community Connect (TCC) event, TCC23, will take place on 16 November 2023 in Pretoria, and 23 November 2023 in Stellenbosch. First launched in 2019, TCC has become a cornerstone of the local test and measurement industry's calendar.
Read more...
---
Marathon Gold selects ABB for vital gold project
ABB South Africa News
Marathon Gold has agreed to a contract with ABB to design and commission the process and power control system for its Valentine Gold Project in Canada.
Read more...
---
Emerson accelerates factory automation capabilities
Emerson Automation Solutions News
Emerson has announced a definitive agreement to acquire Afag, an innovative leader in electric linear motion.
Read more...
---
New engineering software accelerates plant modernisation
Emerson Automation Solutions News
Emerson is helping customers to transition legacy technology to modern DeltaV automation architecture, that modernises and digitises operations.
Read more...
---