printer friendly version
SAIMC: Durban branch
August 2023
SAIMC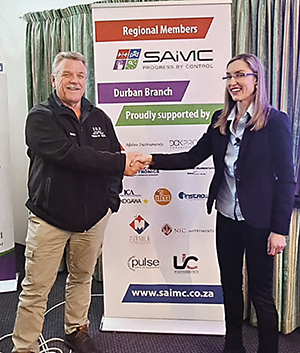 Liza Smit seen with branch GM, Mark Calvert.
The Durban branch of the SAIMC held their monthly technology meeting on 5 July at the Premier Splendid Hotel, as always. Liza Smit, a process engineer from Proconis, talked us through risk-based fire and gas detection mapping. Gas detection started with canaries in cages, but has evolved to use complex technology instead. In 2015 a UK HSE study of data showed that with eight years of offshore data, only 60% of known releases have been detected. The lack of reliable detection has pushed the industry to move to more sophisticated methodologies for detector placement.
In the last decade, several international and local standards were issued in support of the implementation of risk-based fire and gas detection, and software was developed to the extent where today mapping has become easy to do. Proconics has completed several risk-based studies and the purpose of the presentation was to explain the methodology and share the results of real projects.
Liza is a process engineer with a Master's in Engineering Management and 20 years' experience in chemical and process engineering. She started her career in the oil and gas/petrochemical sector and gained experience in various fields of the manufacturing value chain. She subsequently worked across multiple sectors, including the fertiliser, nuclear, thermal power, and mining industries, both locally and abroad. Over the last decade, Liza served as a subject matter expert in process safety, conducting quantitative risk assessments (QRA)s, risk reviews (HAZOPs/HAZIDS etc.) and specialist studies such as fire and gas mapping, also publishing papers in reputable scientific journals. She is a leader in her field and works closely with cutting-edge software developers for explosion and fire modelling. She gave an interesting and informative presentation, answering questions from the attentive audience clearly and professionally.
The Durban branch would like to thank Proconics for their kind sponsorship.
Credit(s)
Further reading:
SAIMC gala dinner
SAIMC Supplier Advisory Council SAIMC
Under the skies of the most beautiful Johannesburg evening, the 2023 SAIMC gala dinner kicked off with champagne on the deck of the Fairway Hotel and Spa, and the stage was set for another glittering occasion.
Read more...
---
SAIMC: Durban branch
SAIMC SAIMC
The Durban branch October technology meeting was well attended, and the audience was keen to hear about navigating the digital value change and bridging the gap from sensors to the boardroom.
Read more...
---
SAIMC: Secunda branch
SAIMC SAIMC
The SAIMC Secunda branch held its monthly technology evening on 4 October at the Proconics office in Secunda. Bruce Bonte from Yokogawa presented on differential pressure and blocked impulse lines.
Read more...
---
SAIMC: From the office of the CEO: Changes at SAIMC
SAIMC SAIMC
During its 2026 strategy session, SAIMC discussed the exciting changes and challenges ahead, and plotted the way forward.
Read more...
---
Category 1 CPD points
SAIMC SAIMC News
SAIMC has decided to publish a quiz every month from information contained in
I&C
magazine. This quiz could earn you one CPD point in Category 1 if you pass with 80% or more.
Read more...
---
SAIMC: From the office of the CEO
SAIMC SAIMC
The illiterate of the 21st century will not be those who cannot read and write, but those who cannot learn, unlearn and relearn: Alwin Toffler.            
From caveman to chatbot
Yes, this month the heading 
...
Read more...
---
SAIMC: Durban branch
SAIMC SAIMC
The Durban branch of the SAIMC held its September technology meeting at the Premier Splendid Inn, as usual. Bryce Mildenhall, sales manager at Elonics discussed the evolution of industrial networks, and 
...
Read more...
---
SAIMC: Memos from Ken Baker
SAIMC SAIMC
Ken Baker, a former president and long-time member of SAIMC, shares his memories of his career and his time with SAIMC.
Read more...
---
SAIMC: From the office of the CEO
SAIMC SAIMC
Continuous Professional Development (CPD) is a crucial aspect of the formalisation of the engineering industry in South Africa. To facilitate CPD, ECSA has established two bodies: the CPD Licensed Body and the CPD Service Provider. SAIMC has successfully applied for and registered as a CPD Licensed Body with ECSA.
Read more...
---
SAIMC Ladies Celebration
SAIMC SAIMC
The committee of the SAIMC Johannesburg branch recently hosted a Ladies Celebration to celebrate International Women's Month.
Read more...
---