printer friendly version
Axis to create explosion-protected cameras
June 2022
News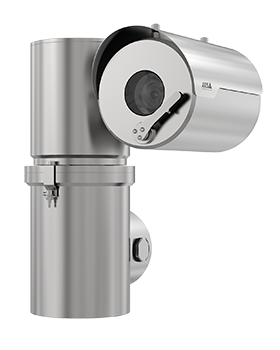 Axis Communications has announced its plans to develop its own explosion-protected surveillance cameras and devices across the Axis product portfolio through a new subsidiary, Axis Ex AB. With the new company's quality management system audited and found to be in compliance with the appropriate international standards, Axis can manufacture and sell its own explosion-protected equipment certified according to ATEX, IECEx, METLabs and other global certifications. The first explosion-protected cameras models from Axis will be available in 2022.
Working with manufacturing partners, Axis has provided a broad portfolio of explosion-protected network cameras since 2015. With the growth in the market, and the benefits of explosion-protected cameras being recognised in numerous industry sectors and environments, the move represents a significant step in the capabilities of Axis to create explosion-protected devices across its product portfolio. In manufacturing its own explosion-protected devices, Axis can take full responsibility for the design and quality of the product, from drawing board to delivery, to service and support.
Commenting on the plans, Jesper Olavi, global product manager and responsible for explosion-protected cameras at Axis, said: "Since entering the explosion-protected market, we've had significant commercial success and learned a great deal. Given the rigorous nature of certifications required for any manufacturer of such devices, the decision to take full responsibility for the design and manufacture of explosion-protected devices represents a significant strategic step for Axis. The benefits to our customers will be substantial, both in our ability to add explosion-protection to a wide range of devices, and in the efficiency in bringing them to market."
In having the company's quality management system audited and found to be in compliance with ISO 9001 and ISO 80079-34, Axis products will be certified for use anywhere in the world, unlike some explosion-protected devices which are only certified for use in specific regions. In manufacturing its own products Axis is also able to offer customers a five-year warranty, an unusually long warranty period in the explosion-protected camera market.
Credit(s)
Further reading:
New chief marketing and communications officer joins Zutari
News
Leading consulting engineering and infrastructure advisory firm, Zutari, has appointed Zipporah Maubane as chief marketing and communications officer for Africa and the Middle East (AME).    The company 
...
Read more...
---
New features, products and learning at this year's Electra Mining Africa
Specialised Exhibitions News
Topics presented by industry experts will be aligned to the show's theme days: automation, innovation, safety, future skills and South African Day.
Read more...
---
SABS webinars covering sustainable nanotechnology
News
Industrial areas identified as benefitting from nanotechnology are mining and minerals, chemical and bio-processing, and advanced materials and manufacturing.
Read more...
---
Bosch Projects opens new Australian office
News
Although its initial focus will be in the sugar industry, the company also facilitates industrial plants, water and wastewater, roads and urban developments, as well as ports and terminals.
Read more...
---
Smart mining with 5G
News
MTN and Huawei are to provide 5G-based ICT solutions for smart mining requirements, including 5G broadband access as well as smart mining solutions like vehicle remote control, IoT and enterprise digital transformation.
Read more...
---
AI takes control of chemical plant for 35 days
Yokogawa South Africa News
Yokogawa Electric and JSR successfully put into practical use a next-generation control technology that takes into account quality, yield, energy savings, and sudden disturbances.
Read more...
---
Remote monitoring keeps cherries cool
Sensors & Transducers News
The innovative and adaptable nature of the NviroSense system allows for various applications to be added on as per the client's requirements.
Read more...
---
Women thrive at the coalface of BI's sales and customer service
Bearings International News
"Do not compare yourself to others. Work hard, as no job is beneath you. Soak up the knowledge available to you. Do not be discouraged or demotivated."
Read more...
---
More women to be capped at MUT's Women's Month graduation
News
All told, 990 women will graduate from the Faculty of Management Sciences, 308 from the Faculty of Natural Sciences, and 310 from the Faculty of Engineering.
Read more...
---
Hitachi Energy is championing its Diversity 360 approach
News
In recognition of Women's Month, the company highlighted the achievements of exceptional local female talent by profiling three leading women who form part of the company's South African operations.
Read more...
---