printer friendly version
Level measurement – now with Bluetooth
July 2022
Level Measurement & Control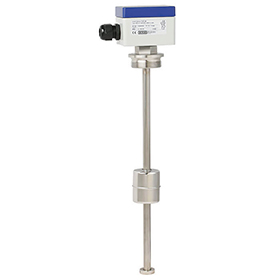 WIKA's new model FLR-SC level transmitters with reed measuring chain are used for level measurement in liquid media. They work on the float principle with magnetic transmission.
The float's magnetic system in the guide tube actuates a resistance measuring chain that corresponds to a 3-wire potentiometer circuit. The measurement voltage generated by this is proportional to the fill level. The measurement voltage is very finely stepped due to the contact separation of the measuring chain, and is thus virtually continuous. Depending on requirements, several different contact separations are available.
The head-mounted transmitter in the case can be configured wirelessly via an app. It communicates measured values via Bluetooth to a device such as a smartphone or tablet, which displays the level graphically. In addition, the instrument's description, TAG number, and 0% and 100% marks can be configured via the app.
Credit(s)
Further reading:
Pressure transmitter for pharmaceuticals
WIKA Instruments Pressure Measurement & Control
WIKA designed a package of solutions based around the UPT-20, which met all the requirements of the API synthesis process via specific adaptations.
Read more...
---
Continuous non-contact level measurement with radar technology
KROHNE Level Measurement & Control
Online teaser: A narrow beam angle of 4° for tank internals and long nozzles is combined with accuracy down to ±2 mm, even in processes with fast-changing levels and low dielectrics.
Read more...
---
Plumb bob sensor for tanks and settling basins
Morton Controls Level Measurement & Control
Its precise sensitivity can be adjusted to slurries and solids in liquids, and can also be configured for use in corrosive media with increased resistance.
Read more...
---
Radar sensor keeps its cool
VEGA Controls SA Level Measurement & Control
The VEGAPULS C 21 delivers exact measuring results without effect from the medium, or the process and ambient conditions
Read more...
---
3-point pressure calibration in 10 seconds
WIKA Instruments Pressure Measurement & Control
WIKA's CPC3050 comes in high-pressure and low-pressure versions with customisable ranges, a 10:1 range limit ratio and auto-ranging.
Read more...
---
Five reasons for force measurement
WIKA Instruments Editor's Choice Maintenance, Test & Measurement, Calibration
Wika takes a closer look at the measured variable of force and gives five reasons to show why force measurement is of particular importance.
Read more...
---
Tubeskin thermocouple assembly
WIKA Instruments Temperature Measurement
The proprietary thermal shield design of the Tefracto-Pad is a patent-pending WIKA innovation in several countries.
Read more...
---
Load sensor for force measurement
Instrotech Level Measurement & Control Mass Measurement
The instrument provides a solution for non-intrusive level measurements of materials that are subject to uneven build-up, bridging or sidewall collection.
Read more...
---
Diesel level sensing for rail engines
Instrotech Level Measurement & Control
Diesel fuel levels are measured, recorded and displayed, and kilowatt-hours are measured, using the Senix ToughSonic CHEM 10 ultrasonic sensor.
Read more...
---
Radar level sensor with IO-Link interface
ifm - South Africa Level Measurement & Control
Its non-contact radar measuring principle prevents malfunctions or failures of the sensor caused by the adhesion of viscous media or damage from agitators.
Read more...
---