printer friendly version
Intrinsically safe EtherCAT I/O modules
June 2022
Fieldbus & Industrial Networking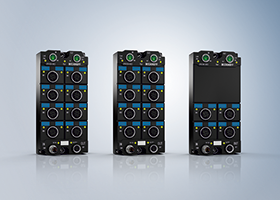 With the new EPX module series, Beckhoff now offers a compact option for Ex i signal acquisition from zones 0/20 and 1/21 as an addition to the wide range of EtherCAT Box modules. With robust IP67 protection, they enable direct and decentralised installation in machines and systems, even in harsh environments. This results in numerous advantages in all areas with explosion protection requirements, both in processing plants and in discrete manufacturing applications.
As a robust alternative to IP20 solutions with their elaborate housing protections, the EPX modules with IP67 protection rating enable reliable data collection, even in hazardous areas where no control cabinet or terminal box can or should be installed. The hhighly compact modular design leads to significant space savings. Furthermore, the previously required safety barriers are no longer necessary, which also saves space and reduces costs. Additional advantages of the new EtherCAT Box modules are their simple commissioning, the avoidance of errors due to incorrect contact assignments, and the system modularisation facilitated by on-site signal acquisition.
The EPX series initially comprises three modules with four or eight input channels:
The EPX1058 is designed for direct connection of up to eight intrinsically safe NAMUR field devices and records their signals pursuant to IEC 60947-5-6. In addition to the switching state, open circuits or short circuits are also detected. Channel by channel, it is possible to select whether a positive or negative switching sensor is connected, so that both NAMUR normally-open/break contacts and NAMUR normally-closed/make contacts can be integrated into the control system without changes in the program. Potential-free contacts can also be used.
The EPX3158 supplies a maximum of eight measuring transducers located in the field and transmits their analog 4-20 mA measuring signals, electrically isolated, to the automation device. Appropriate 2-wire and 3-wire sensors can be connected. With a maximum measuring range of +107% of the nominal range, this EtherCAT Box also supports commissioning with sensor values in the limit range, and evaluation according to NAMUR NE43. Any overload or wire break is signalled by LEDs.
The EPX3184, for connection of up to four intrinsically safe HART-capable field devices, provides information on the state of HART communication via LEDs, and signals any communication errors. HART connectivity enables two-way communication via analog 4-20 mA wiring and can also be used for the FDT/DTM concept. Field device DTMs can be directly integrated into the TwinCAT engineering environment via the TwinCAT FDT Container.
For more information contact Dane Potter, Beckhoff Automation, +27 79 493 2288, danep@beckhoff.com, www.beckhoff.co.za
Credit(s)
Further reading:
Electric cylinders eliminate compressed air requirements in production plants
Beckhoff Automation Motion Control & Drives
Beckhoff Automation's AA3000 Series represents an efficient servomotor alternative to energy-intensive pneumatic cylinders.
Read more...
---
Optimised, PC-based food production
Beckhoff Automation Editor's Choice System Integration & Control Systems Design
Foodjet's MDL food printers can portion and deposit toppings with maximum precision, whether coating pizza dough with a perfect layer of tomato sauce, or icing doughnuts with seasonal decorations.
Read more...
---
XTS transport system with innovative 'No Cable Technology'
Beckhoff Automation Motion Control & Drives
Contactless power supply and synchronous real-time data communication enable XTS movers to be expanded into mobile handling and processing stations.
Read more...
---
Power supplies with EtherCAT interface
Beckhoff Automation Electrical Power & Protection
In the case of system monitoring, important operating parameters such as output current and voltage are transmitted in real time and updated continuously
Read more...
---
IO-Link portfolio for decentralised automation
Turck Banner Fieldbus & Industrial Networking
Turck Banner is expanding its extensive IO-Link portfolio with a robust IO-Link master with an M12 power supply, a compact IO-Link master in IP20, and an I/O-Hub with an additional power supply. This enables power hungry equipment such as grippers to be fed with up to 4 A of power.
Read more...
---
Assembly line for the automotive industry
Beckhoff Automation Motion Control & Drives
How do you design a new assembly line and go on to reduce the footprint of the concept by another quarter? And how can you later increase the productivity of this highly consolidated line even further? 
...
Read more...
---
Ultra-compact robot-based cake production
Beckhoff Automation Motion Control & Drives
A novel solution for food manufacturing has been unveiled by confectionery manufacturer, Juchheim. Its robot, Theo, bakes high-quality Baumkuchen. This is a German style of layered cake that has become 
...
Read more...
---
Standard-compliant differential current transformer
Beckhoff Automation Sensors & Transducers
The SCT5564 can be used as a residual current monitor and can measure DC and AC residual currents with up to 100 kHz frequency in the 0 to 2 A range.
Read more...
---
Pluggable system solution for control cabinet-free automation
Beckhoff Automation Enclosures, Cabling & Connectors
Beckhoff's MX-System provides maximum efficiency for machine builders, control cabinet manufacturers and end-users.
Read more...
---
ML compensates for 'cogging' in high-precision linear motion
Beckhoff Automation Motion Control & Drives
Using recorded data, the servo motor software trains a neural network which is ultimately integrated into the control system for current pre-control.
Read more...
---