printer friendly version
Intuitive solution for process engineering
May 2022
SCADA/HMI
Within ASSTech's portfolio of top-class suppliers is the German manufacturer Jumo, which has expanded its extensive automation range with a complete solution for process engineering operations. The application is designed to be particularly user-friendly and can be used across a wide spectrum of industries.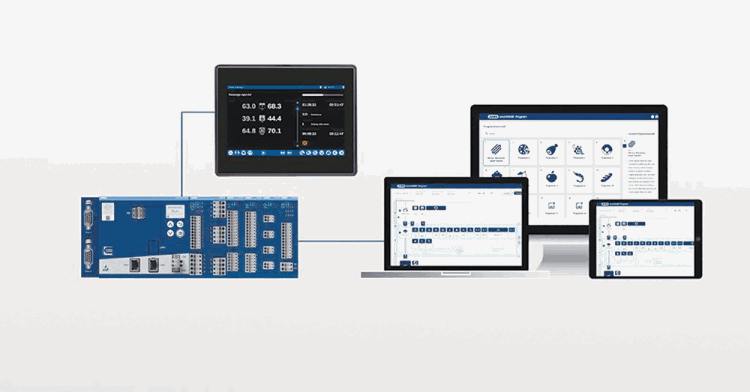 At the heart of the solution is the Jumo variTron automation system. With the aid of various Jumo smartWARE features, an integrated solution can be implemented from the sensor to the cloud. The focus is on three user groups:
• Manufacturers of process engineering plants can use Jumo smartWARE Setup to define individual process steps and plant types.
• Plant operators can use the smartWARE program to intuitively create and edit process engineering programs and recipes using a graphical editor. This browser-based application can be used on a PC, laptop or tablet.
• End-users can then visualise and control the program flow in a browser with the aid of a display, for example on a web panel or a tablet. The user interface can be freely customised, is consistent, and can be operated intuitively.
In addition, other Jumo applications such as smartWARE scada, Jumo Cloud or Jumo smartWARE Evaluation can be used for monitoring, batch recording and individual report generation. The areas of application are diverse and range from the food industry to autoclaves, CIP systems and greenhouses, to industrial furnace construction or environmental technology.
Credit(s)
Further reading:
Why telemetry should form a critical part of your water management systems
Schneider Electric South Africa SCADA/HMI
A complete, integrated sensor-to-enterprise solution can help utilities and operations to manage and run secure and reliable water infrastructure.
Read more...
---
Long-range laser distance sensors
ASSTech Process Electronics + Instrumentation Sensors & Transducers
As a result of intensive R&D, these transit time sensors emit very short light pulses in the nanosecond range, with signals that are statistically evaluated to determine the distance to the object.
Read more...
---
2D/3D profile sensor for weld seam tracking
ASSTech Process Electronics + Instrumentation Sensors & Transducers
Supporting software can evaluate two- and three-dimensional data from smart cameras, vision systems, profile sensors and IPCs with profile sensors.
Read more...
---
Are automation suppliers starting to get the picture?
Iritron Editor's Choice SCADA/HMI
The increased graphical abilities of software resulted in automation vendors developing increasingly advanced graphics capabilities in their products. Users were quick to adopt and use the 'pretty pictures'. But a new way of thinking is starting to become prevalent, and vendors should be taking note.
Read more...
---
Performance data on big screens boosts productivity
Omniflex Remote Monitoring Specialists SCADA/HMI
Visualising plant performance data on a big screen for everybody to see has become a mandatory requirement. Any size large screen HDMI display can be used with the EasyView FHD from Omniflex, enabling full dynamic 1080P HMI visualisation of any plant process or strategic KPI derived directly from the plant process.
Read more...
---
Ultrasonic distance sensor
ASSTech Process Electronics + Instrumentation Sensors & Transducers
Wenglor's new ultrasonic distance sensors combine low installation depth and easy integration of the sensor with tried and tested ultrasonic technology, setting new standards in terms of range and integration options.
Read more...
---
Wireless addition to the Jumo automation system
ASSTech Process Electronics + Instrumentation Industrial Wireless
Up to 32 wireless Jumo Wtrans sensors can be connected via a wireless gateway for various purposes, including measuring temperature or pressure.
Read more...
---
Ultra-robust HMIs with IP67 protection rating
Turck Banner SCADA/HMI
Turck Banner's TXF700 series enables cabinet-free operating and installation concepts at operating temperatures between -20°C and +55°C.
Read more...
---
Pressure measuring cells
ASSTech Process Electronics + Instrumentation Pressure Measurement & Control
The Jumo Ceros measuring cells can be used in such devices as pressure transmitters, level probes, data loggers or digital manometers.
Read more...
---
Miniature inductive sensors with long switching distances
ASSTech Process Electronics + Instrumentation Sensors & Transducers
No larger than a pinhead, the robust sensors come in a V2A stainless steel housing and demonstrate their strengths where space is most limited.
Read more...
---