printer friendly version
Inline process viscometer for polymer and oil monitoring
June 2022
Flow Measurement & Control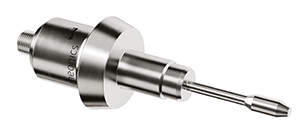 Rheonics' SRV inline process viscometer offers highly repeatable measurements in both Newtonian and non-Newtonian, single- and multi-phase fluids. This hermetically sealed unit is assembled entirely from 316L stainless steel and includes built-in fluid temperature measurement.
The SRV measures viscosity by means of a torsional resonator, one end of which is immersed in the fluid under test. The more viscous the fluid, the higher the mechanical damping of the resonator. From the measured damping, the product of viscosity and density is calculated by Rheonics' proprietary algorithms.
The resonator is both excited and sensed by an electromagnetic transducer mounted in the sensor's body. Rheonics' patented symmetric resonator design permits the transducer to be isolated from the fluid in a hermetically sealed capsule, while maintaining the resonator's mechanical isolation from its mounting. The electronics unit, which is based on Rheonics' patented gated phase-locked loop technology, offers stable and repeatable, high-accuracy readings over the full range of specified temperature and fluid properties.
The SRV has found a wide range of applications. In the polymer sector it is used to monitor the viscosity change through the complete polymerisation process, offering real-time monitoring and end-point detection. Operators avoid blockage of process equipment through instantaneous early detection of viscosity build-up. The SRV is also used to check incoming raw material quality to ensure proper operation of the process.
Other applications of the viscometer include testing and monitoring of pump performance for measurement and efficiency optimisation; pipeline leak monitoring; HFO/MDO viscosity monitoring in marine fuel conditioning units; heavy oil viscosity control for transport through heating and slurry formation; and lubricant viscosity monitoring and control.
Credit(s)
Further reading:
Pulse totaliser counter
Instrotech Flow Measurement & Control
The electronic unit shows flow rate, resettable daily and total counter (mass units can also be set), and all customised program settings remain saved, even after a battery exchange.
Read more...
---
Near-infrared process photometer
SECO Process Instrumentation Analytical Instrumentation & Environmental Monitoring
A built-in graphical Internet-based interface enables remote operation, calibration, validation and data trending using a standard web browser.
Read more...
---
Permanently precise flow measurement
Morton Controls Flow Measurement & Control
Proven and tested in practice, the small size of the FMQ's measuring body and electronics enable simple, vibration-insensitive integration into almost all applications.
Read more...
---
Process photometer performs in-line measurement in real time
SECO Process Instrumentation Analytical Instrumentation & Environmental Monitoring
Standard features include 16 linearisation tables for switching between multiple products, remote zeroing, automatic cell cleaning cycle and signal filtering.
Read more...
---
Mass flow controllers and meters
Electrocomp Flow Measurement & Control
Unlike most other devices on the market, these devices do not suffer from drift and do not require in-service recalibration.
Read more...
---
Magnetic-inductive flow meter for phosphate precipitation
Instrotech Flow Measurement & Control
With a 4-20 mA signal or optional pulse output, the MIK allows for immediate response to the latest process conditions.
Read more...
---
Wall-mount ultrasonic flow meters
Royce Water Systems Flow Measurement & Control
High measurement accuracy and minimal interference due to its advanced error correction technology are among the flow meter's benefits.
Read more...
---
Flow meters and switches for very slow flows
Instrotech Flow Measurement & Control
Kobold's KSV meters are shock resistant, small, lightweight and simple to install for measuring liquid or air flow with full-scale accuracy within +/-6%.
Read more...
---
Indian airport's fuel station retrofitted with Rotork actuators
Flow Measurement & Control
A reduction of downtime was of critical concern to the customer, which can be assisted by an holistic asset management programme such as Lifetime Management.
Read more...
---
Flow control for wastewater treatment
Flow Measurement & Control
Going beyond simple open/close functions, the Rotork actuators can move the valves and gates to exact positions to provide complete control of flow in the process.
Read more...
---