printer friendly version
The demand for higher efficiency motors
May 2022
Motion Control & Drives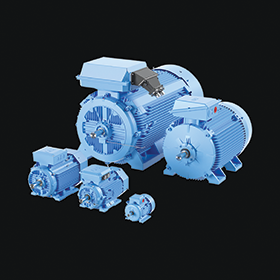 With electricity prices increasing rapidly, the justification for adopting more efficient motors is that much greater. To achieve this improved efficiency, such motors are designed to run cooler, which prolongs the insulation lifespan for added reliability. Although most First World and many local end-users specify higher efficiency motors, the South African market still largely opts for cheaper IE1 motors, which are cheaper to buy but more expensive to run.
"The bulk of South African low-voltage (LV) motor purchases are driven by price," notes Bearings International (BI) business unit leader, Stephen Bekker. On average, the initial capital outlay constitutes less than 5% of the cost of a motor over its lifespan. A small percentage is maintenance, while most of the running cost is the electricity consumption. The payback is generally under two years, with the average motor lifespan of ten to 15 years or more translating into an eightfold saving on the initial capital outlay.
BI is an ABB Channel Partner for LV motors. BI stocks the ABB IE1 and IE3 motor ranges, with IE4 and IE5 motors available ex-factory. The complete offering ranges from 0,55 to 355 kW and higher if requested. However, BI concentrates on the 15 to 250 kW four-pole motor range, believed to make up 75% of total IE3 motor sales. Locally, mining has always proven a lucrative sector for BI. Other growth sectors include sugar, pulp and paper, food and beverage, and water and wastewater.
For more information contact Bearings International, +27 11 899 0000, info@bearings.co.za, www.bearings.co.za
Further reading:
Polymer linear guides adopted worldwide
Motion Control & Drives
The product range of lubrication-free drylin linear guides is based on the principle of 'gliding instead of rolling'.
Read more...
---
ML compensates for 'cogging' in high-precision linear motion
Beckhoff Automation Motion Control & Drives
Using recorded data, the servo motor software trains a neural network which is ultimately integrated into the control system for current pre-control.
Read more...
---
Drive-based solutions enhance machine efficiency and safety
Bearing Man Group t/a BMG Motion Control & Drives
BMG's electromechanical specialists are able to extend and adjust NORD drive equipment for drive monitoring, drive control and process control.
Read more...
---
Electromagnetic brakes for DC motors
Motion Control & Drives
Mini motor applications utilise DC motor technology because of compactness, low weight, and reliability. Stopping, slowing or holding the position and load of these motors is crucial for many applications, 
...
Read more...
---
New motors for servo drive system
Siemens South Africa Motion Control & Drives
The servo motor thus meets all hygienic conditions and can be used for mixing and stirring, dosing and filling, as well as conveying, packaging and storing a wide variety of end products.       The 
...
Read more...
---
Compact drive technology mobilises high-tech CT scanner
Beckhoff Automation Editor's Choice Motion Control & Drives
PC- and EtherCAT-based technology from Beckhoff delivers the desired viewing angles and mm-precise alignment of the X-ray source to the patient.
Read more...
---
Drive-based predictive maintenance solutions
Bearing Man Group t/a BMG Motion Control & Drives
BMG's NORD predictive maintenance solutions offer fast, efficient and comprehensive evaluation of analogue and digital data, to enhance the operational efficiency and safety of machines. The intelligent 
...
Read more...
---
Next-generation motor starters with digital innovation
Schneider Electric South Africa Motion Control & Drives
Schneider Electric has announced the release of the new generation of TeSys Giga series motor starters. The iconic TeSys Giga series has been re-imagined with the latest smart digital innovations to deliver 
...
Read more...
---
Compact planar scanner with air bearing
Horne Technologies Motion Control & Drives
PIglide positioning systems are ideally suited for high-precision applications such as inspection systems, laser marking, microscopy or scanning.
Read more...
---
Match & Tag for high accuracy in paired chain
Bearing Man Group t/a BMG Motion Control & Drives
Modern machinery often requires chains of precisely the same length to be used in pairs or other multiples. For these applications, BMG specialists recommend Tsubaki Match & Tag chains, which guarantee 
...
Read more...
---