printer friendly version
All-in-one documenting process calibrators
May 2022
Maintenance, Test & Measurement, Calibration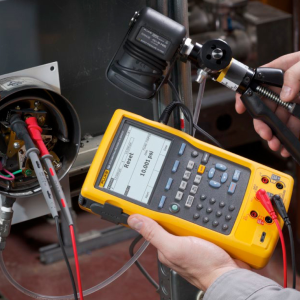 Comtest, local representative of Fluke, is offering the Fluke 750 Series documenting process calibrators, specifically designed for process professionals in the pulp and paper industry, gas and oil refining, chemical production, food and beverage, and water/wastewater. The 750 Series combines all process calibration tools into one powerful calibrator that process professionals can trust to increase their troubleshooting and maintenance capabilities.
The multifunction calibrator performs sourcing, simulation and measurement of pressure, temperature and electrical signals. No downtime is needed for operators to learn a new tool since it can be picked up and used immediately, without training. The improved screen makes for easy use in the field or in dark environments, and enhanced RTD source accuracy means the calibrator can handle even more workload than its predecessor.
The 754 pushes the envelope of documenting process calibrators by providing the ability to maintain and calibrate selected HART transmitters – a key process industry requirement. Process plants rely on smart transmitters, so they need calibrators that can communicate via industry-standard digital protocols. The 754 and 753 models combine HART communication capability in a documenting process calibrator to deliver an integrated communicating calibrator.
For more information contact Comtest, +27 10 595 1821, sales@comtest.co.za, https://bit.ly/3oSXuxR
Credit(s)
Further reading:
Mediclinic bolsters gas leak detection with Fluke acoustic imager
Comtest Analytical Instrumentation & Environmental Monitoring
Preventing leaks in hospitals has positive implications for the environment, but a significant leak of N
2
O or O
2
in a hospital can represent a serious health hazard.
Read more...
---
The route to proactive maintenance
Comtest Editor's Choice Maintenance, Test & Measurement, Calibration
What were once complex tasks can now be accomplished by less experienced technicians with easy-to-use tools such as vibration screeners and thermal imagers.
Read more...
---
Stationary battery basics
Comtest Electrical Power & Protection
There is so much terminology related to stationary batteries and it is hard to know what everything means. This is the difference between jars and straps.
Read more...
---
Composition analysis by micro gas chromatography
Electrocomp Maintenance, Test & Measurement, Calibration
The DynamiQ-X gas analyser from Q-Micro is designed for continuous gas mixture monitoring in industrial process and factory automation applications.
Read more...
---
ABB's automatic paper testing delivers faster quality insights
ABB South Africa Maintenance, Test & Measurement, Calibration
Quality data from the L&W Autoline is collected in the mill's quality management system via integration with the 800xA DCS.
Read more...
---
Regular machine maintenance is key to operational efficiency
Maintenance, Test & Measurement, Calibration
Benefits include savings on costs, energy efficiency and spare parts, which can account for as much as half of the total maintenance costs.
Read more...
---
Using ultrasonic NDT to identify wear and corrosion
BAMR Maintenance, Test & Measurement, Calibration
Monitoring equipment for damage and potential flaws is vital in preventing loss of productivity and even injury or potential death of operators.
Read more...
---
Comtest and Fluke commemorate World Metrology Day
Comtest News
Metrology is all around us and involves everything we do daily –we may be unaware of it, but it affects almost every part of our daily lives.
Read more...
---
Five reasons for force measurement
WIKA Instruments Editor's Choice Maintenance, Test & Measurement, Calibration
Wika takes a closer look at the measured variable of force and gives five reasons to show why force measurement is of particular importance.
Read more...
---
High-quality contact lubricants
Vepac Electronics Maintenance, Test & Measurement, Calibration
CG53A is part of the CG series of contact lubricants, designed as an extension of the extremely popular 2X range. The main advantages of these products are reduced contact resistance, even on extremely 
...
Read more...
---