printer friendly version
Versatile handheld indoor air quality meters
June 2022
Analytical Instrumentation & Environmental Monitoring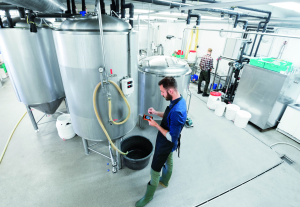 Across many industries, CO2 leaks in equipment can cause mechanical damage or wear and tear that impacts the safety of employees, the air quality and the manufacturing processes involved, for example in the food, beverage and refrigeration industries.
Two new, versatile CO2 mobile indoor air quality monitoring instruments from Greisinger offer a notably large measuring range of up to 2000 ppm for the G1910-02 model and 19 999 ppm for the G 1910-20. Both devices are easy to handle and compact in design, and can be charged easily with a mobile phone cord.
"These recently launched handheld measuring devices offer an advanced, ergonomic design enabling them to fit perfectly into one's hand, which means they can be utilised anywhere. They offer precision and accuracy and are two of the most cost-effective portable devices available," said Jan Grobler, managing director of GHM Messtechnik South Africa.
Suited to applications such as educational facilities, open-plan offices, breweries, wine presses, taprooms, dispensaries, HVAC operations and greenhouses, the instruments are durable and offer high measuring accuracy across all practical applications.
The measurement takes place with an optical NDIR measuring process at the air opening on the upper side of the device. The display is a time-weighted average (TWA) over 8 hours or 15 minutes, and these can be read simultaneously. The instrumentation has in-built alarm activations.
Compact and easy to use, the devices' standard Micro-USB connection enables them to be charged at any socket without the need for a special mains adaptor. The long-lasting rechargeable battery gives the user uninterrupted measurements for up to 24 hours.
"CO2 is dangerous at a concentration above 3%," said Grobler. "These portable indoor air monitoring instruments are ideal for warnings of moderate but non-dangerous levels. They offer an impressive price/performance ratio and high durability. The bonus of having a calibration connection lets the customer recalibrate the device themselves, therefore eliminating the need for devices to be removed from their place of operation for recalibration purposes."
Credit(s)
Further reading:
Systec introduces new autoclaves and software
Opto Africa Holdings Analytical Instrumentation & Environmental Monitoring
Autoclaves from Systec can be used in all laboratory applications for sterilising solids, liquids, waste and hazardous biological substances.
Read more...
---
Workers' safety assured by Becker's gas monitoring system
Becker Mining South Africa Analytical Instrumentation & Environmental Monitoring
This hybrid system is customisable to all installation requirements, including copper, RF and fibre-optic data connectivity.
Read more...
---
How utility instrumentation can benefit your plant
Endress+Hauser South Africa Analytical Instrumentation & Environmental Monitoring
An auxiliary plant instrument reading has to be available on demand, otherwise potentially serious problems may remain hidden.
Read more...
---
Water and wastewater treatment in the digital age
Endress+Hauser South Africa Editor's Choice Analytical Instrumentation & Environmental Monitoring
In these testing times of declining water security, IoT technology has been proven to boost operational efficiency and inform smart investment decisions.
Read more...
---
New webpage showcases natural gas plant analysers
Elemental Analytics News Analytical Instrumentation & Environmental Monitoring
Flagship products include multi-component odorant monitoring, hydrogen sulphide and carbon dioxide measurement, BTEX analysis and saybolt readings.
Read more...
---
Pyranometer for monitoring small-scale PV installation efficiency
GHM Messtechnik SA Electrical Power & Protection Maintenance, Test & Measurement, Calibration
The device's classification level under the ISO 9060:2018 standard guarantees accuracy, reliability, precision and compliance with reference standards.
Read more...
---
Digitally managing energy costs and decarbonisation
Yokogawa South Africa Electrical Power & Protection Analytical Instrumentation & Environmental Monitoring
Real-time data combined with a single, asset-wide digital twin and proprietary analytics capabilities enable automatic opportunity identification and performance gap breakdown.
Read more...
---
Professional quick-response thermometer
GHM Messtechnik SA Temperature Measurement
The newly designed G 1200 thermocouple quick-response thermometer from Greisinger offers excellent performance at a low price while delivering high-quality temperature measurements via a wide range of 
...
Read more...
---
Modified atmosphere packaging – making the right choice of gas analysis
Elemental Analytics Analytical Instrumentation & Environmental Monitoring
Modified atmosphere packaging (MAP) is used within the food and pharmaceutical sectors to extend the shelf life of many products that would otherwise deteriorate quickly in the presence of oxygen. It 
...
Read more...
---
Reducing the carbon footprint of milk production
Analytical Instrumentation & Environmental Monitoring
The certified Valio Carbo environmental calculator is used in monitoring the carbon balance of Valio dairy farms. In 2021, more than a thousand of them (about a quarter of all the company's dairy farms) 
...
Read more...
---