printer friendly version
Valves for motorised open/close functions
May 2022
Valves, Actuators & Pump Control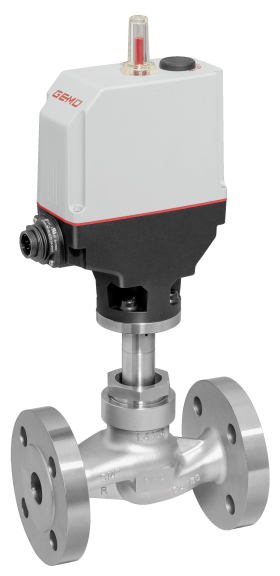 In addition to the existing R629 eSyLite plastic diaphragm valve, Gemü's new 629 diaphragm valve with stainless steel body and the Gemü 519 and 529 globe valves are now also available for simple, motorised open/close applications.
A total of four Gemü eSyLite valves now offers plant engineers and operators the ability to operate electrically-driven plants more efficiently than before. In plants in which, for example, solenoid valves of large nominal sizes consume a relatively large amount of electricity, the Gemü globe valves from the eSyLite series are a cost-effective alternative. With low switching cycles and medium switching speed, they take on shut-off tasks just as precisely as solenoid valves, while at the same time scoring points when it comes to operating costs with their low electricity consumption.
The Gemü eSyLite series also opens up new opportunities for plant optimisation for applications where there have so far been no affordably-priced alternatives to electrical ball valves. Automation with the new eSyLite valves, for example, can thus be further advanced. Where pneumatic valves could not previously be used and manual valves were relied on instead, a motorised alternative is now available with which a plant can be automated cost-effectively.
The robust and self-locking motorised linear actuator has a safety switch-off function including overload protection. A manual override and an optical position indicator are integrated as standard. The valves are optionally available with the Gemü eSyLite actuator, with the Gemü 1215 electrical position indicator or with an integrated emergency power supply module.
For more information contact GEMÜ Valves Africa, +27 11 462 7795, info@gemue.co.za, www.gemu-group.com/en_za/
Further reading:
Modular butterfly valve
Valmet Automation Valves, Actuators & Pump Control
Well suited to challenging flow conditions, Q-Disc can be utilised to avoid cavitation at low opening angles and provides enhanced noise reduction of up to 12 dB.
Read more...
---
Non-contact microwave limit switch
Allpronix Valves, Actuators & Pump Control
The MWS-ST/SR level switch's use of the heterodyne detection method produces an output that is proportional to the received power level.
Read more...
---
ARCA retains BASF MVV status
Valve & Automation Valves, Actuators & Pump Control
The framework agreement will cement ARCA's position as one of two global key suppliers for automated control valves to BASF.
Read more...
---
Wireless communication and control of electro-pneumatic manifolds and IO
SMC Corporation South Africa Valves, Actuators & Pump Control
SMC analysed the control of manifolds-in-motion, where the physical removal of communications cables is desirable. Applications include manifolds mounted on robot gripper assemblies or rotating tables. 
...
Read more...
---
Abrasive Flow Solutions celebrates 1st anniversary
News Valves, Actuators & Pump Control
The company specialises in the design and manufacture of slurry-related valves, and works closely with sister company, BMG.
Read more...
---
Actuator retrofit gives Indian airport critical performance data
Valves, Actuators & Pump Control
Since a reduction in downtime was of critical concern, the customer signed up to a service agreement as part of Rotork's Lifetime Management programme.
Read more...
---
Rotork actuators installed at Beijing's second international airport
Valves, Actuators & Pump Control
The pump room, oil tanks, oil station and landing field ground wells use the company's actuators to operate a variety of valve types.
Read more...
---
Festo campaign highlights process automation solutions
Festo South Africa Valves, Actuators & Pump Control
Festo aims to aid its process automation customers to thrive even during unpredictable periods, by continually analysing the value-creation chain and communicating with its customers to understand their needs.
Read more...
---
Silencer to help protect workers from gas process noise
Emerson Automation Solutions Valves, Actuators & Pump Control
Fisher WhisperTube modal attenuator provides noise reduction in compressible fluid service to improve worker safety, with no impact to process flow.
Read more...
---
Flow control at US water resource recovery facility
Valves, Actuators & Pump Control
Rotork IQT part-turn electric actuators have been specified for use at the Water Resource Recovery Facility (WRRF) in Michigan, USA.
Read more...
---