printer friendly version
Flow meters and switches for very slow flows
May 2022
Flow Measurement & Control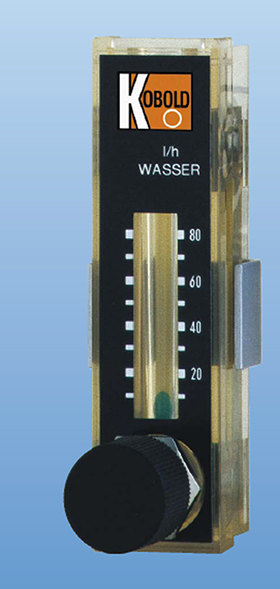 Instrotech is offering Kobold model KSV flow meters and switches for very low flow rates, with and without control valves, so even the lowest possible liquid or gas flow rates can be measured. Specifically for liquids or air, the KSV operates on the suspended float principle. The direction of flow is from bottom to top and the installation position is vertical. The indication point is the upper edge of the ball. The device has been designed as a simple and thus economical, measuring system. The optional needle valve allows economical control and the device has been designed for panel-mounting.
Kobold's KSV flow meters are acid- and caustic-proof, made of polycarbonate and brass, or polysulphone and stainless steel materials. They are highly suited for advanced applications in medical technology because these units are sterilisable and operate in temperatures up to +120°C. They can also be used for a wide range of applications in the analytical instrumentation field, within production and environmental monitoring, as well as in laboratory measurement and monitoring technology.
KSV meters are shock resistant, small (with a panel cut-out of 93 + 0,5 mm x 23 + 0,5 mm), lightweight and simple to install. Available measuring ranges are from 0,25-1,5 l/h up to 10-80 l/h for water and 20-80 Nl/h to 0,5-2,4 Nm3/h for air, with full-scale accuracy within ±6%.
Credit(s)
Further reading:
Mass flow controllers and meters
Electrocomp Flow Measurement & Control
Unlike most other devices on the market, these devices do not suffer from drift and do not require in-service recalibration.
Read more...
---
Magnetic-inductive flow meter for phosphate precipitation
Instrotech Flow Measurement & Control
With a 4-20 mA signal or optional pulse output, the MIK allows for immediate response to the latest process conditions.
Read more...
---
Compact infrared camera for the metal industry
Instrotech Temperature Measurement
The camera's wide temperature measurement range of 450-1800°C satisfies practically all demands in the fields of metal production and processing.
Read more...
---
Inline process viscometer for polymer and oil monitoring
SECO Process Instrumentation Flow Measurement & Control
This hermetically sealed unit is assembled entirely from 316L stainless steel and includes built-in fluid temperature measurement.
Read more...
---
Wall-mount ultrasonic flow meters
Royce Water Systems Flow Measurement & Control
High measurement accuracy and minimal interference due to its advanced error correction technology are among the flow meter's benefits.
Read more...
---
Wire-actuated encoder for crane arms and lifting platforms
Instrotech Sensors & Transducers
Siko has solved the challenges presented by such applications with the SG 30 and its very compact, yet robust, design.
Read more...
---
Indian airport's fuel station retrofitted with Rotork actuators
Flow Measurement & Control
A reduction of downtime was of critical concern to the customer, which can be assisted by an holistic asset management programme such as Lifetime Management.
Read more...
---
Flow control for wastewater treatment
Flow Measurement & Control
Going beyond simple open/close functions, the Rotork actuators can move the valves and gates to exact positions to provide complete control of flow in the process.
Read more...
---
Flow measurement of abrasive slurries in hydrocyclone feedlines
KROHNE Flow Measurement & Control
Dedicated flowmeters for cyclone classification help miners improve throughput while keeping maintenance costs low.
Read more...
---
Load sensor for force measurement
Instrotech Level Measurement & Control Mass Measurement
The instrument provides a solution for non-intrusive level measurements of materials that are subject to uneven build-up, bridging or sidewall collection.
Read more...
---