printer friendly version
Diesel level sensing for rail engines
March 2022
Level Measurement & Control
From regional short-line freight services to coast-to-coast passenger trains, the nation's railroads depend on diesel power. With increasing investments in new technology, diesel engines, and the repowering and replacement of existing engines, railroads are poised to achieve greater service and efficiency goals. Diesel power is a proven technology and provides efficiency, durability, reliability and low emissions, and diesel has long been the fuel of choice for moving people and goods by rail.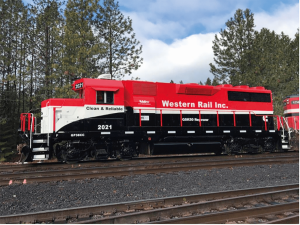 Established in 2005, TMV Control Systems was formed from a vision to design and manufacture the next generation of locomotive control systems. Basing the platform on 22 years of experience in designing locomotive control systems, chief engineer Derick Vander Klippe's pursuit was to offer the rail industry an advanced, robust control system with long-term performance.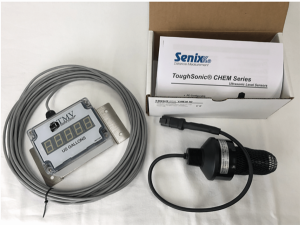 The result was the Traction Engine Control Unit (TECU), an intuitive system that is easy to navigate and operate to get the most out of a vehicle. Installed inside the high-voltage electrical cabinet, the TECU I/O modules receive input from contactors, relays, current sensors, fuel level monitors, pressure sensors, oil sensors and Senix ToughSonic CHEM ultrasonic level sensors. The TECU also receives control-stand data such as throttle direction, notch, brake and many other locomotive operations. This data is viewable on a display screen located nearby, so the operator can see exactly what the vehicle is doing, from the inside out.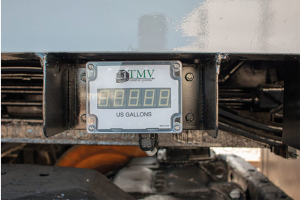 TMV uses the Senix Ultrasonic CHEM 10 level sensor to detect fuel level in diesel-electric locomotive fuel tanks. TMV Control had the expertise to calculate fuel level based on the dimensions of the fuel tank, but we needed something that could accurately measure the level or height of fuel.
TMV Control Systems explored options such as using flow rate to measure fuel level, but experienced difficulties with the tough conditions of the railroad, such as trouble under movement, vibration, changeable weather and temperature conditions, and inclines. The Senix ultrasonic sensor can endure all these and still give accurate readings. The CHEM 10 is made of PVDV, the transducer is protected by a layer of PVDF, the PUR-jacketed cable and electronics are potted and protected, and all ToughSonic sensors have an IP68 rating.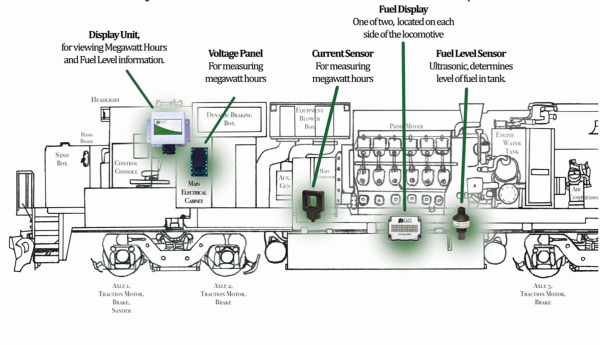 Flow rates are notoriously inaccurate because fuel is pumped out of the tank, but a return line pumps some back in. The incoming and outgoing fuels tend to be at different temperatures, resulting in flow rate sensors measuring more fuel going back into the tank than the true amount. Even small errors keep adding up. Calculating the dimensions of the tank with the readings from the Senix ToughSonic CHEM 10 ultrasonic sensor is much more accurate, as Senix measures, records and displays fuel level, and measures kilowatt-hours, using the sensor. Using these two measurements, railroads can determine the efficiency of locomotives and their engines.
Credit(s)
Further reading:
Level measurement – now with Bluetooth
WIKA Instruments Level Measurement & Control
The instrument's description, TAG number, and 0% and 100% marks can be configured via an app on a smartphone or tablet.
Read more...
---
Magnetic-inductive flow meter for phosphate precipitation
Instrotech Flow Measurement & Control
With a 4-20 mA signal or optional pulse output, the MIK allows for immediate response to the latest process conditions.
Read more...
---
Radar sensor keeps its cool
VEGA Controls SA Level Measurement & Control
The VEGAPULS C 21 delivers exact measuring results without effect from the medium, or the process and ambient conditions
Read more...
---
Compact infrared camera for the metal industry
Instrotech Temperature Measurement
The camera's wide temperature measurement range of 450-1800°C satisfies practically all demands in the fields of metal production and processing.
Read more...
---
Wire-actuated encoder for crane arms and lifting platforms
Instrotech Sensors & Transducers
Siko has solved the challenges presented by such applications with the SG 30 and its very compact, yet robust, design.
Read more...
---
Flow meters and switches for very slow flows
Instrotech Flow Measurement & Control
Kobold's KSV meters are shock resistant, small, lightweight and simple to install for measuring liquid or air flow with full-scale accuracy within +/-6%.
Read more...
---
Load sensor for force measurement
Instrotech Level Measurement & Control Mass Measurement
The instrument provides a solution for non-intrusive level measurements of materials that are subject to uneven build-up, bridging or sidewall collection.
Read more...
---
Digital manometer in standard and ATEX-approved models
Instrotech Pressure Measurement & Control
The instrument is available with two practice-based measuring ranges of -1 to 30 bar and 0 to 300 bar in the compensated temperature range from 0°C to 50°C.
Read more...
---
Radar level sensor with IO-Link interface
ifm - South Africa Level Measurement & Control
Its non-contact radar measuring principle prevents malfunctions or failures of the sensor caused by the adhesion of viscous media or damage from agitators.
Read more...
---
Infrared camera for glass manufacturing
Instrotech Temperature Measurement
The Optris PI 450 G7 allows for the capturing of real-time thermal images of everything from glass beads right up to large panes.
Read more...
---