printer friendly version
Pyranometer for monitoring small-scale PV installation efficiency
April 2022 Electrical Power & Protection Maintenance, Test & Measurement, Calibration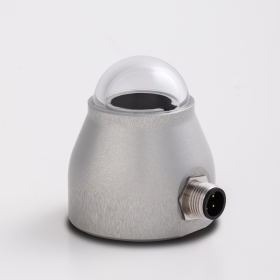 The increasing volume of photovoltaic (PV) solar panel installations across small to medium-sized businesses raises the question of how to monitor the energy efficiency of the PV system. Delta Ohm has addressed this with the launch of the LPPYRA-Lite pyranometer, which is specifically designed to monitor general solar radiation on small-scale PV installations.
"With PV panels being installed across smaller retail and commercial operations, it would make sense to track the efficiency levels. The compact LPPYRA-Lite, integrated in a Delta Ohm HD35 wireless data logger, will give you the ability to monitor the efficiencies of your small-scale PV system with what is the most cost-effective device available on the market," claims Jan Grobler, managing director of GHM Messtechnik South Africa.
LPPYRA-Lite is a small and light pyranometer based on an accurate thermopile sensor for ordinary monitoring of smaller PV systems. Its remarkably compact dimensions make for easy installation and integration into any application. Being classified as 'Class C Spectrally Flat' according to the ISO 9060:2018 standard guarantees the accuracy, reliability and precision of its measurements and its compliance with the reference standards. Each sensor is characterised by its own calibration factor which is indicated on the body of the pyranometer.
Designed for direct tilted installation on a PV panel plane, the LPPYRA-Lite does not require any levelling device. For horizontal positioning, an optional fixing base with an integrated levelling device can be supplied. Two versions are available: the LPPYRA-Lite with μV/Wm-2 output and an impedance of 33-45 Ω; and the LPPYRA-LiteAC for 2-wire current loop output as a 4-20 mA signal.
The measurement range of the lightweight (140 gram) pyranometer is 0-2000 W/m2, its viewing angle is 2π sr and it comes with a 4-pole M12 connector. The LPPYRA-Lite passive model requires no power input while the LPPYRA-LiteAC requires 10-30 V DC.
"Small-scale PV plants can be seen everywhere, on parking and building roofs at retail and business parks. Industrial and engineering factories are also installing solar panels around selected parts of their premises. The investment for the establishment of a PV solar panel plant and the subsequent installation and maintenance is not insignificant, so the efficiencies and benefits achieved through accurate monitoring of the PV panel installations is the big plus of the LPPYRA-Lite technology. It is the most accurate and cost-effective technology available," Grobler asserts.
Credit(s)
Further reading:
Beware the fire starter
Schneider Electric South Africa Electrical Power & Protection
Smart sensing has come a long way, and now allows organisations to proactively focus on and mitigate potential electrical fires, providing a substantial improvement in resilience.
Read more...
---
Narrow power supply with high power density
Phoenix Contact Electrical Power & Protection
The devices are particularly suitable for urban infrastructure and in machine building, where they find their way into small systems with basic requirements.
Read more...
---
The route to proactive maintenance
Comtest Editor's Choice Maintenance, Test & Measurement, Calibration
What were once complex tasks can now be accomplished by less experienced technicians with easy-to-use tools such as vibration screeners and thermal imagers.
Read more...
---
Stakeholder engagement mitigates renewable energy project delays
Electrical Power & Protection
The challenge lies in seeing that a low-carbon transition is not about replacing one dirty fuel with another, cleaner type, but about adjusting our entire way of life around that fuel.
Read more...
---
Phoenix Contact launches Energy Solution Partner programme
Phoenix Contact Electrical Power & Protection
The concept is a win-win for end-customers, Energy Solution Partners and Phoenix Contact alike.
Read more...
---
Hitachi and Petrofac join forces on offshore wind power
News Electrical Power & Protection
The collaboration builds on the complementary core technologies and expertise of both companies, and covers high-voltage DC and AC solutions.
Read more...
---
Trafo to highlight its flexibility at Electra Mining 2022
News Electrical Power & Protection
Given the varying nature of operating conditions from one mine to another, the company will use the event to demonstrate its ability to tailor solutions to specific site and customer needs.
Read more...
---
Why electrical contractors should include backup power in projects
Schneider Electric South Africa Electrical Power & Protection
For larger facilities, Schneider Electric works hand in hand with its channel partners to ensure your UPS installation is done properly and to the highest standard.
Read more...
---
Power supplies with EtherCAT interface
Beckhoff Automation Electrical Power & Protection
In the case of system monitoring, important operating parameters such as output current and voltage are transmitted in real time and updated continuously
Read more...
---
Fuel for the future
Omron Electronics Editor's Choice Electrical Power & Protection
In the coming years, hydrogen propulsion systems will be found in many different application scenarios, such as transport, heating and power generation.
Read more...
---