printer friendly version
Infrared camera for glass manufacturing
March 2022
Temperature Measurement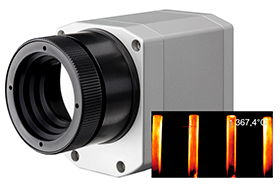 Glass manufacturing requires special equipment for non-contact temperature measurement due to its physical properties. In addition to specialised infrared thermometers, Optris offers an industry-specific thermal imaging camera for this application in the form of the PI 450 G7 with a 7,9 μm filter.
Optris cameras are highly regarded in the industry due to their compact design and attractive price-performance ratio, and with the new G7 model of the PI series, processes in the glass industry can be regulated by even more highly accurate temperature measurement on glass surfaces.
The Optris PI 450 G7 can be used for various tasks in the production, refinement and processing of glass panes, glass bottles and other glass products. The line scan camera function can, in the tempering of toughened glass for instance, measure the temperature distribution between the heating zone and the cooling zone, and automatically regulates heating or cooling elements where necessary. It can also measure pane temperature during transport of glass panes on conveyor belts using the line scan feature of the licence-free Optris PI Connect software.
At an ambient temperature of up to 70°C, the infrared camera is fully operational without a cooling jacket. With a jacket size of 46 x 56 x 90 mm and a weight of 320 grams (including the lens), it is particularly suited for applications in confined spaces and for installation in industrial facilities. Due to an imaging frequency of 80 Hz, glass products can be continuously tested, even in fast processing.
The typical characteristics of Optris cameras – high measurement speed (80 Hz), high optical resolution (382 x 288 pixels) and compact design – have been maintained to allow for the capturing of real-time thermal images of everything from glass beads right up to large panes. The PI 450 G7 is used as a line scan camera in the field of sheet glass production and offers various possibilities for documenting and controlling the process.
This compact, high-performance infrared camera for the glass industry is available with interchangeable lenses and industrial accessories. The camera is shipped with Optris PI Connect, an extensive thermographic analysis software package.
Credit(s)
Further reading:
Temperature transmitters with hybrid digital/analog output
Morton Controls Temperature Measurement
Thanks to its flexible communication with plug-and-play simplicity, time and costs are saved during installation and commissioning.
Read more...
---
Magnetic-inductive flow meter for phosphate precipitation
Instrotech Flow Measurement & Control
With a 4-20 mA signal or optional pulse output, the MIK allows for immediate response to the latest process conditions.
Read more...
---
Temperature monitoring simplified
Omniflex Remote Monitoring Specialists Temperature Measurement
Up to 32 mLC8s are supported by the touchscreen HMI, so a system with 2560 temperature points can conceivably be constructed.
Read more...
---
Compact infrared camera for the metal industry
Instrotech Temperature Measurement
The camera's wide temperature measurement range of 450-1800°C satisfies practically all demands in the fields of metal production and processing.
Read more...
---
Imaging system for slowly rotating kiln shells
R&C Instrumentation Temperature Measurement
The Raytek CS400 system is able to synchronise thermal imaging at speeds as low as 2 revolutions per hour.
Read more...
---
Wire-actuated encoder for crane arms and lifting platforms
Instrotech Sensors & Transducers
Siko has solved the challenges presented by such applications with the SG 30 and its very compact, yet robust, design.
Read more...
---
Flow meters and switches for very slow flows
Instrotech Flow Measurement & Control
Kobold's KSV meters are shock resistant, small, lightweight and simple to install for measuring liquid or air flow with full-scale accuracy within +/-6%.
Read more...
---
Tubeskin thermocouple assembly
WIKA Instruments Temperature Measurement
The proprietary thermal shield design of the Tefracto-Pad is a patent-pending WIKA innovation in several countries.
Read more...
---
Pyrometer for hazardous areas
R&C Instrumentation Temperature Measurement
The intrinsically safe version of Fluke's versatile Thermalert 4.0 is fully Ex certified for use in Zones 1 and 2 (gas) and Zones 21 and 22 (dust).
Read more...
---
Load sensor for force measurement
Instrotech Level Measurement & Control Mass Measurement
The instrument provides a solution for non-intrusive level measurements of materials that are subject to uneven build-up, bridging or sidewall collection.
Read more...
---