printer friendly version
Yaskawa steps into the future
March 2022
Motion Control & Drives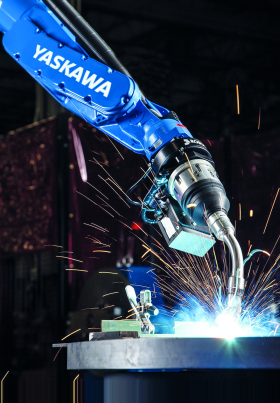 Crackett says that Yaskawa Southern Africa has installed more than 2500 Motoman robots. The company's main target market is automotive, having cut its teeth here when Terry Rosenberg first started up the business in 1991. More recently it has refocused on pick-and-pack applications and palletising of fertilisers and cements. "In this way we don't have all our eggs in one basket," he explains.
In southern Africa, handling is a growing market, especially in palletising applications in large breweries and bakeries. In addition to this, many of Yaskawa's customers are small and have robotised in niche markets such as sanding, polishing and finishing. Crackett estimates that Yaskawa's market share in southern Africa is of the order of 40%.
The company is also very active in the area of skills development and the Yaskawa Academy offers a range of globally recognised and certified training courses countrywide. "Rather than losing their jobs, operators are being upskilled," he adds.
The world of welding is developing very fast and Yaskawa is in discussions with the South African Institute of Welding to offer practical solutions to bridge the gap between manual and robotic welding. An example is a package called Weld4Me.
Rather than learning to program, the welder can take the arm of the robot and guide it by hand. Using his welding skills he creates a sequence and sets the parameters, putting a welding sequence in motion. Crackett believes that robot upskilling is the only way forward if we are to align with international manufacturing. Instead of taking away jobs, it has a positive knock-on effect for the entire manufacturing industry in South Africa.
This goes far beyond welding. He explains that the introduction of robotics in the automotive industry has massively increased efficiency and quality, bringing with it job creation. "We are creating many more jobs up and down the value chain in areas such as moving materials upstream and downstream, sales and transporting new vehicles," he continues. "More vehicles translates to more robots and more jobs. The whole spectrum is affected by this increase in manufacture, not just the welder."
Robots are key players in the Covid era. If processes are automated they remove the human factor in the workforce. With no end to the pandemic in sight, business owners are robotising in order to maintain sustainability. Crackett says that during the first lockdown Yaskawa saw a dip in sales, but managed to save the year. "We have had a fantastic first half to this year and are driving to finish in a strong position. Covid has showed us the opportunities and made us more self-sufficient," he continues. "For example, we installed a laser welding system ourselves, where normally we would have called for help from Europe. This was a huge achievement for our team. The result is that we can now quote as a local project − we have confidence in our ability and skill in these projects."
"We are a key element of Yaskawa's EMEA group and a valuable part of the global picture," he adds. We are passionate about robots. If you see a gap and believe robotics can be a solution we can show you what's needed and what's possible. "We look at the application and specify the correct robot − it's about managing our clients' expectations and making sure everyone is on board to get a return on their investment."
Looking forward, Crackett says Yaskawa's five year goal is to tackle the handling market in pick-and-pack and palletising in all sectors, to meet growing demand and to establish robotics as an accessible option for South African businesses of all sizes. "The dream is to push local manufacturing. There is massive potential in South Africa and we are capable of doing it ourselves. We should be employing robots and we should focus on manufacturing for ourselves using automation to improve our efficiency and our manufacturing abilities so we can meet demands and reduce costs while upskilling our people. We need to step up, deploy, upskill and create opportunities. Everything is there, we just need to get out and do it," he concludes.
For more information contact Brenda Herrero, Yaskawa Southern Africa, +27 11 608 3182, brenda@yaskawa.za.com, www.yaskawa.za.com
Credit(s)
Further reading:
Driving African mining solutions
SEW-Eurodrive Motion Control & Drives
SEW offers customised solutions for the African mining industry and lead time advantages thanks to its new multimillion local assembly facility in Johannesburg.
Read more...
---
Integrated bearing assemblies for tough applications
Bearing Man Group t/a BMG Motion Control & Drives
These NSK parts are designed especially for vibratory screen machines, which are used in arduous construction, agriculture, quarrying and mining applications.
Read more...
---
Proud milestone for Bearings International
Bearings International Motion Control & Drives
"We are definitely one of the longest-serving Cooper distributors in the world. It is a fantastic achievement, especially as it remains one of our top-selling brands."
Read more...
---
Sliding from Munich to Cairo on durable igus linear carriage
RS Components SA Motion Control & Drives
With the T20 of the drylin W series, igus has launched a new linear carriage which has the same dimensions as most classic carriages with recirculating ball bearing guides.
Read more...
---
XTS transport system with innovative 'No Cable Technology'
Beckhoff Automation Motion Control & Drives
Contactless power supply and synchronous real-time data communication enable XTS movers to be expanded into mobile handling and processing stations.
Read more...
---
An innovative alternative to mechanical seals
Bearing Man Group t/a BMG Motion Control & Drives
BMG's range of Garlock sealing products includes a versatile sealing system that replaces mechanical seals in industrial pump applications. Garlock's Hydra-Just system is a reliable, leak-free rotary 
...
Read more...
---
PC-based control for vehicles converted to electric drives
Motion Control & Drives
For small-series producers and manufacturers with a wide range of vehicle variants, being able to count on comprehensive test bench technology that is fast, flexible and cost-effective is hugely important. Kempten University of Applied Sciences has implemented a test bench just like this for ABT e-Line, allowing it to perform tasks such as testing Volkswagen vans that have been converted to an electric drive. PC-based control technology from Beckhoff serves as the central feature of the standard industrial components used.
Read more...
---
Brake takes the heat on aluminium smelter
Motion Control & Drives
With superheated molten metal moving through the facility, aluminium smelters need equipment that operates at the highest level of reliability. To ensure that the hoist installed on its aluminium smelter 
...
Read more...
---
Assembly line for the automotive industry
Beckhoff Automation Motion Control & Drives
How do you design a new assembly line and go on to reduce the footprint of the concept by another quarter? And how can you later increase the productivity of this highly consolidated line even further? 
...
Read more...
---
Electromagnetic brakes for miniature DC motor applications
Motion Control & Drives
Mini motor applications utilise DC motor technology because of compactness, low weight, and reliability. Stopping, slowing or holding the position and load of these motors is crucial for many applications, 
...
Read more...
---